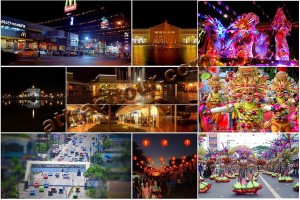 Bacolod City is best described as the "City of Smile" which means that inhabitants of the land are smiling or in other words, Bacoleño people are very friendly, approachable and hospitable. And because of this, Bacolod City is recognized as the "Best Place to Live in the Philippines".
Bacolod City is well-known also because of its famous Masskara Festival which is celebrated every 3rd week of October.
Bacolod is also surrounded with many tourists spots and interesting places that attract both of domestic and foreign visitors to the city. Bellow are the lists of attracttour in the city.
ATTRACTTOURS WITHIN AND OUTSIDE BACOLOD CITY
Within the City attracttours
Panaad Park and Stadium
Provincial Building
Provincial Park and Lagoon
Negros Occidental Golf and Country Club, Inc
RECREATION AND FUN
Beaches and Resorts attracttour Within and Outside Bacolod City
INLAND RESORTS:
Palmas Del Mar
Bacolod Pavillion
Sta. Fe Resort
Carribean Waterpark Resotel
Mambukal Resort
Nature's Village Resort
Buenos Aires Mountain Resort
The Quiet Place Farm Resort
Kipot Summer Resort
Balicaocao Highland Resort
Bocal-bocal Spring Resort
ISLAND RESORTS:
Costa Aguada Island Resort
Jomabo Island Paradise Beach Resort
Lakawon Island Beach Resort
SEASIDE RESORTS:
Palmas Del Mar
Sunburst Bay Resort
Manapla Seaside Resort
BEACH RESORTS:
Canonoy Beach Resort
Paradiso Beach Resort
Bonista Beach Resort
Jara Beach Resort
Happy Valley Beach Resort
Laura Beach Resort
Soleo Beach Resort
Punta Bulata Beach Resort
Takatuka Lodge and Dive Resort
ACCOMMODATIONS:
HOTEL attracttour:
L'Fisher Hotel
Hotel PAGCOR
Luxur Place
Planta Centro Bacolod Hotel & Residences
Bacolod Pavillion Hotel
Eastview Hotel
Grand Regal Hotel
Goldenfields Kundutel
MO2 Westown Downtown
Sugarland Hotel
Sylvia Manor
O Hotel
Bascon Hotel
Check Inn Hotel
King's Hotel
Royal Am Rei
Sea Breeze / LEC Lodging
TOURISTS INN attracttour:
Business Inn
Circle Inn
MO2 Days Inn
Northwest Inn
Prominence Inn
Tamera Plaza Inn
Bacolod Pension Plaza
Badevia Pension
Casa Amparo
Casa Marabella
Citi Grand Inn
G&J Horizon
G&V Pension Royale
Kimas Pension
Omar Pension
Mercenary Inn
Pearl Manor
Pension Bacolod
Regency Plaza Inn
Saltimboca Pension
Star Plus Pension
Tindalo Pension
Traveller's Inn
7R Residence Inn
11th Bed and Breakfast Inn
PENSION HOUSE attracttour:
 Abbies
Balay Pueblo Rosario
Ester Pension
Isadora's Place
Karmen Pension I
LD Pension
Mainstreet Pension
Monic Pension
Sweet City Captel
Pleasant Travellers
Poloy's Pension
Rosita's Pension
Apartelle
Hiro Pension
BAR AND RESTAURANT attracttour:
Manukan Country
Pala-Pala
L' Sea Chinese Restaurant
Ting Ting's Restaurant
Aboy's Restaurant
Italia Restaurant
Chicken House
Imays Bar and Restaurant
HOW TO GET THERE IN BACOLOD CITY