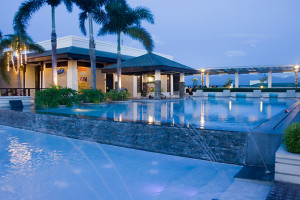 Among the lists of beautiful places to visit in the city of Bacolod, you can't afford to go back home without experiencing of viewing the entire city atop the roof deck of Chalet in L'Fisher Hotel Bacolod.
Chalet Roofdeck of L'Fisher Hotel offers open viewing to all guests especially to the people of Bacolod of seeing the beautiful landscape in the entire city especially at evening time.
Order your favorite drink or beverage from the counter while you enjoy watching the scenic landscape of the entire city. Don't worry for your kids, in the Roofdeck of Chalet L'Fisher Hotel there is a swimming pool, I believe that your children love to swim, much more to this place that children's pool is provided for them to enjoy with full safety measure. The romantic pool for adult is also available; while you enjoy swimming you can order your favorite drink and beverages from the sunken bar inside the pool. This place is perfect for lovers to have a great date.
After the celebration you can chose the room at your preferred accommodation. Elegant rooms with contemporary design are available, from single bed, double-sized bed and even for the family room. Check-in / Check-out time is from 2:00 p.m / 12:00 p.m.
Chalet Roofdeck of L'Fisher Hotel is located in the 14th Lacson St. Bacolod City, which is a 5 minutes away from the downtown, 10 minutes away from the seaport and about 30 minutes away from the domestic airport. Telephone nos.: 6334-4333731-39, Fax: 6334-4330951 and Email: [email protected] & [email protected]