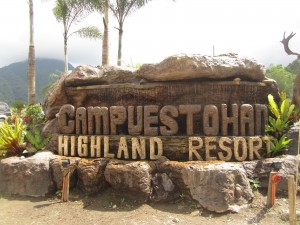 Campuestohan Highland Resort is a newly developed eco-tourism destination that boost of the city's tourism industry. Like many other beautiful tourists destination of the city, the "Campuestohan Highland Resort" attracts domestic and even foreign visitors all over the country that make the newly developed attracttour of the city popular.
Campuestohan Highland Resort has 5-hectares total area with amenities such as the main log cabin of seven rooms with large balcony, the well-lined 20 cottages shaped like huts but looks like igloos of early tribesmen, the CHILDREN'S PLAY LAND, the 2 SWIMMING POOLs one for adult and one for children with the well-designed dolphin at the corner, the vast ground with animal figures like elephant and rhinoceros and other figures of super hero, the wide area for campsite where guest can set up portable tents and the mountain view.
Campuestohan Highland Resort is located in Barangay Cabatangan close to the boundary between Talisay City and Bacolod City, Negros Occidental. It is about 40-minutes jeepney drive from Bacolod City proper passing through Barangay Granada. Entrance fee is P150.00 inclusive of the use of swimming pool. Cottages available varies from sizes is ranging from P500.00-P1,000.00. Tree house is also available for P1,200.00 and for the Igloo room is P2,500.00 accommodating 4-persons. Log cabin rooms is P6,000.00
To learn more about the best in Bacolod City see the "Travel Guide and Directories" for Bacolod City.