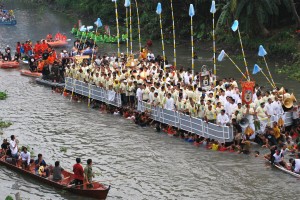 Cebu City Sinulog is celebrated in many different ways. Usually during the festival the groups of dancers from various sectors of the city joining the Street Dancing Competition would enjoy dancing on the street with the timing of the drum beats.
While majority of devotees are joining the procession as they have fulfilled their vows. But one of the most exciting and attacttour during the festival is joining the processional parade of Senior Santo Niño. It has been a long time practice that from His domicile city in Cebu, Senior Santo Niño's replica is to be carried by car-float followed by thousands of devotees during the child's visitation to his foster father Saint Joseph, to the nearby city of Mandaue.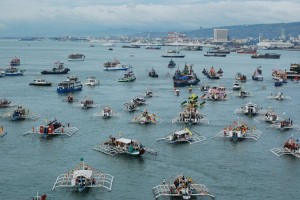 During this visit to His father, the Santo Niño will stay overnight and on the following day, the Child Santo Niño will be voyaging to his mother to visit also only in the nearby island in Lapu-lapu City. As you can see the pictures attached herewith, devotes of Santo Niño were flocking to join the fluvial parade. This happening would be the most attracttour of all among the long lists of activities during the Sinulog festival.