YouTube artists couple China Roces and Tim Sawyer becomes the top trending topic in the world of social media following after their live argument that allegedly ended up with the breakup of their relationship.
The live video of a couple vlogger that went viral online, China expressed long time concealed sentiment as she doubt her partner Tim for several reasons but at this time, China won't be able to hold back her suspicion against Tim. Everything bestow after Tim refuses to give her certain amount she asked to pay their living including the bills and other expenses.
According to China's friend who comes out to reveal the real attitude of Tim and maybe to defend her friend China, she confirmed the statement of China that Tim refuses to give her money. She also said that China has the right to demand because the money of Tim comes from the video uploaded in social media in Facebook and YouTube where two of them are partner in making the video.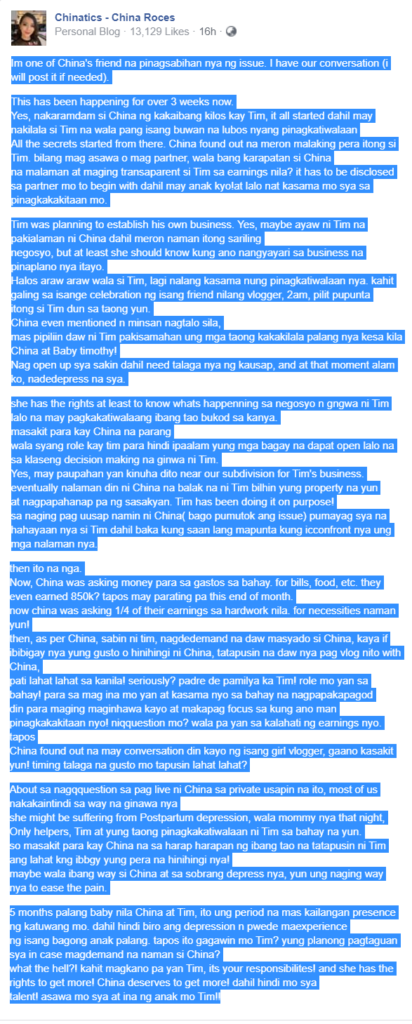 China also said that Tim threatens her that once he gives all the demand of China, it is better for them to split their relationship. China also said that Tim is prepared to leave her and their son because Tim has another woman that she dubbed as "Girl Vlogger" where Tim was link with her.
In a previous article, Tim broke silence and issued official statement to deny the accusation that he is selfish and refuse allegation that she did not give money for their daily living and other payable expenses. The post of Tim on his Facebook page flooded with comments from the netizens. Many from the subscribers of Tim and China expressed sentiments. Some said that hard for a man to do wrong because anything he does is nothing as long as he cannot clear the issue. Bu there's also praying that their conflict will be soon resolved.
However, an experienced professional social media analyst said that the couple was just doing a gimmick in order to promote their videos and captured massive online subscribers in addition to their existing subscribers of their page for financial gain. According to a professional social media analyst who refused to indicate his name here, "he said it is easy for the two to come up with such a gimmick knowing that their niche of their vlogging is more about couple issue and relationship matters and it is not impossible that one day they will come up with this kind of gimmick," social media analyst said.
The social media analyst also added that pointing to money issue as cause of the problem could not be established because the social media page of them continue to generate revenue and there is no reason of halting them just because of the allegation that Tim did not give money. That can be easily resolved the next pay day. So therefore, money is not an issue. Another angle he said is about the third party issue, citing the vlogger girl linked to Tim as mentioned by China on her video but that is also a purely speculation based on nothing because they could not provide the identity who's that girl she was pointing of.
If you've watch the video, you can also come up with your own analysis about the story behind the relationship of Tim Sawyer and China Roces. We have provided here link of the said video to other page of our site for your review and analysis, just simply click the links.
Leave your comment here below on the section below provided for your reaction on the report.