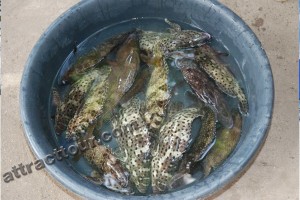 When you think of the best seafood, you are thinking of the seafood in Bantayan Island. Bantayan Island is the place really blessed by our mother nature of different kinds of seafood and delicacies. To mention some, I want to promote the high grade class of my favorite Lapu-lapu fish.
As you see the pictures attached in this article, this one is a cultured Lapu-lapu fish at Php400.00 per kilo. Lapu-lapu is perfect for one who loved to eat Tinolang Lapu-lapu [Stewed Lapu-lapu fish]. As a matter of fact, Lapu-lapu is considered the number 1 in the lists of favorite Tinola fish in the island.
Another interesting experience in the island is to eat one of the top rated delicacies, the Swaki. This one is not common to those who are not living in the island. But for me, since my youth, I love eating swaki, in fact; this is one of my favorite seafood.