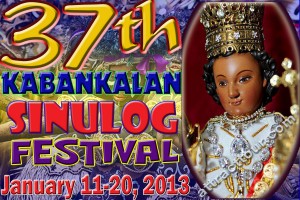 Sinulog in Kabankalan City is one of the most awaited fiestas in the whole Negros Island. It is an annual festival celebrated during the 3rd Sunday of January. During the celebration, countless of people coming from the different parts of Negros Island to join the festivity. Sinulog in Kabankalan became the primary tourists' attraction to promote and discover other beautiful spots in the city and in the entire province of Negros Island.
The Kabankalan Sinulog 2013 has a lot of exciting activities such as the Beauty Pageant wherein you can see beautiful "Lin-ay sang Kabankalan" atop the stage competing beauty and brain. The rehearsal or the Pre-Pageant will begin on the 17th day, Thursday of January 2013 between 8:00-10:00 a.m. followed immediately the screening for the Top Ten-Finalist until 12:00 noon time. Costume, talent competition and of course the most interesting part of the pageant, the swimsuit parade will be between 7:00 – 9:00 p.m. the same day.
Some other interesting schedule like the Motorcade, which will be held on the following day January 18 at 8:00 a.m. and the Pageant and Coronation Night in the evening scheduled at 7:30 p.m. then, followed immediately after the coronation night is the Fireworks Display Competition at 8:00 p.m. and many more.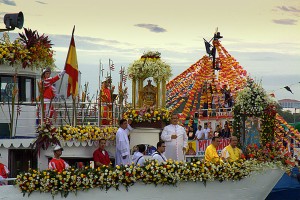 Although, with the exciting schedules listed above, Sinulog 2013 of Kabankalan will not be completed without the most important parts of the celebration, the Novena Mass to be held on the 19th of January, Saturday and the most highlighted part, the Fluvial Procession of Sto. Niño or the Sugat Lugway which always happened on the last day, Sunday, January 20, 2013.