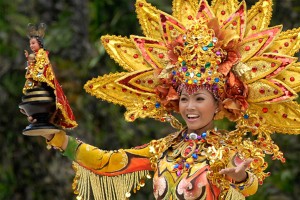 Short History
Sinulog in Cebu is the most well-known festivals celebrated in the Philippines. This was first initiated by faithful devotees of Senior Santo Niño after their conversion from pagan beliefs to Christianity in 1521. Traditional devotees express their adoration and worship to the Child King in street dancing while following the procession of Senior Santos Niño. They believed that Senior Santo Niño will perform miraculous healing of any sicknesses and grant petitions and prayers when one render solemn ritual in a form of dancing while joining the parade.
As the years go by, devotion to Senior Santo Niño has grown so fast and devotees drastically increased and the traditional ritual became a festival. Since that time, pilgrim from various areas in the province of Cebu and the rest of Filipino in the Philippine country were making their way in a yearly journey to join the procession and festival.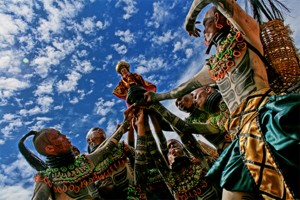 In 1980, the government officials of Cebu City come up an idea to appoint committees to take responsibility in forming the group to handle the celebration in a modern way.  "Sinulog Mardi Gras" comes to the scenes and eventually gives incentives to the participating group of performers.
The first Sinulog Dance Parade was first materialized in 1980 with the effort of David Odilao who is recognized as the father of Sinulog in Cebu, several influential Cebuanos and Cebu City Mayor Honorable Florentino Solon. The first Sinulog Street Dancing Parade was composed of students from different schools of Cebu City.
The modern concept of commemorating the day of Senior Santo Niño garnered so much appreciation from various sectors and all Cebuanos. From then onward, Sinulog Festival became a yearly highlights and main event in the province of Cebu.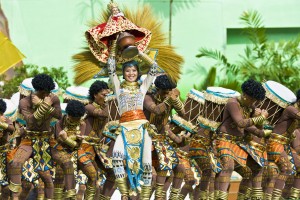 The following year, 1981, Odilao turned over the Sinulog project to the leadership of Kagawad Jesus Garcia, Cebu City Historical Committee. During the time of Garcia, the Street Dancing Parade becomes a competition. Participating group of dancers from different sectors are joining the contest. Thus, the entire Sinulog Festival marks the difference from the popular Ati-Atihan Festival in Aklan.
Presently, Sinulog Festival is no longer focusing of giving credits to traditional rituals and practices but it's more giving emphasis on the historical aspects as we can see how it is performed in modern street dancing parade from various participants. It is best expressed: "Pagans in the past, Christian today."