Today, Tuesday, January 17, 2023, the Phivolcs recorded a 4.8-magnitude earthquake in Camarines Norte.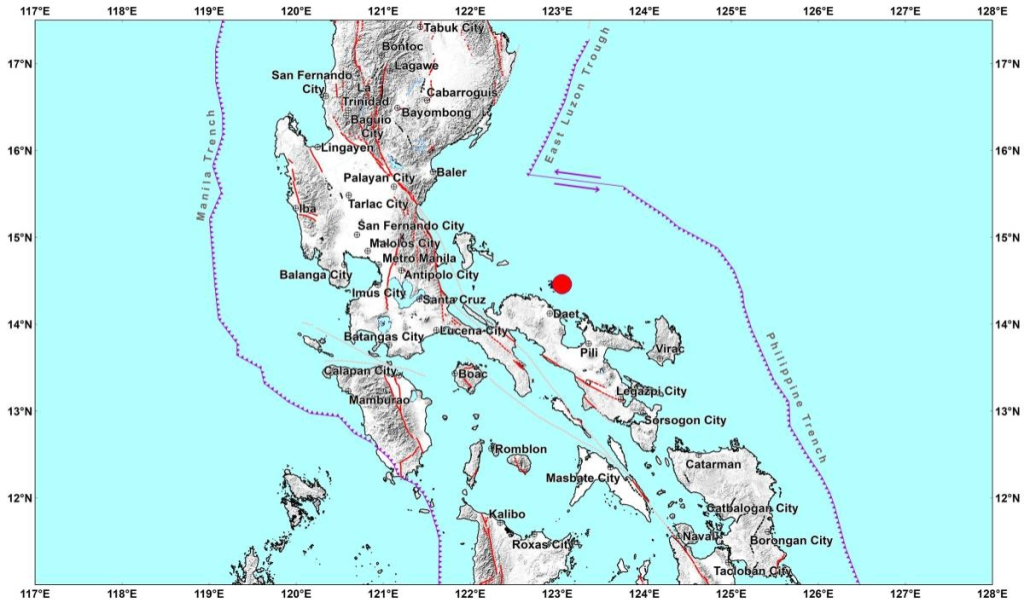 Following the 4.3-magnitude earthquake that jolted Maguindanao del Norte a few days ago, the Philippine Institute of Volcanology and Seismology recorded another strong quake (Phivolcs). The quake struck Camarines Norte. It had a magnitude of 4.8, according to the agency.
The January 17, 2023, earthquake in Camarines Norte was tectonic in nature. Tinaga Island was particularly hard hit.
The earthquake that struck a part of Camarines Norte was located at 14.45° North, 123.05° East, and 012 km south of 76° East of Tinaga Island (Vinzons) with a depth of focus of 001 kilometers, according to Phivolcs.
According to Phivolcs' bulletin, the earthquake and aftershocks are expected to cause damage. According to the released data, the following quake intensities and instrumental intensities were recorded:
Intensity V

Mercedes, Camarines Norte

Intensity IV

Guinayangan, Quezon
Tagkawayan, Quezon

Intensity III

Buenavista, Quezon
Lopez, Quezon
Naga City, Camarines Sur

Intensity II

Catanauan, Quezon
San Narciso, Quezon
Instrumental Intensities:
Intensity V
Intensity III

Jose Panganiban, Camarines Norte
City of Iriga, Camarines Sur
Ragay, Camarines Sur
San Roque, Northern Samar

Intensity II

Alabat, Quezon
Guinayangan, Quezon
Gumaca, Quezon
Infanta, Quezon
Mauban, Quezon
Mulanay, Quezon
Pasacao, Camarines Sur
Pili, Camarines Sur

Intensity I

City of Marikina
City of Pasig
Pulilan, Bulacan
Calauag, Quezon
Taytay, Rizal