Ynna Asistio and her fiancé, Bully Carbonell, are planning a double wedding celebration.
The first is their impending wedding, and the second is their pregnant child.
Ynna happily announced yesterday, August 4, 2022, that she and Bully will marry on August 8, 2022.
Ynna only announced her engagement to Bully on Sunday, July 31, 2022.
Bully proposed to Ynna in front of the girl's family while they were on vacation in Bohol.
Ynna was overjoyed because she had assumed she and her boyfriend would marry before he formally asked for her hand in marriage.
That's why he was crying with joy that day.
Ynna's Instagram story (as it currently stands):
"In 4 days I'm getting married. The proposal was really a surprise! [crying emoji] kaya sobrang thankful ako kasi nahabol pa ung proposal bago kami Ikasal ni Bully.
"Dapat wedding lang pero salamat Carbonell Waldolf kasi pinaramdam mo sakin ang feeling ng proposal na ilan taon ko ng pinapangarap [smiling face]
"kaya grabe yung iyak ko na FINALLLLLY! I made it!!! We made it!!! [smiling face]"
Ynna said, "I appreciate that you all took time out of your busy schedule to congratulate us.
"Thank you for your heartwarming wishes. It means a lot to us! #wefynnallymadeitbully [smiling face] hindi ko kayo maisa isa pero super salamat po!!! @bullyxcarbonellx"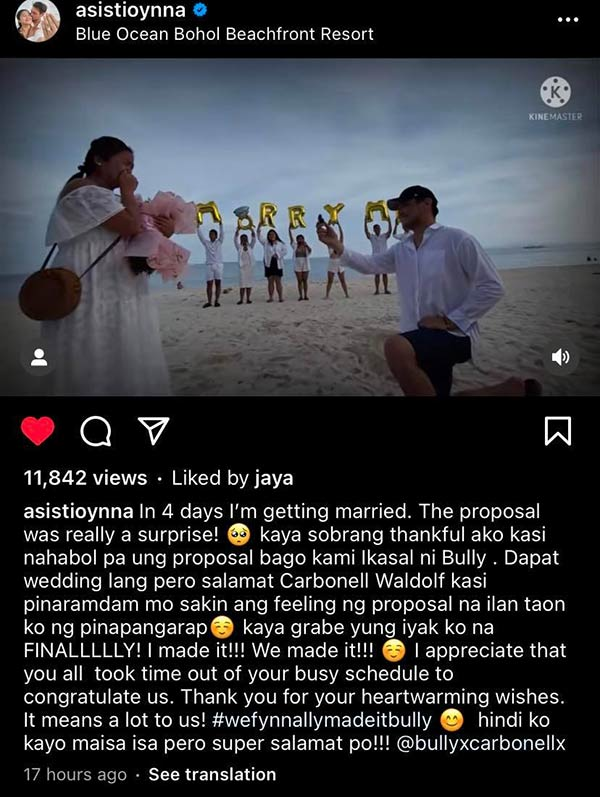 Ynna also did not conceal the fact that she was pregnant.
In Ynna's separate Instagram Story, she reposted her friend Maria Glorian Tomen's congratulations on her marriage and pregnancy.
Mary's message included the following: "Congrats on your engagement, on your wedding, and on your baby. You deserved all the happiness na dumarating."