Hashtag "#CancelKorea" and hashtag "#ApologizeToFilipinos" Bella Poarch is making noise on social media following after the tattoo of Filipino-American TikTok star Bella Poarch uploaded a clip that triggers the tension between South Koren netizens and the Filipinos in the online community.
On Sunday, September 6, 2020 social-media influencer Bella Poarch received harsh bashing from South Korean online community after seeing her tattoo that seems embarrassed Korean netizens.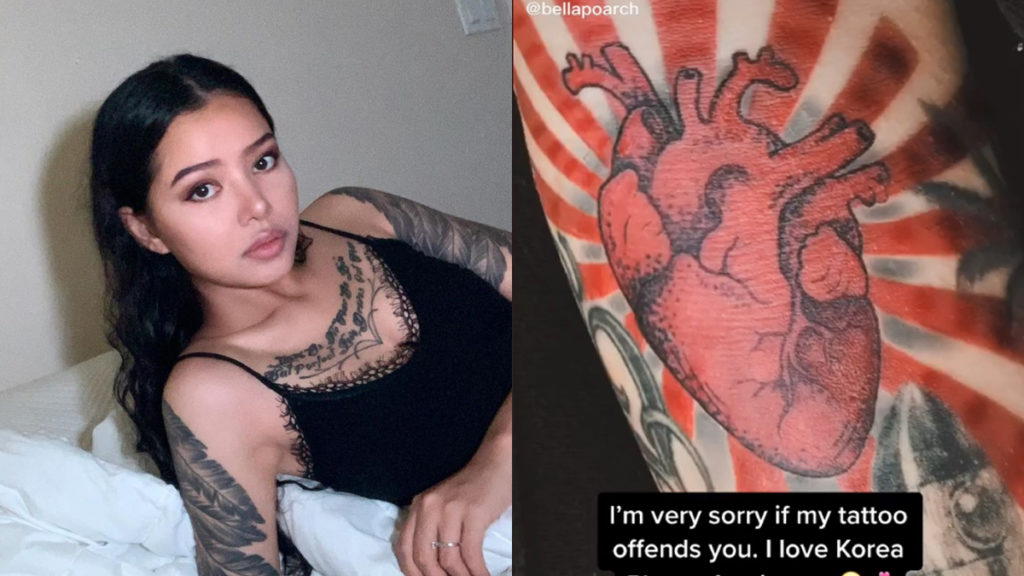 The tattoo of the 19-year-old social media star depicted the historical meaning of the Rising Sun flag with 16 rays which is Japan's national flag of today.
As social media influencer, Bella is having more than 15 million followers on TikTok, over 2 million followers on Instagram and more than 16,300 Twitter followers. Because of her massive followers on social media, the tattoo issue easily spread making the hashtag "#CancelKorea and "#ApologizeToFilipinos spreading fast like as of wildfire in the world of social media.
Because of this, Bella issued apology statement on her next post with a close-up photo of the tattoo on her arm seeing a heart with 16 red rays. She put caption on her post that reads, "Here is a photo of my arm tattoo. I love Korea [emoji] I would never do anything to hurt anyone." Bella wrote.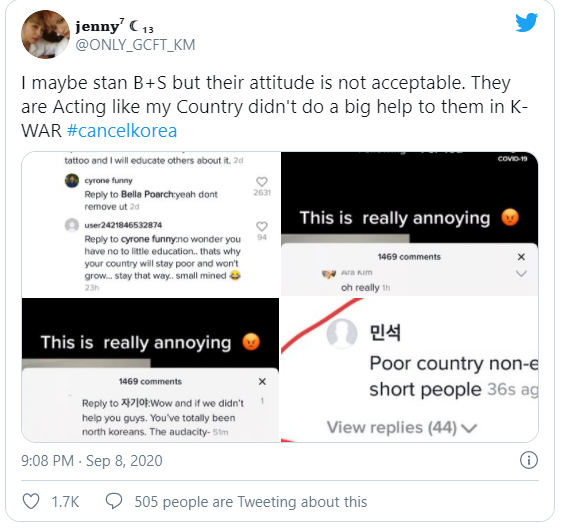 The next post of Bella she stresses her innocence on her apology message on Twitter saying sorry to the Koreans netizens because she did no research about the historical meaning of her tattoo prior she allowed printing them on her body.
Related Article: Why Koreans Have Strong Reaction Against the Rising Sun Flag?
#CancelKorea Trending Now in Twitter After Korean Criticized Filipino Tiktoker
"I apologize to Koreans because 6 months ago I got a tattoo of the red sun with 16 rays. At that time, I didn't know the history.
"But when I found out, I immediately had it covered and scheduled for removal. I am ashamed of myself for not doing my research. I sincerely apologize," Bella tweeted.
In a separate tweet of Bella hope that her mistake will give lesson learned to others so that things will not happen again.
 "I live in Hawaii and I see a lot of people using the red rising sun symbol in clothing, cars and jewelry.
"Please educate yourselves and learn more about it because it came from a terrible history. It is very offensive to a lot of people. Please learn from my mistake."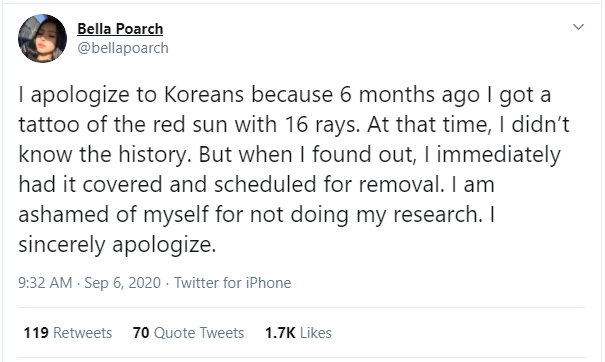 The message of Bella on Twitter flooded with mix reactions from the online community both Filipino and South Korean netizens.
Here are their comments: