Senator Sonny Angara said he has tested positive for the coronavirus disease again, after almost a month since he recovered from the disease.
The Senator posted on his Facebook account, "While preparing to donate my blood plasma for a second time, my doctors after the results of the initial antibody test taken before donating had me take another swab test, which registered positive."
I have tested positive once more after 2 negative results. Doctors not sure, suspect it's remnant of earlier virus. selfQuarantine again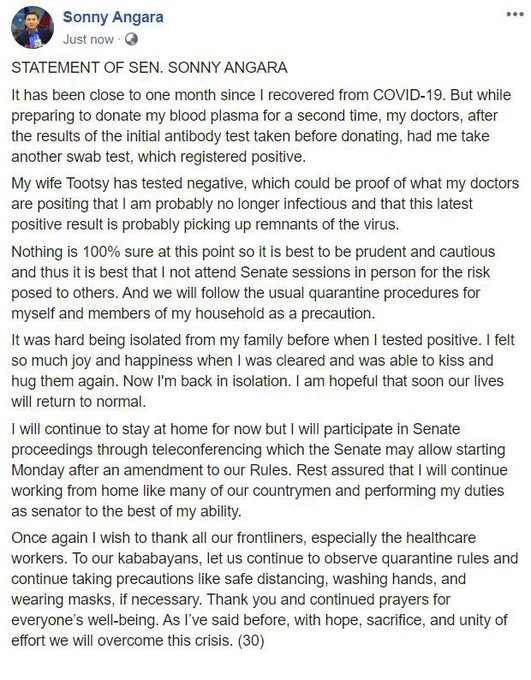 According to Angara his doctors said that they suspect there are still "remnants of the virus" in his body. He had taken a swab tests while preparing to donate blood.
Angara said, "My wife Tootsy has tested negative, which could be proof of what my doctors are positing that I am probably no longer infectious and that this latest positive result is probably picking up remnants of the virus".
In addition, Angara had offered blood plasma to some infected patients to help fight the viral disease.
Also, Health Department spokesperson Ma. Rosario Vergeire had agreed with Angara's doctors about his test results.
Vergeire said through a text message, "The RT-PCR is not recommended by our experts as a measure of cure, as the virus may still be apparent in the body of COVID-positive cases, even long after they have recovered, such as the case of Sen. Sonny Angara. But it doesn't mean that he is still infectious," this is referring to the swab test.
According to Angara will undergo self-quarantine again, though he is not feeling ill. He said he will join Senate hearings through teleconferencing once it is allowed.
What can you say about this? Share your thoughts in the discussion box below.