The Philippine Institute of Volcanology and Seismology (PHIVOLCS) a service institute of the Department of Science and Technology (DOST) scheduled "Handa Pilipinas Expo 2020" that supposed be held on the 12-14 of March 2020 is postponed due to the threat of COVID-19.
The prepared assembly hosted by the DOST-PHIVOLCS geared in preparation to response the calamity using technological advancement to be contributed by different stakeholders in the society in order to enhance and increase capabilities of local Disaster Risk Reduction and Management offices on mitigating, preparing and responding to hazards.
The said event is postponed according to the advisory posted by the PHIVOLCS-DOST on its official Twitter account.
The advisory reads:
HANDA PILIPINAS:
Innovations in Disaster Risk Reduction & Response Expo 2020
Postponement of the Handa Pilipinas Expo 2020
Due to the declaration of a State of Public Health Emergency by the Office of the President and Code Red Alert Sublevel 1 by the Department of Health regarding the coronavirus disease (COVID-19), the Handa Pilipinas Expo on 12-14 March 2020 at the World Trae Center is postponed.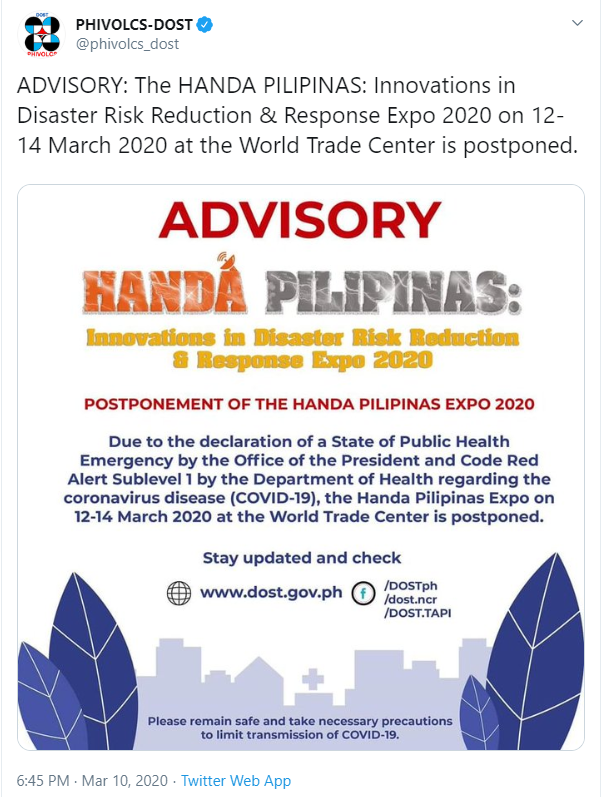 DOST-PHIVOLCS will have to announce the rescheduled time to materialize the plan.
We will be updating this page or publish another article to inform the public about the new schedule once available.