The Department of Health (DOH) launches on Tuesday the emergency hotlines for coronavirus disease 2019 (COVID-19) concerns.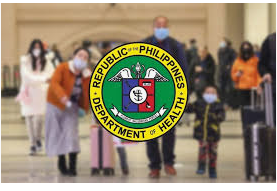 The hotlines were: 02-894-COVID (02-894-26843) and 1555 for Smart and PLDT subscribers. Both services are free of charge and were open 24 hours a day.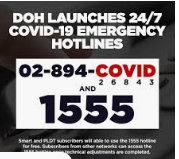 Subscribers from other networks are able to access the 1555 hotline as soon as "technical adjustments are completed."
The DOH explained in a press advisory that when using hotlines, callers can ask questions if they suspect they are infected with COVID-19, or they can request for assistance if they have symptoms and/or had known exposure to confirmed cases or patients under investigation.
DOH confirms that there are 45 new infections and the number of confirmed COVID-19 cases in the country rose to 187.
DOH said that "The information collected from emergency calls is transmitted to the COVID-19 Emergency Operations Center and other relevant agencies for immediate facilitation and response,"

According to Health Secretary Francisco T. Duque III, they "expected an influx of calls during the first few days of the launch."
Duque said, "We ask for the public's cooperation and patience to allow only relevant and important calls to go through. In that way, we can provide timely medical assistance to those who really need it,"
The new launch hotlines were in partnership with the National Emergency Hotline of the Department of Interior and Local Government (DILG), and PLDT through its wireless subsidiary Smart Communications Inc.
What can you say about this? Share your thoughts in the discussion box below.