Civil Service Commission (CSC) released passers of November 20, 2016 Reset CSE-PPT examination for Regional Office No. 14 (CAR) Professional Level.  A total of 878 examinees passed the CSC Exam Results, November 20, 2016. The examinees can also generate their examination rating through OCSERGS or known as Online Civil Service Examination Results Generation System than can be accessed in the CSC website. According to CSC official website, concerns on examination result, including verification of Examinee Number, should be coordinated directly with the CSC Regional Office (CSCRO) concerned.
Three-hour test for the professional level includes vocabulary, grammar and correct usage, paragraph organization, reading comprehension, analogy, logic, and numerical reasoning (English and Filipino).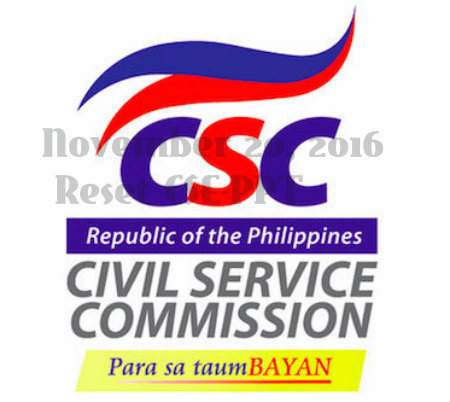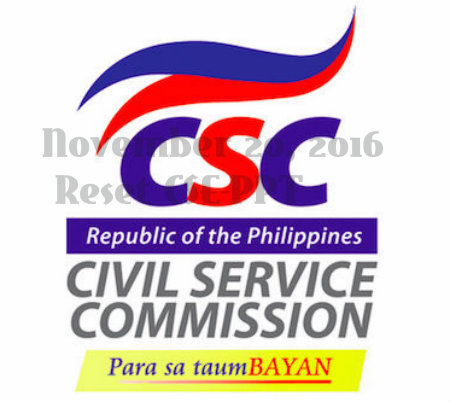 Related Article: Professional Level Results of October 2016 Civil Service Exam (CSE)
A corresponding Advisory on these matters shall be posted in the CSC website. Any other concerns on examination result including verification of examinee number, examinees are advised to coordinate directly with the CSC Regional Office concerned. The CSC Regional Offices handle the releasing of examination results.
Here is the List of passers below:
November 20, 2016 Reset CSE-PPT
Professional Level
List of Passers
Civil Service Commission Regional Office No. 14 (CAR)
Seq. No. Region Name
1 14 ABALOS, AMARANTH RAE L
2 14 ABAYA, JOANNA LOI C
3 14 ABDON, DEMIEL KAYE A
4 14 ABEN, ALYSSA JOHN L
5 14 ABLUYEN, REISKA R
6 14 ABNASAN, GENUINE JOE B
7 14 ABSOLOR, ANDREY MARI L
8 14 ACAY, LEAH ANGELICA C
9 14 ACCATAN, ANGEL C
10 14 ACNAM, LADY JOZZAMINE D
11 14 ACOSTA, ANGELO JOSE R
12 14 ADJARO, OFELIA B
13 14 ADONIS, JASON D
14 14 AGAMAO, CHRISTIAN R
15 14 AGBANLOG, JOYCE T
16 14 AGBUYA, JOHN B
17 14 AGLIAM, DARRYL JAKE D
18 14 AGOOT, ROCHELLE D
19 14 AGPAWAN, FRELA W
20 14 AGPULDO,BRIDGITTE T
21 14 AGTARAP, AERYCKA A
22 14 AGUILAR, JESABEL D
23 14 AGUITE,ELIZER R
24 14 AGUSTIN, REYNABETH C
25 14 AGUSTIN,ROWENA M
26 14 AGWILANG, TEEJAY B
27 14 ALAMO, KIMBERLY A
28 14 ALATANG, MARITTES K
29 14 ALBING, CLARITO JR B
30 14 ALBON, CHEYENNE M
31 14 ALCEDO, ALBERT C
32 14 ALEJANDRE, ALMIRA LEA T
33 14 ALEJANDRO, KRISTINE JOY I
34 14 ALEJO, HANNA GRACE T
35 14 ALIMAN, PAMELA C
36 14 ALINGCHAWANG, FARES T
37 14 ALLAGA, LARI JEANE B
38 14 ALLAPANG, KRISHA MAE A
39 14 ALLIDEM, JANELLE P
40 14 ALONZO, ROANNA MARELLA B
41 14 ALONZO,CLARISSA D
42 14 ALONZO,EMMIE LOU B
43 14 ALOO, LEA MAE B
44 14 ALVAREZ, DONNA GRACE M
45 14 ALVAREZ, JESSAMHINE A
46 14 ALVIAR, JULIENNE ERIKA R
47 14 ANAGARAN, RODOLFO JR S
48 14 ANCHALES, SARAH FAYE B
49 14 ANCHETA, KIMBERLY D
50 14 ANCHETA, MARYANN C
51 14 ANDALLO,FAYE CRISTINE G
52 14 ANDAWI, MARSHALL A
53 14 ANDAYA, GENE ROSAMAE A
54 14 ANDRES, MINERVA P
55 14 ANGANAYON, AGUSTINA W
56 14 ANGELES, ANGELO A
57 14 ANGLI, JOB B
58 14 ANGLUBEN, JOYCE A
59 14 ANIDA, CESNA C
60 14 ANTONIO, MA LORENCE GAY B
61 14 AP-APID, CORRIUR A
62 14 APIL, GARY W
63 14 APIL, MARY ANN C
64 14 APSAY, RUTH N
65 14 AQUINO, CHARINA ANDREA L
66 14 AQUINO, ROSALYN V
67 14 ARELLANO, LALAINE C
68 14 ASEJO, RODALYN F
69 14 ASIL, DANICA JUNIELLE A
70 14 ASPURIA, JAN RAYMOND T
71 14 ASTUDILLO, MARIA JUSTINE T
72 14 ASUNCION, EAYA JOY C
73 14 ATINYAO, JOHANNA THERESE B
74 14 ATITIW, CRIS PANG-AAN J
75 14 AWING,DAN ROBERT R
76 14 AYENTO, KRISTINE DHEE S
77 14 AZARCON, LANIE E
78 14 BACASEN, BERNALYN P
79 14 BACBAC, RESHA W
80 14 BADEN, JORELYN CHARIZ P
81 14 BAGCAL, MAUREEN D
82 14 BAGIW, ELISHA LOUISE MARIE B
83 14 BAGSINGIT, CHRISTINA B
84 14 BAGUIDUDOL, GINA MAE G
85 14 BAGUSTO, LEA MARIE C
86 14 BAHUG, AERON JOE C
87 14 BAINCO,ELLORDE JR F
88 14 BALACHAWE, ROBINSON U
89 14 BALAHYAS, CHARLINE T
90 14 BALALA, FLOREXIS L
91 14 BALANGOY, PRECIOUS P
92 14 BALANGUI, WINIE B
93 14 BALA-OY, XYPRENE L
94 14 BALAY-ODAO, EVA MAE KATE W
95 14 BALDELOMAR, JENNIFER A
96 14 BALICOCO, MARIEL I
97 14 BALINGAN, JANUABELLE M
98 14 BALINHAWANG, DETRIZA B
99 14 BALLACILLO, SHERY-ANN B
100 14 BALLON, CHRISTOPHENE C
101 14 BALMACEDA,LENNIE-ANN G
102 14 BALMORES, JUSTINE Q
103 14 BALOCNIT, RUTH LANE G
104 14 BALONG-ANGEY, HAZEL M
105 14 BALONG-ANGEY, JESSICA N
106 14 BALUALUA,CHARLEEN GAIL A
107 14 BAMBICO, JENNIFER ANNE MARIE B
108 14 BANAL, VICTOR MICHAEL F
109 14 BANASAN, BRANDON M
110 14 BANCIFRA, ERICA M
111 14 BANGENG, JEAN MARIE T
112 14 BANGLOY, BAY-AKAN K
113 14 BANGSARA, SHERWIN D
114 14 BANIQUED, JESSY ANNE M
115 14 BANIWAS, VALERIE JOY A
116 14 BARAQUIO, NAPOLEON JR G
117 14 BARBERO, JESLEY PAT M
118 14 BARCENA, SHIELLA MAE B
119 14 BARRANCO, CARISHA MARIE G
120 14 BARROGA, DREMA A
121 14 BASCOS, LORELIE T
122 14 BASIAG, PRISZLE DUANEE P
123 14 BASTIAN, NICANOR JR J
124 14 BASTIAN, ROXANNE B
125 14 BATAC, AIRA TERRESSA V
126 14 BATHAN, AUDREY GRACE T
127 14 BATONG, CHARMAINE JOY C
128 14 BATUA, ASAIDAH RASMIA S
129 14 BAUTISTA, CEDRIC Z
130 14 BAUTISTA, JOSHUA M
131 14 BAUTISTA, NIKKO PAOLO W
132 14 BAUTISTA, ORIEL L
133 14 BAWAAN, RUTH S
134 14 BAWINGAN, JEAN PAUL A
135 14 BAYADING, JONALYN M
136 14 BAY-AN, JULEVER L
137 14 BAY-AN, MICHAEL VINCENT B
138 14 BAYANGDAN, MEDEA D
139 14 BAYASEN, RANIEL D
140 14 BEBANIA, REY WARREN M
141 14 BELAC,MAUREEN S
142 14 BELARMINO, EMBRI B
143 14 BELINAN,SONIA T
144 14 BELINO, MIRACLE B
145 14 BELISARIO, ROUEL DAVE T
146 14 BELLO, ALAN NAZARENO B
147 14 BEÑAS, CEANTHAL MAE V
148 14 BENGDAEN, MARIA G
149 14 BENLINGAN, KEVIN B
150 14 BENTRES, JHONERVA T
151 14 BERDAL, RANDY N
152 14 BERNESE, ABIGAIL J
153 14 BESTOG, JERYNE P
154 14 BIAGTAN, ANNALYN C
155 14 BIALNO, LORENA G
156 14 BICASAN, JESSA MARIE U
157 14 BIGO, JIMEROSE A
158 14 BIGO, KRIZEL MAE A
159 14 BILALAT, VIRGILIO CLEMENT A
160 14 BIMMUYAG, BONILYN JONETTE A
161 14 BINUHE, JOSEL M
162 14 BINWAG, DEXTER K
163 14 BISOY, ARIEL F
164 14 BITOG, RONALYN B
165 14 BOLINGET, ASTRID MAY G
166 14 BONDAD, KIARA DOMAY A
167 14 BORJA, CHARLENE S
168 14 BOSE, JOSHUA F
169 14 BRAGAS, RONELL B
170 14 BUAGA, CINDY S
171 14 BUAQUEN, LIRIO C
172 14 BUCLAO, NICOLE MEREDITH G
173 14 BUDHRANI, POONAM V
174 14 BUDUHAN, EVELYN D
175 14 BUEN, HANZEL S
176 14 BUENAOBRA, JHOANNA MARIE G
177 14 BUGAOISAN, MARY JANE C
178 14 BUGAYONG, HAZEL F
179 14 BUGNAY, JOMAR B
180 14 BUGNOSEN, VICENTE III G
181 14 BUGTONG, CAROLINE G
182 14 BULAHAO, IRENE B
183 14 BULLION, TESSTON I
184 14 BULLONG, AIZA L
185 14 BULLONG, FEBETH L
186 14 BUMAL-O, RYAN B
187 14 BUMANGHAT, JOCELYN R
188 14 BUMATANG, DIANE D
189 14 BUMILAC, JUAN JR L
190 14 BUNDOC, MARIANNE IVY K
191 14 BURGONIO, MA ALITA SHAIRA IV C
192 14 BUSOY, HAROLD H
193 14 BUTIC, DENMARK P
194 14 BUTIL, FLORDELIZA C
195 14 BUYAYAWE, NELIA ROSE T
196 14 CABADING, CHRISTINE A
197 14 CABALHIN, ANDRE R
198 14 CABALTEJA, DAVE ANGELO T
199 14 CABANILLA, MILLICENT C
200 14 CABICO, ROBERTO JR L
201 14 CABLINAN, ROLDAN P
202 14 CABRERA, ELLAINE I
203 14 CABUGAO, MA CARLOTA C
204 14 CACAYURAN, EZRA BENSON S
205 14 CADA-O, ABEL WAIANE D
206 14 CAGADAS, PAULINE G
207 14 CAGUAY, MARJUN E
208 14 CAGUYA, ARIANNE IRAA T
209 14 CAHAPAY, HANNEY JOY A
210 14 CAIREL, RANELLE KAYE G
211 14 CALAMA, GAILEY MAE C
212 14 CALANTAS, LAURICE MAE M
213 14 CALAUSTRO, CHRISTIAN MARK C
214 14 CALAYAAN, CLAIRE ANN T
215 14 CALICA, MARIEL B
216 14 CALIGAN,ROWENA T
217 14 CALIMLIM, JALLY ANNE N
218 14 CALIMLIM, JEM MARK N
219 14 CALSIYAO, SHELDON A
220 14 CALUB, RUBICH CHIARA S
221 14 CALYAEN, JIRAH ANGELA T
222 14 CAMBOBO, GERMELYN L
223 14 CAMLAS, GENESARET P
224 14 CAMLAS, ODEZA P
225 14 CAMPOAS, JUVEE MAE M
226 14 CAMPOS, PAMELA D
227 14 CANDELARIO, JUSTIN JUDD D
228 14 CAÑETE, OLIVE MAY V
229 14 CANLAS, MARIELLE R
230 14 CANTA, ANNA LORRAINE C
231 14 CAPANANG, JOHN VINCENT F
232 14 CAPITLE, BENSON H
233 14 CAPUYO, KAREN JOY G
234 14 CARANDANG, ELLAINE C
235 14 CARBONEL, JAYSON L
236 14 CARIÑO, ALEXANDRA D
237 14 CARIÑO, JVANZ S
238 14 CARIÑO, KRISTANI MAY A
239 14 CARLIT, KATHLEEN T
240 14 CARLOS, ROSE JOY BERNADETTE D
241 14 CARONONGAN, ANA ELENA M
242 14 CARREON, ADELYN R
243 14 CARVAJAL, SHAINA MAY F
244 14 CASIGAY, HANNAH DALE L
245 14 CASTAÑETO, ABIGAIL SHANE T
246 14 CASTILLO, DREXONNE R
247 14 CASTRO, JUDEN JAE J
248 14 CASTRO, LYRA JEN V
249 14 CASTRO, ROSALIE MAE P
250 14 CASTRO, VINCENT C
251 14 CATALINO, HANNAGENE M
252 14 CATANIAG, DONNA BIANCA L
253 14 CAWED, HARRIET G
254 14 CAYABYAB, KURT RUSSEL U
255 14 CAYACHEN, BALTAZAR F
256 14 CAYCAYEN, KAREN L
257 14 CELESTINO, APRIL JASPER JILL D
258 14 CELESTINO, GLENN EDWARD T
259 14 CENIZA, MARIA GLEZA O
260 14 CERA, KAREN MAE S
261 14 CHAGYO, CHALYNE G
262 14 CHILI-ON, MARLYN B
263 14 CIRILO, PAMELA R
264 14 CISTER, JILLIAN JOY K
265 14 COCOY, FRANCES MAE J
266 14 CODANGOS, ERIC S
267 14 CONCEPCION, KEISHA T
268 14 CONCHAO, CHRISTIPHINE B
269 14 CONSUELO, CHRISTOPHER T
270 14 COPLAT, JAYMA A
271 14 CORRALES, REINER JOYZE P
272 14 CORTEZ, IRIS P
273 14 COSTALES, RIZZA MAE D
274 14 COSTIAN, JONI C
275 14 CRISOLOGO, JENNIFER G
276 14 CRUZ, RAVEN SYMONE D
277 14 CUESTA, DAVI RAM O
278 14 CULATON, JENNIELYN F
279 14 CUPATAN, MYRA M
280 14 CUSTODIO, CLARICE C
281 14 DACANAY, ISIAH THOMAS A
282 14 DACUYCUY, JOHN ALLEN B
283 14 DACYON, JULIE C
284 14 DAG-O, RACQUEL M
285 14 DAGUASI, JERICK W
286 14 DALIGDIG, ZYRA FAITH D
287 14 DAMASEN, DAXJUR F
288 14 DAMASO, JAMILA S
289 14 DAMONG, MADILYN A
290 14 DAMOSLOG, KENNY HANNA M
291 14 DANGIAPO, CHRISTOPHER VINCENT L
292 14 DANNANG, MAY B
293 14 DANTIS, JULIENNE D
294 14 DAODAO, HILDERTH P
295 14 DAPROZA, GISELLE H
296 14 DAQUIOAG,JENINA P
297 14 DASEP, ARDELLE T
298 14 DASIG, ZAYRA MAE M
299 14 DASING, FEVIE D
300 14 DAWAL, GENEVIEVE GAIL Q
301 14 DAYAO, RUSTOM S
302 14 DE CASTILLO, CHARLEINE D
303 14 DE GUZMAN, ALYANA KRISTEL M
304 14 DE GUZMAN, ALYZA G
305 14 DE GUZMAN, DANICA LOIS L
306 14 DE GUZMAN, ED CHRISTIAN R
307 14 DE GUZMAN, JANELLE S
308 14 DE GUZMAN, JIMVIE C
309 14 DE GUZMAN, JUSTINE ROSE M
310 14 DE GUZMAN,TRINA JANAIRA I
311 14 DE JESUS, JAM CAROL P
312 14 DE LEON, ANA MELISSA F
313 14 DE LEON, MICCA ELLAH R
314 14 DE OCAMPO, AIN MAE VINIA B
315 14 DE VERA, CAMILLE JOY D
316 14 DE VERA, EMMANUEL P
317 14 DE VERA, JUDEE ACE K
318 14 DE VERA, JUPITER C
319 14 DEANG, ASTRID JIREH D
320 14 DEGAY, AHRYN MAE M
321 14 DEJOLDE, DOLEEN MAE M
322 14 DEL ROSARIO, ALDRIN M
323 14 DELA CRUZ, ALYSSA MAE O
324 14 DELA CRUZ, JARA J
325 14 DELA CRUZ, JARED JERIC B
326 14 DELA CRUZ, TRICIA JANINE S
327 14 DELA PAZ, JATRICE BIANCA S
328 14 DELA PEÑA, JAN DALE JOVEN S
329 14 DELA ROSA, MAURICE A
330 14 DELOS SANTOS, JESSICA ANN E
331 14 DELOS SANTOS, JOSHUA C
332 14 DEMIS, ARJET S
333 14 DESOR, KAMILLE JOYCE B
334 14 DESOR, KRISTELLE MAE B
335 14 DIAWAN, DALE WILFER T
336 14 DIFUNTORUM, ANGELYNNE M
337 14 DIGMAYO, JOSHUA M
338 14 DILAG, EVALYN C
339 14 DIMAPILIS, GELLIE B
340 14 DIN, KAYENA C
341 14 DIRECTO, REA-ANN D
342 14 DOLIGAS, MARITES C
343 14 DOLIPAS, CHRISTOPHER S
344 14 DOMEREZ, CRISANTA B
345 14 DOMINGO, GLEN MAR B
346 14 DOMINGO, JOY MAE R
347 14 DOMINGO,CHARIE P
348 14 DOMINGO,JACKILYN T
349 14 DOMINGO,SHELA ROSE T
350 14 DOMLING, ZARAHNIE A
351 14 DORIA, SHERILYN DC
352 14 DORIA, VLADIMIR U
353 14 DOTON, ARLYN MAE P
354 14 DOTON, MARC GILSON S
355 14 DUCUSIN, AMEENA PAULINE C
356 14 DUCUSIN, KATHERINE D
357 14 DULNUAN, PETER JOHN M
358 14 DUMAGUING,SHELONIE D
359 14 DUMANOG, ROD C
360 14 DUMIGSI, ARNIEL A
361 14 DUMLAO, MARK JAMES N
362 14 DUNUAN, DARLYNE GRACE D
363 14 EBAN, LOUIE GINA N
364 14 EDUARDO, MA KATRINA M
365 14 EJERCITO, RUBY C
366 14 ERESE, LOVELY M
367 14 ERFE, PABLO C JR
368 14 ESPEJO, FENELLA MAE E
369 14 ESPIRITU, DANMER A
370 14 ESPIRITU, DARLAINE JOY A
371 14 ESPIRITU, KRISTOFFER RYAN G
372 14 ESTALIN, JEREL D
373 14 ESTELON,ROSE ANN D
374 14 ESTIMA, ZAREL B
375 14 ESTONILO, ARRIANE FAITH A
376 14 FABILLAR, BERNARDO B
377 14 FAG-AYAN, MAY STEPHANIE F
378 14 FANGAYEN, MYLA GRACE L
379 14 FANGI, BRENDA A
380 14 FANGON, KARL MARION V
381 14 FANGONIL, RHEA JUSTINE S
382 14 FARIN, NORIBEL A
383 14 FAUSTINO, DAISY M
384 14 FAVORITO, GLONICA JOYCE C
385 14 FELIPE, CATHRINA O
386 14 FERIDO, LOUISE MAE R
387 14 FERRER, JAZNY DAE B
388 14 FIDELINO, AILEEN PEARL S
389 14 FIDELINO, ALLAN PETER S
390 14 FINMOROG, FRITZIE L
391 14 FLORENDO, JOHN JOSEPH G
392 14 FLORES, CARRIE A
393 14 FLORES, ELOISSA MAE G
394 14 FONTANILLA, BIANCA RICA P
395 14 FORTEA, APPLE JOY T
396 14 FORTUNO, JOHN ROMMEL A
397 14 FRIALA,DIOMEDIO R
398 14 GABAN, JESSA F
399 14 GABAO, CHARMIE P
400 14 GABAY, FIDEN JOSEPH A
401 14 GABRIEL, NONA CHRISTINA R
402 14 GABUAT, RYAN CHRISTIAN R
403 14 GACHALLAN, JOZEL JOHARA KRINA D
404 14 GADIA, GERRYL ELMO M
405 14 GAHID, KAYE CELINE D
406 14 GALANG, ANNA LUISA C
407 14 GALBAN, STEFFI DHEVONNE S
408 14 GALERA, KRICSTEIN ALEK M
409 14 GALIMBA, MARIENNE JOY D
410 14 GALINGAN, MAY HANNAH D
411 14 GALLARDO, LEA SAMANTHA B
412 14 GALLAWEN, ROSALINDA S
413 14 GANABON, MANUEL JR B
414 14 GA-ONG, MAE S
415 14 GAPASIN, ALLYSA M
416 14 GAPASIN, ANGELIE MAE V
417 14 GAPUZ, RYZZELLE F
418 14 GARCIA, AGNES ISABEL P
419 14 GARCIA, RYAN JOSEPH A
420 14 GARGANTA, MITCH KRISTELLE L
421 14 GARRIDO, RIAN KARL Q
422 14 GASPAR, CONOR L
423 14 GAYADAN, CHARMEINE YEN YENG B
424 14 GAYO, JAYSON M
425 14 GAYO, NEIL JOHN M
426 14 GERALDO, PATRICIA MAE M
427 14 GERONIMO, DANA GWEN U
428 14 GIRON, CHARLOTTE FAITH V
429 14 GO, CARLHISTON B
430 14 GOLOCAN, NAZI MAE S
431 14 GOLUCAN, JOHANNA PRESCA O
432 14 GOMEYAC, LANILYN S
433 14 GOMEZ, MEGAN P
434 14 GONNAY,JUNE VINCENT B
435 14 GONZALES, JAZEL MAE D
436 14 GONZALES, KIRSTEN P
437 14 GONZALES, MARICAR S
438 14 GONZALO, JO MARX L
439 14 GRANIL, PRINCESS KARREN C
440 14 GREGORIO, GERALDINE A
441 14 GREGORIO, LEIZLE I
442 14 GUAKI, ALFE C
443 14 GUALON, RHEA B
444 14 GUERZON, GERLY E
445 14 GUIAD, GODWIN KENT R
446 14 GUIANG, ODESSA V
447 14 GUTIERREZ, DINDEE B
448 14 GUZMAN, EDWARD JANN A
449 14 GUZMAN, JESSETTE ANNE JOY A
450 14 HAMBON, HENRY A
451 14 HANGDAAN, JETHRO WILSON H
452 14 HIMMOLDANG, MYLYN L
453 14 HONGITAN, JEZREEL MITZI C
454 14 HORTALEZA, ALISON JERSEY M
455 14 HORTELANO, JANINE APRIL C
456 14 HUMIDING, ZARYA LORENA C
457 14 ICASIAM, ARLY MAE S
458 14 INUGUIDAN, SUNSHINE D
459 14 ISRAEL, JILLIAN SHAI L
460 14 ITLIONG, ARVIN JOHN A
461 14 JALLORINA, ALDYNNE GENISE B
462 14 JAVIER, FRANCES MAE T
463 14 JESALVA,JOAN L
464 14 JIMENEZ, ARLINDA MAE S
465 14 JIMENEZ, VICTOR B
466 14 JOSE, LOREN L
467 14 JUAN, RUBELYN P
468 14 JUANITAS, SAMANTHA GRACE M
469 14 JUGANAS, LIANE RASCHEL I
470 14 JULARBAL, MARIBELLE F
471 14 JULIANO, DAISY JOY S
472 14 KEBENG, ELIZABETH G
473 14 KIDMANO, CLINTON B
474 14 KILLIP, LYDEN CLAIRE S
475 14 KISIM, NEILSEN P
476 14 KITONG, JUSTIN LLOYD R
477 14 KITONG, SILVER D
478 14 KOLLIN, ROSCOE P
479 14 LABINIO, HEIDI KHRIS T
480 14 LACAYANGA, JESSICA ELAINE P
481 14 LAFORTEZA, KIM PAOLO M
482 14 LAG-EY, SYMOND S
483 14 LAGGUI, JEFERSON A
484 14 LAGMAN, JANINE C
485 14 LAGUIWED, KAREN J
486 14 LAMADRID, APRIL ROSE C
487 14 LAMAG, STEFFI PEARL P
488 14 LANDOCAN, PHOEBE S
489 14 LAÑEZ, ERIKA MAE G
490 14 LANGGACAO, SOFIA JOY M
491 14 LANGTIWAN, FELY G
492 14 LAO-AY, FELIX REY SJ
493 14 LAPUGAN, FENNY GRACE S
494 14 LAPUGAN, FRINEDLY MAY S
495 14 LAS-SIN, KARL C
496 14 LATAWAN, LEONARD JR C
497 14 LAYUGAN, AUDEE S
498 14 LAYUGAN, BRIAN CARLO B
499 14 LEIZA, AUBREY MARIE M
500 14 LETE, AIVIE E
501 14 LEZADA, JOYCE ANN B
502 14 LICOS, RICHARD REY G
503 14 LIGLIGEN, RUTH KRIZELLE A
504 14 LIGTINEN, MAURICE L
505 14 LIM, FAYE DOROTHY HANNAH O
506 14 LINGALING, SHIRLEY B
507 14 LINGBANAN, ETHNE ILYANA B
508 14 LIPAO, KENNETH A
509 14 LLEVA, MICHAEL ANGELO G
510 14 LOMIBAO, JUDITH MAUREEN P
511 14 LOMONG-OY, MAE ANN S
512 14 LOPEZ, KREZIAH MAE B
513 14 LOPEZ, MARY LUISA DC
514 14 LOPEZ, WILLA MAE S
515 14 LOREZCO, DHAISERIE M
516 14 LUBAT, JENNY ROSE D
517 14 LUBGUBAN, MARLO ALPHA T
518 14 LUCAS, ALLYZA P
519 14 LUCERO, AGNES A
520 14 LUDA,AGNES O
521 14 LUMABAS, JELOUFFAY B
522 14 LUMANG, GRACE N
523 14 MA-ANAO, KRISTY ANN E
524 14 MABALO, LESLIE JANE G
525 14 MABALO, MICHAEL JOHNSON P
526 14 MACHES, DANIEL JASON M
527 14 MACKAY, MARK CHRISTIAN A
528 14 MACKAY, VANESSA R
529 14 MACLI-ING, CRYSTAL JADE A
530 14 MADADSEK, GLADYS M
531 14 MADLAING, JOHN MICHAEL B
532 14 MADRIAGA, GYPSY B
533 14 MAGLANOC, MAVERICK C
534 14 MAGUDANG, JADE KARLO L
535 14 MAGUILAO, RICO B
536 14 MAJURAY, NOBELLE KATE P
537 14 MALAG, GAWAY GRAEL M
538 14 MALEEK, FELIMAR A
539 14 MALICDEM, HANNA JESSA B
540 14 MALLARI, CARLO JOSE ANTONIO G
541 14 MALLARI, RANEL P
542 14 MANA-A, LORIENNE JOY B
543 14 MANALOTO, APRIL QUENE S
544 14 MANANENG, APRILA S
545 14 MANANENG, LORENA JOY G
546 14 MANANIG, HANLIEL JOHN PAUL G
547 14 MANAOIS, CEDRICK P
548 14 MANGAPAN, ALUIAH JAEL B
549 14 MANGAWA, GRAIL MARGAUX M
550 14 MANGHI, SHEKINA B
551 14 MANGIBIN, VON JOZELLE G
552 14 MANGLA-AS, CLARISE F
553 14 MANGMANGON, CLARISE JOY T
554 14 MANGOLTAD, MYLA JANE P
555 14 MANGOYOB, JERK F
556 14 MANONGDO, YVONNE T
557 14 MAPILI, JUNILYN B
558 14 MARANTAN,ROSEMARIE G
559 14 MARCELO, KYLA W
560 14 MARCOS, ROXANNE L
561 14 MARIANO, AISAH CZARRIANE S
562 14 MARIANO, ARIEL B
563 14 MARIGMEN, GUEN JENEL P
564 14 MARIÑAS, KIN MYRDEL B
565 14 MARTIN, EVANGELINE B
566 14 MARZAN, ROS CLAIRE A
567 14 MARZAN, SHAWN MARTIN O
568 14 MASSAGAN, CLARICE C
569 14 MATA, JENINA MAE A
570 14 MATBAGAN, SHEREE C
571 14 MATIC, RUTH ABEGAEL S
572 14 MEDINA, CLARISSA MAY P
573 14 MELCHOR, JOHNNY JR D
574 14 MENDOZA, ELVIE O
575 14 MENDOZA, LENY D
576 14 MENSI, NEIZEL C
577 14 MERCADO, IVY CARMELA R
578 14 MICUA, FELIX G
579 14 MILLARE, PRECIOUS MAE D
580 14 MIRANDA, GLENDAYLE JANE B
581 14 MISLANG, MARK GERALD R
582 14 MONDALA, ANGELIA R
583 14 MONTALBAN, JONATHAN JAMES T
584 14 MONTEMAYOR, PHOEBE AERIELLE V
585 14 MONTEREAL, KING ANTHONY M
586 14 MONTES, ANNA MAY P
587 14 MONTES, NANCY S
588 14 MORRON, PIERRE FE B
589 14 MUENA, KRYSTEL ROBIE E
590 14 MULA, LAREEN FAITH G
591 14 MUNDO, XANDRABELLE P
592 14 MUÑOZ, BELORE ANNE C
593 14 MUÑOZ, NICOLAS ANTOINE C
594 14 NABANALAN, ROLLY KETH B
595 14 NABOR, CHRISTIAN JAMES M
596 14 NAH-YAHAN, HAMES R
597 14 NA-OY, LILY ANNE K
598 14 NAPEÑAS, ANNE MARIE N
599 14 NAUNGAYAN, ROCHELLE G
600 14 NAVARRO, MYRENE GAIL B
601 14 NEBRIDA, JAYSON D
602 14 NEO, AILEEN MAE A
603 14 NERONA, ALDRICH L
604 14 NGAMOY, JENNIFER A
605 14 NGAYAWAN, WILBERFORCE F
606 14 NGITIT, AYRA LOVELLE N
607 14 NICER, JOHNWIL H
608 14 NIETES, KAREN Q
609 14 NIEVE, MARY ROSE A
610 14 NOEFE, NICOLLE REI A
611 14 NOLASCO, SYRILE F
612 14 NOMIL, JAN WYNE T
613 14 NOTARIO, ERMA N
614 14 OBOÑGEN, JEANETTE V
615 14 OCOMEN, GREJAY V
616 14 OFIAZA, JIEZELLE A
617 14 OLAT, PAMELA DAWN O
618 14 OLATIC, PERSIAN T
619 14 OLATIC, RHEA T
620 14 OLERMO, SHEILA MAE C
621 14 OLLERO, JOMAR KENNETH V
622 14 OLPINDO, MARK CHRISTIAN REY L
623 14 OLSIM, MEL GRACE S
624 14 OPLAY, ROSELL I
625 14 ORDINARIO, PAULEEN J
626 14 ORDONIA, CRISTLE MARIZ E
627 14 ORGANTE, BERMHEL H
628 14 ORILLE, IVAN JAMES E
629 14 ORINION, RONNIEL M
630 14 ORMILLO, JEFFORD CLARK S
631 14 ORPILLA, TRISHA MAE E
632 14 ORTIZ, SAUL ARIES MARCK V
633 14 OS-OSA, GEMMA C
634 14 PA-AT, JENEFER P
635 14 PA-AYEN, JIZZEL P
636 14 PACAPAC, ADELA T
637 14 PACLAY, SHIRMAINE M
638 14 PACUBAS, SHERYLL MOANA MARIE D
639 14 PADAN, CLYNYTH P
640 14 PADDUYAO, KRISTOFER N
641 14 PADILLA, RHOBY LYE V
642 14 PAETAN, DEBORAH S
643 14 PAGADA, MAE ANN G
644 14 PAGAOA, CHRIS PAUL P
645 14 PAGUIO, NORINA N
646 14 PAGUIRIGAN, ANGELIKA B
647 14 PALAFOX, BERNALYN N
648 14 PALANGCHAO, DEZYREE A
649 14 PALANGYOS, JEROME A
650 14 PALMA, GRETA MAY V
651 14 PALOS, KRIZLEIGH MAREE B
652 14 PALPAL, WENDY K
653 14 PANAS, ELJANE KRIZZA M
654 14 PANGANIBAN, LOVELY JOY C
655 14 PANGILINAN, ANNIELLIE GRACE M
656 14 PANGKET, GARRET T
657 14 PANINGBATAN, ALVA P
658 14 PARAS, BRYAN JAMES A
659 14 PARNACIO, MARYJO M
660 14 PAR-OGAN, ANNIE JOY A
661 14 PASCUA, PEECHESS R
662 14 PASCUA, RYDEN D
663 14 PASCUAL, PHOEBE A
664 14 PASCUBILLO, KRISTYL JOYCE V
665 14 PATAWARAN, DOMINIQUE ALLISON D
666 14 PAUD, MEMORY SEAN JAY D
667 14 PAULY, PRINCESS FAITH A
668 14 PAUNGAN, CHRISTABEL E
669 14 PAYANG, MELANDRO L
670 14 PE BENITO, LLEWELYN S
671 14 PEDRO, ELIZABETH D
672 14 PELAYO, JESSELYN P
673 14 PENEYRA, KEVIN DEXTER M
674 14 PERALTA, KARL DANIEL E
675 14 PETATE, DANICA MAYE M
676 14 PETICAN, JULIE ANN B
677 14 PILSONA, SHANINE S
678 14 PILUDEN, JACKIE LOU P
679 14 PILUDEN, JANUS COOPER C
680 14 PINKIHAN, ANNIE SOL K
681 14 PIÑON, ANGELICA RIEVE L
682 14 POBLETE, WYNNETT DESIREE P
683 14 POCRAO, CLYDE A
684 14 POCYOY, MARINA KIM L
685 14 POGONGAN, JOHNSEN K
686 14 POMAY-O, CATHY FAITH P
687 14 PONCEJA, JOHN LORENCE D
688 14 PONCIANO, MARK ALJEN B
689 14 PONGCHACHEN, MERLY S
690 14 PRADES, JANELINE B
691 14 PUDOL, KEVIN A
692 14 PUGONG, OFELIA MARIE N
693 14 PUGUON, SHEENA LENN D
694 14 PUKIAS, MARK JULIAN W
695 14 PULICAY, CEASAR JR G
696 14 PULINAS, CREZILDA L
697 14 PUMIHIC, DIANE JANE T
698 14 PUNO, KATHLEEN CAE C
699 14 PUTIYON, PATRICK JOSEPH L
700 14 QUEDDENG, DIANNE MARIE S
701 14 QUEZADA, GENESES CARLO L
702 14 QUEZADA, LEA ANGELIQUE L
703 14 QUIAMBAO, LEISAIAH YVONN F
704 14 QUIAMBAO, SHANEN G
705 14 QUIAÑO, MARIDEL JASMINE E
706 14 QUINIONES, ANALYN D
707 14 QUINTO, LEZLIE MAY C
708 14 QUITALEG, FLERIZA BELLE L
709 14 QUITOLA, SHEENA MARIE D
710 14 RABAGO, KEVIN B
711 14 RAMIREZ, IVORY C
712 14 RAMIREZ, ROSE KAREN V
713 14 RAMOS, CLYDE M
714 14 RAMOS, THEA MARIE D
715 14 RAPANUT,MARY GRACE E
716 14 RECOLOSADO, CLADITH A
717 14 REMANDABAN, KHERWIN B
718 14 RETIZA, APRIL GRACE D
719 14 REYES, EZEKIEL M
720 14 REYES, JENIFER VICTORIA M
721 14 REYES, MARVEEN RENARD E
722 14 REYES, RACHEL ANN V
723 14 REYES,RU-AN CONNIE G
724 14 REYNADO, KAYE CELLINE G
725 14 RILLERA, RUPERT PAOLO III M
726 14 RILLORAZA, CHRISTIAN JEFF M
727 14 RIOTOC, FELISA D
728 14 RIOTOC, MARLEEN JEWEL D
729 14 RODILLAS, MA. NIZA A
730 14 RODRIGUEZ, ABIGAIL ANN D
731 14 RODRIGUEZ, MARY NICOLETTE C
732 14 ROMERO, MATTHEW KEITH C
733 14 ROMUALDO, DANDY LLOYD L
734 14 ROSARIO, BABY MAY P
735 14 RUPISAN, MA ROMA A
736 14 SABADO, RANDOLF A
737 14 SABAOT, JOMAR P
738 14 SABIANO, EDEN ROSE P
739 14 SABINO, EDWARD B
740 14 SAB-IT, IZZA FLOR T
741 14 SADURAL, EDDY RICK S
742 14 SAITO, RONABELLE C
743 14 SAJOR, JEDI L
744 14 SALIC-O, MERCY B
745 14 SALISA, ELVIE F
746 14 SALTIN, ALDRIN V
747 14 SALVADOR, CHASTE HEART S
748 14 SALVO, ROCELLE P
749 14 SAN AGUSTIN, MA KATREENA FRANCES N
750 14 SAN ANDRES, CELINE H
751 14 SANCHEZ, FREDRITZ D
752 14 SANEDRIN, NIKKI RUTH O
753 14 SANGDAAN, ROSE LILY L
754 14 SANTOS, AIRA JOHNEA G
755 14 SANTOS, JOHN RENNAN A
756 14 SATURNINO, JERMIAH F
757 14 SAYAGEN, CATE M
758 14 SAY-AWEN, REGULA JANE A
759 14 SEGUNDO, JAEUS M
760 14 SELGA, MARIONNE JOY G
761 14 SEVRINO, HESAN-EM M
762 14 SIAGAN, JOBELEE V.
763 14 SIANEN, AILAN C
764 14 SIBAYAN, MARK JASON B
765 14 SIBAYAN, VANESSA C
766 14 SICDOY, PABLITO JR O
767 14 SIERRA, AIMEE KAYE L
768 14 SILDON, BYRONE D
769 14 SIM, HENY-C MAE L
770 14 SIMON, ROLANDO M
771 14 SINGIT, MARIA JESSICA D
772 14 SINONG, ARIANNE P
773 14 SINUMLAG, ALMA B
774 14 SIOBAL, KRISTINE PIA B
775 14 SISON, SANDEN AEJAS I
776 14 SOLIMAN, SAMUEL B
777 14 SOMERA, KRISTINE N
778 14 SOTELO, CHELCAE L
779 14 STA ANA, MARY-ANN L
780 14 SUAGEN, AILEY CLAIRE G
781 14 SUBAGAN, JIREH DOMINIC R
782 14 SUC-A, MARJORIE W
783 14 SUDARA, MHENARD M
784 14 SUMAD-EN, JASPER B
785 14 SUPNET, AIRA MAE S
786 14 SUSARA, NORA SERENE A
787 14 TAASIN, NENITA T
788 14 TABAFUNDA, RECEL N
789 14 TABAO-ICAN, JENDINE A
790 14 TABCAO, CAROL BRYLL C
791 14 TABCAO, ELAINE ANTOINETTE P
792 14 TABORA, JANICE A
793 14 TACUT, CLYDE XANDER A
794 14 TADEO, FERDINAND JR O
795 14 TADIFA, DONNABEL KATE G
796 14 TADLANG, REMESHELL M
797 14 TAGLE, DARLEEN L
798 14 TAGUITAG, ZARYL ZYRA O
799 14 TALOMA, RV GOLD M
800 14 TALTALA, CHERRIE ROSE B
801 14 TAMANI, MIA LOUISE S
802 14 TAMAYO, IVIE ROSE D
803 14 TAMAYO, LOURDES B
804 14 TAMBIAC, LHEA G
805 14 TAN, MA RANIEKHA S
806 14 TAPEC,RUCEL JOY M
807 14 TAYABAN, LLOYD N
808 14 TAYAG, HANNAH FAYE J
809 14 TAYNAN, JERSICA C
810 14 TAYSA, MARK LENARD B
811 14 TEJANO, JETHRO V
812 14 TEJERO, ZANDRA CLAIRE B
813 14 TENENAN, JOYCE P
814 14 TENEZA, OSWALD JOHN B
815 14 TIMBREZA, LOUIGENA M
816 14 TINO, JENALYN G
817 14 TOLEDO, JAZELLE MAE O
818 14 TOLENTINO, RIZA F
819 14 TOLLINO, ASELA C
820 14 TOMAQUIN, HEIDI KIMBERLY D
821 14 TOMINO, JINGER DOLL J
822 14 TONGDO, JANINE AUBREY N
823 14 TONGDO, JOE ARC N
824 14 TONOGBANUA, ANJELICA MIA D
825 14 TORIBIO, FRANCONERO M
826 14 TORRES, CAMILLE ERIN B
827 14 TOWANNA, JAHANE PEBBLES M
828 14 TOYAOAN, MIGUEL JR P
829 14 TOYOKEN, ANDREW K
830 14 TRINIDAD, JEREMY D
831 14 TRINIDAD, KIM JOEFRED M
832 14 TRINIDAD, ROLINA JOY D
833 14 TUBAL, THIEL R-K L
834 14 TUBERA, RODERICK R
835 14 TUBLAN, MAYLYN P
836 14 TUDAYAN, MARRY ANN S
837 14 TUDLONG, AARON JR F
838 14 TUDLONG, ABIGAIL C
839 14 TULUAN,DIANA DONA N
840 14 UBFAN, SARAH JANE O
841 14 UGALDE, JOHNNY B
842 14 ULIBAS, JULIE ANGELICA B
843 14 UNTALAN, EFRAIM D
844 14 URBANO, ARIAN VENUS S
845 14 URMAZA, KRIZZA MAE Q
846 14 URSUA, MA ROSARIO S
847 14 VALDEZ, MARVIN C
848 14 VALENCIA, DECERY JANE P
849 14 VALENCIA, JOFEL HESTER PEARL O
850 14 VALENZUELA, ARLENE P
851 14 VALERA, ZSA ZSA B
852 14 VARGAS, ROPIE MAE M
853 14 VASQUEZ, JESSAMIE C
854 14 VELASCO, JUNELYN D
855 14 VENGADO, JOHN J
856 14 VERGARA, QUEENIE R
857 14 VERZOSA, ALFREDO JR P
858 14 VERZOSA, PRINZELLE P
859 14 VICENTE, CHARLYN K
860 14 VICENTE, LAUREL JR A
861 14 VICENTE, REMALYNE KIM A
862 14 VIERNES,KEVIN A
863 14 VILLANUEVA, ALYSSA GESREEL C
864 14 VINLUAN, PATRICK V
865 14 VIOS, JIERRAMAE O
866 14 VIZCARA, JASMINE L
867 14 WAGAYAN, DIADEM T
868 14 WAILAN, ESTRELLA E
869 14 WAKLIN, GENEVIVE B
870 14 WALDO, DERMALYN S
871 14 WANSI, CHATELAINE M
872 14 WASIT, WYNIELANE T
873 14 WATCHORNA, MARIJANE S
874 14 WIGWIGAN, IRISH MIKEE W
875 14 WONG, JAMESSA Y
876 14 YAGYAKEN, ANIKA MAE L
877 14 YDIA, MARY ELEANOR A
878 14 ZACARIAS, SHERRIE MAE S
***Nothing Follows***