Civil Service Commission (CSC) released passers of November 20, 2016 Reset CSE-PPT examination for Region 2 Sub-Professional Level.  A total of 156 examinees passed the CSC Exam Results, November 20, 2016. The examinees can also generate their examination rating through OCSERGS or known as Online Civil Service Examination Results Generation System than can be accessed in the CSC website. According to CSC official website, concerns on examination result, including verification of Examinee Number, should be coordinated directly with the CSC Regional Office (CSCRO) concerned.
Related Article: Congratulations! October 2016 Civil Service Exam Results, Sub-Professional Level
Three-hour test for the professional level includes vocabulary, grammar and correct usage, paragraph organization, reading comprehension, analogy, logic, and numerical reasoning (English and Filipino).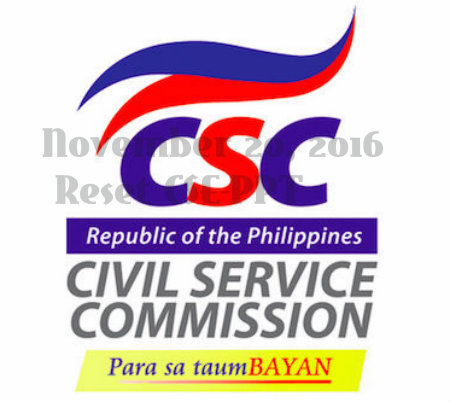 Here is the List of passers below:
CSC Website
Details
Published: 16 December 2016
Hits: 1277
List of Passers
Civil Service Commission Regional Office No. 2
Seq No Region Name
1 02 AGCAOLI, ELMA A
2 02 AGLUBA, MYRA P
3 02 ALEJANDRO, KAIZA MARIE B
4 02 ALMUETE, HARLENE R
5 02 ALTUNA, KHRYSTIAN JESUS FINELLI O
6 02 ANDES, MONICA ALEXIS R
7 02 ANDRES, GIRLIE MARIE B
8 02 ARTIENDA, FLORITA S
9 02 AUSTRIA, BENZ YVES Q
10 02 BABAS, ARMANDO B
11 02 BACCAY, SHERWIN D
12 02 BALAGASAY, MARIA TERESA A
13 02 BALDONADO, ANNABELLE B
14 02 BALIZA, MARY ANN A
15 02 BANGNGAGAN, RUCK L
16 02 BARROGA, MYLENE G
17 02 BASCONCILLO, FHATIMA C
18 02 BATALLONES, MANUEL M
19 02 BATUGAL, HONEY P
20 02 BAUTISTA, MA JASMIN C
21 02 BERMIJISO, MARICAR P
22 02 BERNARDINO, EMMALYN P
23 02 BOLINAO, BERNADETH MAY S
24 02 BONIFACIO, LEA CHRISTINE D
25 02 BORJA, JEFFREY I
26 02 BRIONES, JOSELITO R
27 02 BULAN, CHEENE JOY D
28 02 CABATBAT, RACIANNE B
29 02 CABUGON, KAREN M
30 02 CACACHO, LORRAINE MAE D
31 02 CAGAT, MA LEIZER JOY S
32 02 CAMBRI, DARWIN EARL T
33 02 CAMPOS, LOVIM JOSSA S
34 02 CARANGUIAN, HANNA DAWN T
35 02 CASEM, PATRICIA ALYSSANDRA S
36 02 CASTILLA, DIANA ANN B
37 02 CELLONA, DONNA MAE S
38 02 COLOMA, CHIARRA MAE T
39 02 CORPUZ, JAN DOMINIC D
40 02 DAMASO, MA LOUISE D
41 02 DANCEL, JOSEPH V
42 02 DAQUIOAG, MARY JANE C
43 02 DAQUIOAG, MARY JOYCE C
44 02 DARWIN, MICHELLE GRACE R
45 02 DE LA CRUZ, CHRISTOPHER GIL A
46 02 DE MESA, JOSHUA TERRENCE
47 02 DELA CERNA, RENAISSAN D
48 02 DELA CRUZ, MARIQUESA P
49 02 DOMINGO, GLECIE C
50 02 DUCO, HERMAN II G
51 02 EMBONG, JASLEN FAITH B
52 02 ERICE, MITOS JOY M
53 02 ESTRADA, ANA LIZA A
54 02 EVANGELISTA, LORLENA LEI L
55 02 FACUN, AMY M
56 02 FERMANTEZ, DINA S
57 02 FERNANDEZ, KATRINE CLAUDETTE F
58 02 FERRER, JHAZEL G
59 02 FLORES, JOYCELYN MAE A
60 02 FONBUENA, ALYSSA PAULINE E
61 02 FOZ, GREGORY YVAN S
62 02 GABRIEL, MITZI ANN B
63 02 GACIAS, ANGELICA M
64 02 GALVIZO, MARK ANDREW G
65 02 GAMAL, KATRINE JANE A
66 02 GAVINA, CHARIBEL P
67 02 GORION, MIRA ELLAINE R
68 02 GOZE, FEBE JOY M
69 02 GUIAB, JESSA MAE C
70 02 GUILLERMO, FRELYN B
71 02 GUILLERMO, MARA FAIRA G
72 02 GUINGAB, MA CLAUDIA S
73 02 GUIZZAGAN, FEBRALYN S
74 02 IDOS, SHALIE MEI A
75 02 IRINGAN, MA VICTORIA S
76 02 JULIAN, MAYLYN G
77 02 LAGAYAN, MARK ANTHONY S
78 02 LAVADIA, ZENAYDA U
79 02 LUCENA, JESTHENE JOY F
80 02 LUGA, JENEAN M
81 02 LUMAWIG, MARIVIC M
82 02 MACABABBAD, KIM CYRUS C
83 02 MACABABBAD, RAYDA B
84 02 MADRID, JEROME B
85 02 MAGNO, MIA CELICA D
86 02 MALADRIGO, DIANA DEE B
87 02 MAÑALAC, LAWREN JAMES V
88 02 MANGADAP, MARK RAPHAEL
89 02 MANZANO, GLORY JANE M
90 02 MARIÑAS, LYNDEN P
91 02 MARTINEZ, MYLENE M
92 02 MARTINEZ, REZ R
93 02 MASANQUE, RHEBY L
94 02 MERCADO, RHINE RHANE R
95 02 MERCADO, ROSALIE T
96 02 MOLINA, KRISTINE JOY L
97 02 MONJE, MIKE JERICHO F
98 02 NARAG, JAY-R Q
99 02 NAVARRETE, NEIL KEVIN R
100 02 NEBRE, JEFFREY P
101 02 NEPOMUCENO, MADELAINE M
102 02 NG, JESSA KASANDRA S
103 02 OLI, DANIEL I
104 02 OYANDO, PAULINE JUNAR B
105 02 PABIONA, JENIELEEN D
106 02 PAGADUAN, GRACEILLE JOY L
107 02 PAJARITO, DANE P
108 02 PALMA, JIMMELY N
109 02 PARACAD, JESABEL E
110 02 PARDIÑAS, ALLEN S
111 02 PARONG, ROLDAN O
112 02 PASCUA, KRISTINE KEY A
113 02 PEREZ, ANGELICA P
114 02 PINILI, JOHN IVY C
115 02 PIRA, MARK LESTER I
116 02 PLATA, ALMIRA T
117 02 QUIDIT, DIANEE PRINCESS
118 02 QUILALA, SHANE A
119 02 QUIRREZ, CATHERINE GEM D
120 02 RABANAL, MAE ANGELIC F
121 02 RAMOS, XAILYNE C
122 02 RARANGOL, AIZA A
123 02 REGINALDE, GIRLIE JOYCE H
124 02 RIVERA, ANNABELLE G
125 02 RIVERA, JEANELIE FAYE M
126 02 RIVERA, RIO GRACE C
127 02 ROSENDO, RICHARD P
128 02 ROXAS, ZYXA MARI C
129 02 SALDIVAR, EDITHA D
130 02 SALVADOR, TIFFANY A
131 02 SALVADORA, JIMMY JR A
132 02 SAMPAGA, LOREN MEI A
133 02 SANCHEZ, ROWENA D
134 02 SANDAGA, NOVIE JANE C
135 02 SANTIAGO, LOVELY G
136 02 SAYLON, SHEILA J
137 02 SECRETARIO, PRINCESS MAE T
138 02 SIMANGON, BENNY ROSE G
139 02 SINFUEGO, CONNIE JANE R
140 02 SINON, KHRISTIAN ALPHONSE G
141 02 SOGAN, MARICRIS M
142 02 SORIANO, ELIZA MAE C
143 02 SORITA, CLARISSE HANNAH D
144 02 TACAMA, IVY JESSICA S
145 02 TARUN, CLARIZE JANE B
146 02 TAYNAN, NOREEN B
147 02 TEAÑO, SHARMAINE JOY M
148 02 TULAB, ANNA KATRINA
149 02 TUMALIUAN, LORAINE T
150 02 TUNGCUL, DARYEL M
151 02 VALDEZ, ALVIE VISITACION B
152 02 VALDEZ, MARISOL H
153 02 VALIENTE, JOY C
154 02 VINAGRERA, JENICA S
155 02 VINASOY, CRISTEL JOY T
156 02 VISTIDAS, RESSY JANE R
***Nothing Follows***