The top trending topic online! ABS-CBN reporter Kuya Kim said that there was a dust devil formed in Ligao City, Albay. This video was taken by Wengee Apuli one of the teacher in Ligaw National High School. Many students was shocked when they saw a Dust Devil or Ipo-Ipo in their basketball court around 10:30 a.m.
There were students are amazed and happy to watch the small Dust Devil. The Dust Devil will formed in flat surface place when the weather are hot, clear and not a windy season.
Dust Devil definition;
A dust devil is a strong, well-formed, and relatively long-lived whirlwind, ranging from small (half a meter wide and a few meters tall) to large (more than 10 meters wide and more than 1000 meters tall). The primary vertical motion is upward. Dust devils are usually harmless, but can on rare occasions grow large enough to pose a threat to both people and property.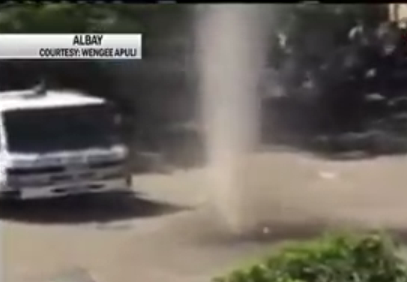 The video was uploaded in the official Facebook Page of Kapamilya News TV Patrol that garnered more than 6, 000 shares.
For more updates, please follow us on Twitter and by linking us on Facebook.