The Provincial Park and Lagoon is located in Lacson Street Bacolod City, Negros Occidental with the best features are the sculptures of a man and a woman holding with their water buffalo on their side.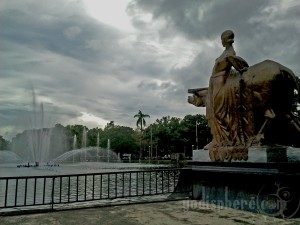 These sculptures are made by the Italian Francesco Riccardo Monti who also made the famous sculptures of Metropolitan Manila and the sculpture in UP-Iloilo.
Aside of these sculptures, one of the best features is the "Paghimud-os or The Struggle" is also made by the Filipino Eduardo S. Castrillo, it is found at the western part of park.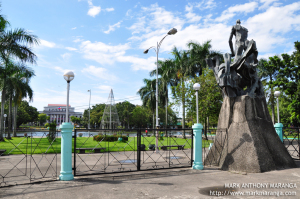 The monument tower, it is served as the commemoration for the sacrifice of the Filipino and American soldiers who fought to the Japanese invaders in World War II for the sake of freedom and justice, it is also found at the eastern part.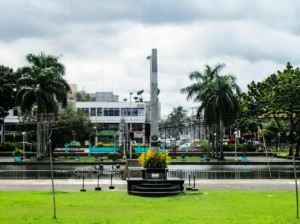 And the big pond with thousands of "Tilapia" fish found at the center of the park, it is very entertaining especially to the kids and families where feeding the fish is allowed by the management.
Feeding the fish is very popular; you can buy to the vendors of park, "Popcorn" and "Pop Fries" are the best foods for the 'Tilapia' fish.
Activities
Some heath conscious and people love exercise jugging around the park early in the morning for their recreational and daily activities and also some groups doing their different exercises inside the park like Zumba, Tai Bo, Arnis, and Taek Won do.
During afternoon you can see around the park usually students do their activities inside the park, as I observed some of the students make their practice in dancing, singing, and acting. Some skateboard player and bikers discover the Capitol Lagoon as their skating and biking haven.
Night Time
 During at night, Provincial Capitol Lagoon is become very popular because of their light that keeps the beauty of place. This is secured 24/7 by the guards' on-duty and the Provincial Park is open from 3AM to 12 in midnight.
For me, one of the best reasons why I love to visit the Provincial Park is not only the beauty of place but the hospitable people. Aside of that, this is the place where you can find the vendors of my favorite "Balot and Penoy."
Read: Provincial Park and Lagoon (How to get there)