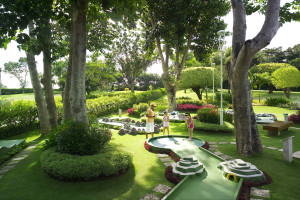 Playground for children in Shangri-La Mactan Resort & Spa is created especially for children's pleasure with exceptional adventure and experience during your stay. To ensure your enjoyment, relaxation and worry-free tropical holiday for your entire family, our facilities for kids are categorized into different level of ages.
Adventure Zone
The Adventure Zone is for level of children aging three up. It is a multi-level indoor playground with several activities every day. We recommend proper wearing of long-sleeved shirts and socks to protect and ensure the children's safety.
Toddler's Zone
Our Toddler's Zone is very spacious to ensure children's satisfaction of enjoyment with different type of amusement. Children ages 3 and below may play to this area. We recommend all children to be accompanied by an adult at all times for safety measure.
Children's Pool and Aquaplay
Children's Pool is located in the main pool area and it is open from 9:00 am – 6:00 pm.
E-Zone
E-Zone is the place in Shangri-La Mactan Resort & Spa that features video arcades, table soccer and other opportunities for shared family fun.