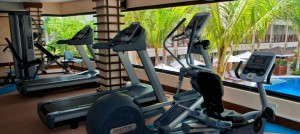 While you enjoy your stay at Regency Lagoon Resort during your dream vacation in Boracay you can still maintain your fit in the resort's fully air-conditioned Gym and Fitness Center.
Regency Lagoon Resort's Gym and Fitness Center is equip with the latest cardiovascular and strength equipment for body building development. It is available for all guests to do their regular workout while you enjoy viewing lovely Adamic & Eve like individuals swimming in resort's lagoon-swimming pool.
Click also other links and images attached to this article to see other beautiful features of the Regency Lagoon Resort like the Swimming Pool, the Pool Bar, the Beach Front, Regency Lagoon Café, as well as the Meeting & Events for all kinds of occasions.
Photo credit: regencylagoon.com.ph