Ellen Adarna, a famous actress, confesses that there are still women who contact her spouse, and this is her answer.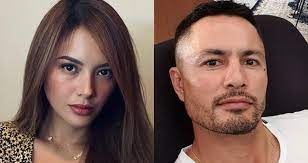 She responded to the topic on her Instagram stories, revealing that Derek, as a devoted spouse, would always allow her view the texts he got from those other females. She was also not the tôxic type.
Ellen Adarna and Derek Ramsay married in November 2021 in Rancho Bernardo Luxury Villas in Bataan, just before sunset. Their new relationship led to their lifelong journey.
People are glad to see them together in life and recognize similarities that have given them this much joy in their lives together, despite some doubters.
Regardless of the fact that their marriage has been well known owing to their popularity, Ellen recently revealed on Instagram that other women are still texting her husband.
When questioned what to do about ladies who continued contacting men who were already committed, she frankly spoke up about it.
As a result, she would simply laugh at it and regard it as a sort of entertainment. Derek declines to entertain these ladies hitting on him, and when asked how she feels about it or whether it bothers her, she says she only has two moods about it.
"Duha ra na ka-mood 'Day, tan-awon nimo sa picture, depende kong dug-on ka or di. 'Hala, kabati sa iyang nawong nag-message message, hala siya kakuyaw.' Or, 'Peste kabati ani niyag nawong nag-message message man intawon ni siya?'" she stated.
(Translation: "Dalawa lang na mood yan 'Day, tingnan mo ang picture, depende kung duguin ka or hindi. 'Hala, ang pangit naman ng itsura nito nag-message message, hala siya ang lupit.' Or, 'Peste ang pangit ng mukha nag-message message naman ito?")