The Palace issued a statement following the declaration of President-elect Bongbong Marcos and Vice President-elect Sara Duterte-Carpio.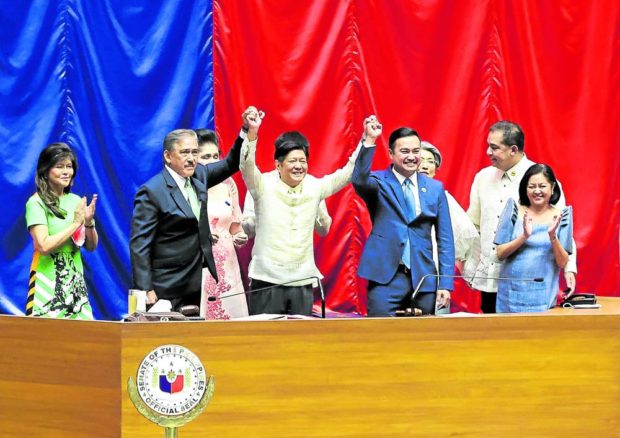 Following their declaration in the Congress as the National Board of Canvassers for the 2022 elections, Malacañang congratulated President-elect Ferdinand "Bongbong" Marcos Jr. and Vice President-elect Sara Duterte-Carpio on Wednesday night.
The declaration was attended by Marcos Jr.'s family, but Duterte-Carpio was alone. Several personalities and Politicians approached them to express their congratulations.
According to Andanar, the Presidential Transition Committee would collaborate closely with President-elect Bongbong Marcos' campaign for a peaceful, orderly, and fair transition of power.
"Today's proclamation ceremony by Congress marks another historic milestone in our political life as a nation," Communications Secretary Martin Andanar stated in a statement.
"The Office of the President shall ensure a peaceful, orderly and smooth transfer of powers to the President-elect as we extend all the necessary support and assistance to various transition activities," Andanar added.
He continued, "Mabuhay ang Pilipinas. Mabuhay ang mga Pilipino (Long live Philippines. Long live, Filipinos)."
He stated that the event highlighted "that we are, indeed, a showcase and beacon of democracy in this part of the world.
The Filipino people were also urged " to stand behind our newly elected leaders," according to Malacañang. According to acting presidential spokesperson Martin Andanar, the declaration event in the Congress "marks another historic milestone in our political life as a nation underscoring" democracy.
The vote canvassing for the 2022 presidential and vice presidential elections is now complete. The elected president and vice president of the Republic of the Philippines were announced yesterday in the House of Representatives.
Former Senator Bongbong Marcos was elected as the Republic of the Philippines' 17th president. Sara Duterte-Carpio, the president's daughter and the departing mayor of Davao City, will be the country's next vice president.
According to the Presidential Spokesperson, the date of the meeting between Pres. Rodrigo Roa Duterte and President-elect Bongbong Marcos regarding the transition was yet to be set. According to reports, Duterte-Carpio has not spoken to her father, President Rodrigo Duterte, since August 2021.