On Sunday, the team of presidential candidate Ferdinand "Bongbong" Marcos Jr. stated that another batch of province governors had expressed their support for his candidacy, and that a great majority of local executives had promised him a clear victory in Halalan 2022.
Fresh from his campaign stops in Leyte, presidential frontrunner Marcos Jr. met with governors from all over the philippines tonight at his Mandaluyong City campaign headquarters to gather command votes for the BBM-Sara UniTeam.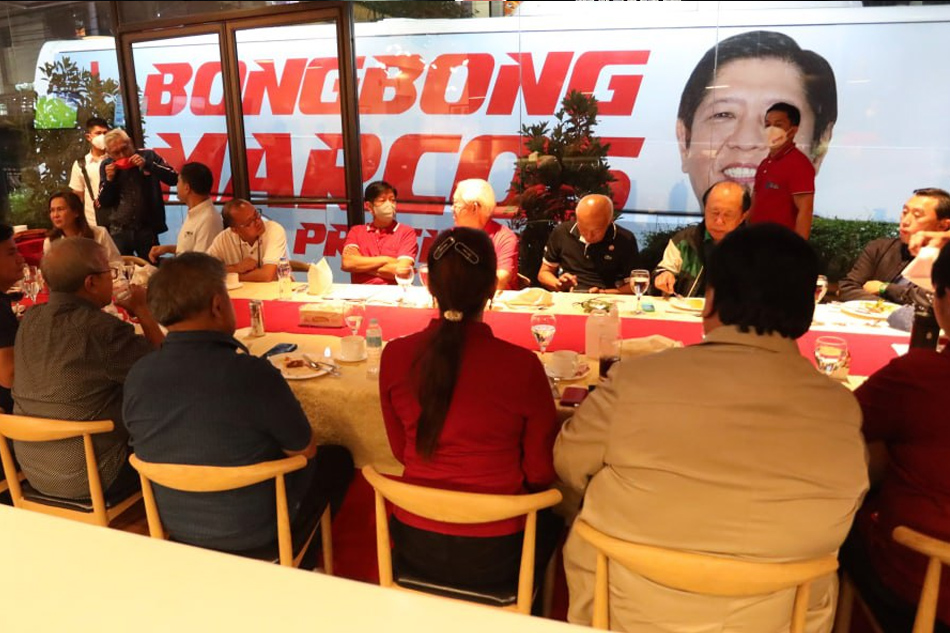 Marcos' team stated that 73 of the country's 81 governors are now "fully supporting" his candidacy.
The governors have officially promised him a clear victory in the May 9 elections.
The following people were present at the meeting on Sunday:
Gov. Bonifacio Lacwasan (Mountain Province)
Gov. Bai Mariam Mangudadatu (Maguindanao)
Gov. Suharto Mangudadatu (Sultan Kudarat)
Gov. Arthur Yap (Bohol)
Gov. Florencio Miraflores (Aklan)
former Gov. Casimiro Alcantara Ynares IlI (representing incumbent Rizal Gov. Rebecca Ynares)
Gov. Phillip Tan (Misamis Occ.)
Gov. Eduardo Gadiano (Occ. Mindoro)
Gov. Dax Cua (Quirino)
Gov. Susan Yap (Tarlac)
Gov. Alexander Pimentel (Surigao del Sur)
Gov. Danilo Suarez (Quezon)
Gov. Rodito Albano (Isabela)
Gov. Jose Riano (Romblon)
Partido Federal ng Pilipinas, Vic Rodriguez was also in attendance for the meeting.
This is Marcos' second meeting with local chief executives to gather command votes.
He also visited with ten governors last week, all of them indicated support for his presidential campaign.
Marcos has topped presidential polls since filing his certificate of candidacy in October, recording a majority voter preference over his challengers.
According to the most recent voter choice survey in the Philippines, Marcos Jr. and his running partner Sara Duterte are far ahead of their opponents. However, the Pulse Asia poll saw Marcos' closest competitor, Vice President Leni Robredo, gaining ground.