Kapamilya actress Angel Locsin expressed thankfulness to the National Bureau Investigation (NBI) for taking action in response to her Twitter post seeking the assistance from authorities in connection to the online death threat to her and other Kapamilya artists including Coco Martin and Kim Chiu.
The NBI responded to the actress on her Twitter post seeking assistance from the NBI informing the actress that everybody has equal rights to seek their assistance only the victims need to file formal complaint.
As to recall, Locsin exposed on her Twitter post the identity of a Twitter user who made the post threatening her life and other Kapamilya actress for the reward of P200 million. In the same post of the actress, she was also seeking assistance from the NBI.
But on the other line below of her tweet, the actress jokingly said," Baka pwedeng makahingi naman ng pang ayuda kuya," Locsin wrote with a laughing emoji, referring to the account's reward money offer.
"Wag nyong imessage," she then told her followers, "Natawaloka lang ako!"
However, on the recent Twitter post of the actress, the humanitarian reason of the 35-year-old prevails saying, "she will not add other burdens to their existing problem in times of crisis today, instead she will pray for them."
"Ayoko silang pahirapan pa sa hirap ng buhay ngayon sa kung anong pwede kong ikaso sa kanila," the actress tweet.
But the actress also noted that she will not double-minded to file charges if necessary.
"Pag umulit, hindi ko sila aatrasan :)," Angel said.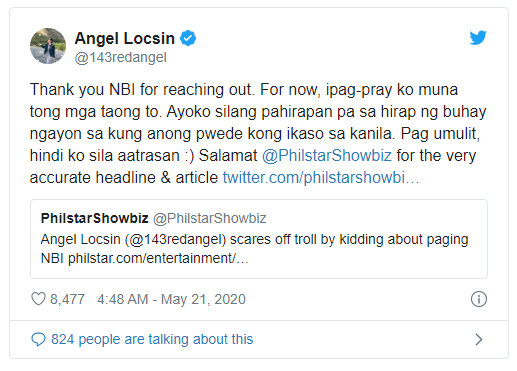 You can share your thoughts here on the comment section and join the discussion with the online community.