Sen. Juan Miguel Zubiri had recovered from the new coronavirus disease (COVID-19) after his tests comes out negative for the COVID-19 twice on Sunday.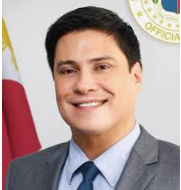 The senator posted on his Facebook account, "Just received the happiest news ever of my second negative result from Makati City Health Office, which is a requirement for all COVID-positive patients to be considered recovered."
"I would also like to thank God and our Lord for a second chance in my life by healing me from COVID-19."
Senator Zubiri is the second senator to recover from the disease.
Recently, Sen. Sonny Angara also announced that he is already recovered from coronavirus.
Meanwhile, the two senators have said earlier that they would donate plasma from their blood to help the ongoing research for treatment of the illness.
Senator Zubiri and Angara also vowed to file measures that will strengthen the country's medical and scientific defenses against infectious diseases.
Which includes the proposals of fund research on the possible vaccines against COVID-19.
On Sunday, April 12, the health department reported the total number of COVID-19 cases in the country reached 4,648 and reported 220 new cases.
What can you say about this? Share your thoughts in the discussion box below.