Sherry Ann Seguilla comes to idol Raffy to ask for help because her boyfriend in Thailand, Ariel Cuizon was spreading her nude photos and videos.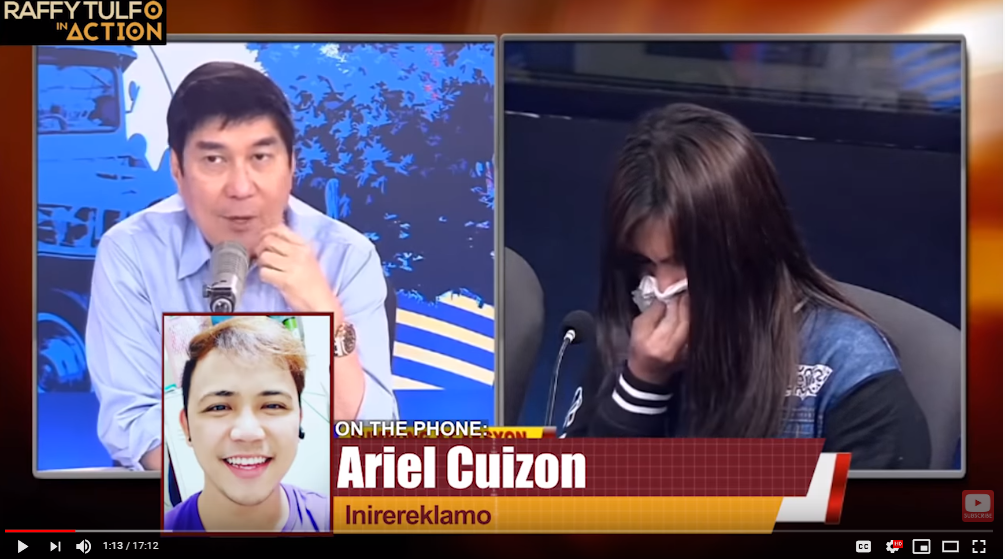 According to Cuizon, her girlfriend always having a drink outside. Where in he is the one supporting the needs of her children for 2 years. Raffy asks him if is it justifiable for him to spread her photos even if it's true that shes using the money he's giving her for drinking.
Cuizon explained that he knows that it is not right to share the photos of her girlfriend in public but that is because Sherry doesn't listen to him anymore. And he just wants Sherry to change and not to drink anymore.
Sherry defended herself.
As of Raffy Tulfo tells Ariel; "Mapapalitan po ang pera sir eh, pero ang kahihiyan sa komunidad sa pamilya sa buong mundo hindi po kayang palitan yan, nakatatak na po yan "
Idol Raffy advises Sherry Ann as well.
Sherry forgives Ariel and doesn't want him to be deported nor files a case against him, because she considers the goodness Ariel had given them. She just wants Ariel to make a public apology and for them to break up.
Tulfo asked Ariel if he doesn't want to public apology, then they will accompany Sherry to Anti Cybercrime for him to be charged and be deported.
Raffy Tulfo said never ever send sexy photos or nude photos to someone even if that's your husband and boyfriend for the security of every woman.
Here is the video on Raffy Tulfo Action:
What are your thoughts about this? Share on the discussion box below.