http://https://www.youtube.com/watch?v=IHE8LtHGsEg
Of all the UAAP 80 Cheerdance powerhouses the Adamson Pep Squad won the spot of championship for the first time in the UAAP 80 Cheerdance Group Stunts.
According to Adamson's Pep Squad coach Jeremy Lorenzo, he was very thankful because for a long time of having their group stunt, they never stepped the podium, but this time they won the title. "We were very thankful na nag silver kami agad" says Lorenzo, after the San Marcelino-based squad won the silver medal in the group stunt.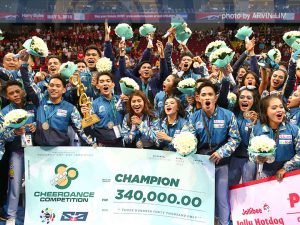 Adamson have many reasons to be thankful after the Adamson Pep Squad won the championship for the first time in a long time.
Lorenzo said he was really speechless when he heard announcement that they won gold. UST got the second place and third place, UE.
The Soaring Falcons took everyone to the 80's before taking their hard earned gold medals.
They scored 663.50-25 better than their closest competitor.
Lorenzo and the Adamson's Pep Squad were wowed by the crowd as they perfectly pulled off routine. Lorenzo stated that mild errors cannot be avoided in a team.
The coach didn't believe they won until he heard the announcement. He then continued, "I was not assessing kung ano ang ranking naming. Basta natuwa lang kaming maganda ang run namin. Lorenzo indicated that it's all about how you win the hearts of the audience".
Soaring Falcons have reached the top-just a year after returning to the podium for the very first time since 2001.
Now, Adamson Pep is proud to say that they have the title that have been held by other Universities.
Comment your opinions on the dialog box below!