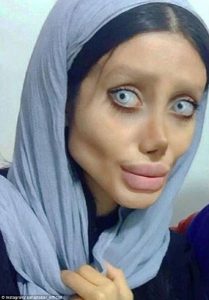 Iranian Lady undergone 50 surgeries to look like Angelina Jolie
Sahar Tabar, 22, from Tehran, Iran is an obsessed Angelina Jolie fan. She has amazed social media followers with her photos creeping-look like Angelina Jolie. She was so desperate that she took 50 surgeries to look like her I dol. But fans say it's just make-up. Her followers said "She looks like a zombie."
Sahar's Instagram account is filled with her photos that show her Angelina-esque razor-sharp cheekbones and plump pout, but in more extreme look. Tabar has maintained a strict diet and lose 90 pounds and undergone 50 operations.
According to Belgian website, Sud Info, Sahar's dream in life is to look like the Hollywood actress. Not everyone is Impressed and social media followers compared her to a "corpse".
Please feel free to comment on the dialog box below!