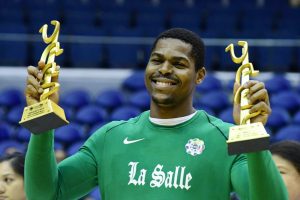 De La Salle University's Big Man Ben Mbala won a couple of trophies and checks worth ₱120,000 after the awarding ceremony of UAAP Season 80 men's basketball tournament.
Big Man led the Green Archers to the UAAP Seoson 80 Finals, headlined for being the tournament's Mythical Five and become the Most Valuable Player.
The Cameroonian "Big Man" thanked the La Salle community after receiving his award and said, "This is for you".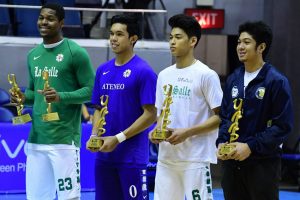 He is one of the Mythical Five by Ateneo's Thirdy Ravena, teammate Ricci Rivero, National University's J-Jay Alejandro, and University of the East's Alvin Pasaol.Juan Gomez de Liaño of the University of the Philippines was the Rookie of the Year.
Mbala received a ₱100,000 cash prize for being the PS Bankable Player of the Season, with additional ₱20,000 cash prize because he got the Shell V-Power's Most Efficient Player of the Season award.
His teammate, Ricci Rivero was named the Appeton's Most Improved Player and received a check worth ₱100,000.
Matt Nieto of Ateneo also got a ₱50,000 worth of cash who was named by Manulife 110% Heart and Hustle Player of the Season.
A special award was received by the UP Fighting Maroons were Milo hailed them with the Up Your Galing Performance Award and received ₱50,000 cash prize taken by captain Andrew Harris.
Share your thoughts and comment in discussion box below!