Congratulations! April 17, 2016 Civil Service Exam (CSE-PPT) Results – Professional & Sub-Professional Release in May 26, 2016. CSC said that 229. 463 examinees took the test in at least 57 testing centers nationwide on April 17, 2016. The commission added that passers should coordinate and verify with the CSCRO concerned for the availability of their Certification of Eligibility (CoE) and the requirements in claiming it.
Passers must personally claim their CoE. Representatives are not allowed to claim the same. Claiming of CoE shall be available approximately 30 days after the posting of the list of passers.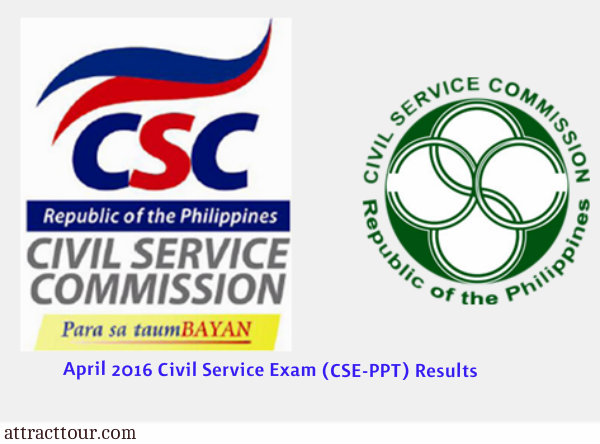 The April 17, 2016 Civil Service Exam, also called Career Service Exam – Paper Pencil Test or CSE-PPT for the Professional level in Region 10 or the Northern Mindanao Region (Bukidnon, Camiguin, Lanao del Norte, Misamis Occidental, Misamis Oriental).
Region 1 >>>>>>>>>>Professional & Sub-Professional
Region 2>>>>>>>>>>Professional & Sub-Professional
Region 3>>>>>>>>>>Professional & Sub-Professional
Region 4>>>>>>>>>>Professional & Sub-Professional
Region 5>>>>>>>>>>Professional & Sub-Professional
Region 6>>>>>>>>>>Professional & Sub-Professional
Region 7>>>>>>>>>>Professional & Sub-Professional
Region 8>>>>>>>>>>Professional & Sub-Professional
Region 9>>>>>>>>>>Professional & Sub-Professional
Region 10>>>>>>>>>Professional & Sub-Professional
Region 11>>>>>>>>>Professional & Sub-Professional
Region 12>>>>>>>>>>Professional & Sub-Professional
ARMM>>>>>>>>>>>Professional & Sub-Professional
CAR>>>>>>>>>>>>>Professional & Sub-Professional
CARAGA>>>>>>>>>>Professional & Sub-Professional
NRC>>>>>>>>>>>>>Sub-Professional
List of Passers: Region 10 – April 17, 2016 CSE-PPT (Professional) Results / Civil Service Exam – Paper Pencil Test
SeqNo Region ExamNo Name
1 10 384608 ABAO, CHARMINE ROSE C
2 10 380980 ABAO, HONEYCHELLE C
3 10 381995 ABAO, KRISHANELI GALE O
4 10 381225 ABDALA, IRA MAE P
5 10 384954 ABDUL, SITTIE HARTINY M
6 10 384818 ABDULCADER, SITTIE G
7 10 385310 ABDULLAH, ASLIAH M
8 10 389543 ABDULLAH, NASHIBA P
9 10 386894 ABDULMANAN, SHAIMA S
10 10 389441 ABDULMANAN, SITTIE AYMAN N
11 10 382478 ABEL, CHEEZY JOY S
12 10 384743 ABELLANOSA, ALLEN CRAIG T
13 10 382369 ABELLANOSA, MCVILLE F
14 10 390217 ABELLO, CHRISTYL MONALEE A
15 10 387512 ABINAL, YASMIN M
16 10 383463 ABING, YEZA MARIE J
17 10 388274 ABOLAIS, FAHMAN T
18 10 383652 ABRAGAN, JENNEVEE J
19 10 386094 ABRATIGUIN, SHEERA BRILLIANTEL S
20 10 386793 ABREU, CHESTER DUANE G
21 10 382095 ABROGUEÑA, PARMENAS C
22 10 387265 ABUBACAR, ANNA RAYANIE H O
23 10 382367 ACEBEDO, DAWN C
24 10 386055 ACEDO, CHEZKA RESTIE MAE A
25 10 385411 ACENAS, LAURICEBELLE D
26 10 386555 ACENAS, LEAH ANGELICA O
27 10 385493 ACERA, JUSTIN EMMANUEL L
28 10 382822 ACHAS, BEAU BELL P
29 10 384798 ACHAS, DAPHNE MAE M
30 10 387285 ACMAD, JUNAIRAH O
31 10 389322 ACOON, ABDUL RAHIM G
32 10 391570 ADAJAR, DAYANARA O
33 10 391567 ADAJAR, MAYELA LOU R
34 10 390976 ADALIN, JOHN RENAN T
35 10 390883 ADANTE, CARMELA E
36 10 389846 ADAPTAR, NIMROD S
37 10 392516 ADLAON, GLYZA ELAINE Y
38 10 381485 ADVINCULA, RALPH EDWARD R
39 10 382574 AGBON, LOIDABELLE R
40 10 392685 AGCOL, KRISHA J
41 10 387530 AGUAM, AISAH M
42 10 383457 AGUHOB, RACHIENE C
43 10 381992 AGUILAR, ALEXSIS MONICO R
44 10 386987 AGUILAR, ROIM DENN
45 10 382699 AGUILAR, SHARMAINE V
46 10 392378 AGUILLON, MARIA ROWILLYN Y
47 10 382766 AGULAN, AIRISH MAY E
48 10 389808 AGURA, ANNA ANGELA A
49 10 391740 ALAJAR, LOWEE JAN DOR B
50 10 383827 ALAMBAN, MARIA SOZINA L
51 10 389613 ALAS, JONNE PEARL Q
52 10 388864 ALAUYA, ADNAN L
53 10 381998 ALAVANZA, MARY SWITZELL E
54 10 392084 ALBON, AGILE L
55 10 382128 ALCALA, GENEVEE Y
56 10 381093 ALCANTAR, GINNY KATE E
57 10 380759 ALCONTIN, ROJELYN C
58 10 391516 ALEGARBES, EUNICE
59 10 381660 ALEJANDRINO, REGIE G
60 10 392078 ALESNA, ZUSMITHA JEAN L
61 10 387195 ALI, RAIHANAH R
62 10 384079 ALILIN, JINKY M
63 10 383259 ALIÑABON, DINO ANGELO A
64 10 390574 ALIÑO, JESSAMIE M
65 10 384341 ALIPAYO, QUEEN ANNE A
66 10 381238 ALIPOYO, ELAINE O
67 10 386382 ALONSABE, MARIE DIAMOND C
68 10 387152 ALONTO, HALIMANESSA M
69 10 386513 ALSULA, KAREEM CARL L
70 10 382877 ALVARADO, DESIREE O
71 10 389114 ALVIA, JOSHUA JOHN
72 10 389141 AMBALONG, DONNA JANE G
73 10 385670 AMBONG, NOREEN JANE C
74 10 382002 AMBOR, RANNIA B
75 10 385865 AMER, SAUDAH A
76 10 388162 AMINNAJAR, DAYANG PAKSA G
77 10 388097 AMORA, GNAIRAH A
78 10 381170 AMOY, TAINE T
79 10 384915 AMPATUA, AYEESAH-SORAYA M
80 10 382347 AMPO, GLADYS CRYSTAL R
81 10 388449 AMPUAN, RANIA M
82 10 384906 ANAYRON, RAM CHRISTIAN C
83 10 388893 ANDAMON, JACQUELYN E
84 10 390129 ANDAYA, KEIRWENN L
85 10 381349 ANGOT, KRISTEL CINDY F
86 10 389010 ANO, GRACE LOVE G
87 10 385852 ANONAS, SAMUEL JOSEPH S
88 10 390505 AÑORA, IVY C
89 10 387694 ANTIQUINA, MA ARLENE A
90 10 384515 ANTOLO, MARIVIC M
91 10 385930 ANTOLO, MONICA CASSANDRA M
92 10 381002 ANTONIO, MARY ANNE M
93 10 382621 APARECIO, HANNA RHEA D
94 10 381380 APDIAN, IAMIE M
95 10 386592 ARADO, KENNETH ROY V
96 10 385932 ARANDIL, PAMELA C
97 10 381203 ARANIEL, MARIAN C
98 10 384136 ARBUIS, KASSANDRA MAE S
99 10 385207 ARCENAL, REXEL L
100 10 390650 ARCILLAS, MARK IVAN P
101 10 391340 ARCOJADA, KHEM ELY B
102 10 386084 ARELLANO, ALOHA V
103 10 383206 ARICAYOS, ERIKA JOY M
104 10 389236 ARMADA, NESTOR JR E
105 10 387858 ARNADO, CELESTE AMABELLE T
106 10 387146 ARTIAGA, AILEEN E
107 10 387055 ARUMPAC, ALYANNAFATMA B
108 10 392515 ATIENZA, RINGGOLD P
109 10 382064 AVILA, ANNALIZA T
110 10 392663 AVILA, ROWEL S
111 10 386978 AWID, REGINE Y
112 10 387329 AYUDA, KHRYSS B
113 10 386798 AYUNAN, ABDUL-AZIS L
114 10 390480 BAAY, IAN P
115 10 391002 BABANTO, JAMIRI BLUE P
116 10 382094 BABIA, MARIFE C
117 10 384577 BACALA, VIVIAN MAE C
118 10 382185 BACANG, MARISSA V
119 10 385114 BACAS, LOUIS PHILIPP G
120 10 381050 BACASNOT, JASON G
121 10 385026 BACONG, LOURDES MAE H
122 10 391727 BACULIO, PRINCESS KARLA ISABELLA Y
123 10 388209 BADELLES, CHININE A
124 10 388160 BADRON, ABDUL MOHAMAR L
125 10 391331 BAGALANON, MERRY KRIS B
126 10 389507 BAGARES, LE ARIANE J
127 10 387469 BAGUINAT, HELENA JULIA L
128 10 382810 BAGUIO, DANKA SHEEN B
129 10 389918 BAGUNDOL, SHARA JAEN D
130 10 390448 BAHIAN, DAISY JANE O
131 10 388096 BALABA, MIA DIANE V
132 10 383821 BALAGULAN, CHRISTELLE CELIZA L
133 10 382090 BALAHAY, ANDY M
134 10 386879 BALBERONA, PEARL ANGELIE P
135 10 392600 BALCITA, JUSTINE C
136 10 390539 BALDESPEÑOSA, KERYL KLEIN J
137 10 391541 BALDESPEÑOSA, KISSY JEAN J
138 10 387257 BALINDONG, IBRAHIM B
139 10 385974 BALINGCOS, RECHEL M
140 10 383142 BALI-ONG, JULIE MAE M
141 10 392485 BALIOS, RODEL M
142 10 391143 BALTAZAR, HANNAH BELLE U
143 10 392617 BALUYOS, CHARINA T
144 10 390901 BANAAG, CHRISTINE T
145 10 384221 BANAYNAL, ANA LIZA JANE E
146 10 389798 BANDA, GINEFER G
147 10 383228 BANING, ELICA FERR D
148 10 383455 BAÑOS, LEON RUGGERO R
149 10 388180 BANTILAN, NELVIE G
150 10 389797 BANTOLINAO, JENNY O
151 10 385533 BANTUG, ALESSA MARIE H
152 10 383300 BANUG, BENJIE O
153 10 382075 BARACCAO, LHEIDA MARIZ L
154 10 386291 BARACE, MA VIVIAN THERESA A
155 10 381839 BARATAMAN, RODERICK A
156 10 381782 BARDILAS, ROYLAN Q
157 10 386463 BARGAMENTO, DIANNE B
158 10 387764 BARLISAN, ELIEZER JR P
159 10 383018 BARON, LIEZL MARIE R
160 10 382852 BARORO, QUEENIE JOY S
161 10 382630 BARRIENTOS, VANESSA G
162 10 386280 BARRION, JHOANNA RUSSEL M
163 10 380758 BARTON, NICKIELOU L
164 10 385169 BASADRE, MARY ANGELIQUE B
165 10 383070 BASAÑEZ, HONEYLETTE L
166 10 389307 BASIR, SIRELYN E
167 10 383482 BATALLA, JUDE JAN D
168 10 388382 BATALO, NAZROLLAH O
169 10 389233 BATICO, REMILYN R
170 10 386487 BATINO, KRISTAL JANE R
171 10 382063 BATOON, RITA MAE M
172 10 386983 BAUNTO, ALJUNAID S
173 10 384745 BAUTISTA, ALYSSA GENE R
174 10 385544 BAUTISTA, JOHN FRANCIS DEREK C
175 10 390455 BAYANBAN, DARYL JANE L
176 10 380959 BAYANBAN, MARY CRIS L
177 10 392069 BEBIS, PRINCESS JUNESSA L
178 10 383292 BEJA, SHERELLYN L
179 10 391663 BELDEROL, JOHN DALE S
180 10 383268 BELIGAN, MARY JOY D
181 10 382173 BENITO, ABDULRAFFIE H
182 10 386408 BENTIC, DEIZY ROSE J
183 10 388068 BEQUIO, MA KAREN J
184 10 389118 BERBIGAL, YER MARI C
185 10 382177 BERDERA, CHARLYN C
186 10 385510 BERONIO, ALDRICH C
187 10 389199 BETAIZAR, MA. CONCEPCION A
188 10 387779 BETE, PRIXIE MAE S
189 10 387842 BETE, SHEILA MAE S
190 10 387425 BETONIO, HANNA R
191 10 386496 BETONIO, NIKKI ANGELO S
192 10 382394 BIOSE, OLGA B
193 10 384816 BISIN, DEXTER P
194 10 386574 BLANCO, LOU ANDRE V
195 10 385313 BLANILA, MARK ANTHONY A
196 10 381117 BOBOROL, PATRICK JAMES D
197 10 386044 BOLANIO, RIZZA C
198 10 386567 BOLOGA, CARL KEVIN B
199 10 391221 BOLONOS, BEXLEY JONAH C
200 10 388643 BONGABONG, JULIE EVE T
201 10 391257 BONGCAWEL, ROSE ANN A
202 10 384988 BONJOC, JOCELYN R
203 10 382763 BONTUYAN, MOZART
204 10 389963 BORONG, AILYN A
205 10 380736 BORROMEO, ROD VINCENT L
206 10 390905 BOYLES, MIRA C
207 10 390766 BRANZUELA, APRILLE JOIE A
208 10 387160 BRANZUELA, JESSA A
209 10 382239 BRIONES, JUDILEE MAY M
210 10 380764 BUAL, JOMARIE CHRISTINE P
211 10 380822 BUCAG, EJIE D
212 10 388511 BUCAY, JUFFREY P
213 10 381072 BUGAHOD, XYRA MAE M
214 10 392316 BULALOC, MAY LIZA P
215 10 388890 BULIGAN, CHRISNOVA C
216 10 384089 BULOSAN, LORVILEE JR B
217 10 390850 BUNGGAY, REY C
218 10 384631 BUNIEL, REGINE A
219 10 388082 BURANDAY, ANGELIQUE DIVINE
220 10 384050 BUSARA, ALYSSAH NORHAYYAH S
221 10 386743 BUSOY, JUNRY F
222 10 381029 BUTASLAC, APRIL ANGELOU A
223 10 387188 BUYAN, CATHYLYDE A
224 10 386195 CABAHUG, MARIEL FAYE P
225 10 392187 CABAÑERO, ARJUN M
226 10 382702 CABAÑEZ, QUINNIE M
227 10 385933 CABANLET, RIKKI RAFAEL A
228 10 389832 CABARLES, LOREDEL G
229 10 388155 CABARLES, MARY JOY A
230 10 382811 CABRERA, KIT JOSEPH LAUREL B
231 10 384124 CABRERA, RAMBLER F
232 10 381096 CABUDOY, SHIELA MAE N
233 10 389422 CABUGA, NEL KRISTI L
234 10 388919 CABUGATAN, HAROUN D
235 10 391973 CABURATAN, JULIE ANN N
236 10 387781 CADA, CHRISTIAN ROMEO KYLE B
237 10 388285 CADA, VINCENT LOWELL B
238 10 389226 CADALAY, HAFEEDA T
239 10 388161 CADALAY, HAMEEDA JAMALIA T
240 10 390111 CADAMIA, LADY DHYNNE S
241 10 383157 CADAY, JUN REY D
242 10 388007 CADUT, KIMBERLY CAROL B
243 10 382657 CAGALITAN, LAWRENCE M
244 10 390219 CAGATIN, ZOREN ZYRE M
245 10 389545 CAHOY, IANA MAE G
246 10 383738 CAINGLET, AARON ALLEN E
247 10 391371 CAJUTOL, CHRISTIAN C
248 10 381799 CAL, JEZREEL MINELLE P
249 10 388631 CAL, ULY ROSE T
250 10 387783 CALASANG, LOVELY E
251 10 386274 CALBE, JOHARAH L
252 10 390851 CALLAO, KENT VINCENT P
253 10 382168 CALPITO, JESSA MAE R
254 10 391921 CALUNOD, VENNE JAN O
255 10 382309 CALVIN, ZITHER E
256 10 383567 CAMAHALAN, WYNDIE L
257 10 386766 CAMIM, HAMIMAH A
258 10 389706 CAMINERO, MICHELLE O
259 10 384620 CAMOMOT, IRISH B
260 10 391125 CANDADO, JOHN MARK C
261 10 382701 CAÑEDO, ANNA MARIE Q
262 10 389197 CANICON, JEZARIE C
263 10 382130 CANSANCIO, CIARA MARY B
264 10 389386 CAPACIO, RC REY E
265 10 389409 CAPACIO, REYNALYN E
266 10 384714 CAPAQUE, ANDREA LOUISSE P
267 10 389412 CAPARIDA, LOIDA MAE V
268 10 385584 CARIM, ANIERAISAH S
269 10 385742 CASAN, HIYASNIE M
270 10 388167 CASANODIN, AMER HUSSIEN B
271 10 382758 CASIÑO, JERAHMEEL C
272 10 388147 CASTILLANO, RALPH GREGOR L
273 10 389381 CASTILLO, MARIA MILAFER S
274 10 382764 CASTILLON, KURT MERKELL V
275 10 386235 CATALAN, ALYSSA MARIE B
276 10 391449 CATANE, IVY LOU R
277 10 392637 CATANE, LOVELY JOY
278 10 389550 CATANE, PATRICK DALE E
279 10 382537 CATURAS, KEITH HAY A
280 10 384348 CEMACIO, KYMM M
281 10 384131 CENIZA, THEA ANNE MARIE M
282 10 384690 CESAR, FLOYD MARK B
283 10 383487 CHAN, FAITH CATHELYN A
284 10 381332 CHATTO, MA. JO-IAN ROSE P
285 10 390013 CHING, ZIANNE
286 10 389567 CHU, NICOLE JAN D
287 10 388810 CHUA, KAREEN G
288 10 392039 CID, MEL XRISTIAN G
289 10 383336 CIPRIANO, NESHEL JANE D
290 10 389713 CLAVECILLAS, XENA S
291 10 388651 CLEMEN, ROSIELLOU A
292 10 388912 CLITAR, SHEILA A
293 10 385994 COGAY, SHAIRA MONIQUE D
294 10 390237 COLANGGO, ARTHUR NIÑO M
295 10 391126 COLIMA, RALPH IAN S
296 10 390472 COLITA, CLAVILLE M
297 10 389821 COMAJEG, JANESSA MARIE S
298 10 389491 COMENDADOR, KRIZIA SHARIZ N
299 10 384065 COMON, MA. VICTORIA ELIZABETH E
300 10 384900 CONDING, JOHAIRAH R
301 10 382832 CONVICTO, SHARA ANGELA M
302 10 382985 CORRALES, LYNYRD ALEXSEI N
303 10 380742 CORREOS, ZAYRA BLANCHE M
304 10 384775 CORTES, KAREN DIANE C
305 10 390081 CORTES, STACY A
306 10 387384 CORTEZ, IVY ROSE M
307 10 383611 CORVERA, PAUL KENNETH B
308 10 389139 COSAIN, SAILANIE D
309 10 385923 COSAIN, SHALLAHUDIN S
310 10 382362 COSNING, RAKZIE C
311 10 386760 CRUZ, PERCIVAL G
312 10 380788 CUABO, CHARLEMAGNE JR C
313 10 387112 CUARTERO, PATRICK DALE G
314 10 382697 CUBILLAN, FRITZIE MAE D
315 10 383779 CUCHAPIN, LUDOVICO JR M
316 10 382668 CUERDO, KIMBERLY M
317 10 383796 CUERQUIS, ALAIZA MAE A
318 10 389467 CULABAN, NHOLELYN G
319 10 389001 CUPAS, LEIGH ANN G
320 10 388477 CURADA, IVY C
321 10 389936 CURAN, EIZA JEAN A
322 10 388728 CUSTODIO, JC A
323 10 384015 CUTOR, GLORY MAE B
324 10 389919 CUYNO, CRYSTAL DAWN J
325 10 380918 DABA, MOREEN IVONNE P
326 10 386672 DABLO, GLORY ANN B
327 10 381409 DABON, MELDRID E
328 10 385315 DACOCO, WHISSABEL P
329 10 383478 DACULA, JOEL C
330 10 383435 DAGA-ANG, CHRISTINE MAE P
331 10 390383 DAGARAGA, HANNAH FAYE Z
332 10 386310 DAGUIMOL, CONNIE JOY S
333 10 389721 DAIROCAS, PREMAN CARL D
334 10 385102 DALIGDIG, MARILYN C
335 10 384806 DALUPERIT, KRISTIAN DAVE L
336 10 380711 DALURA, MARIA REYNA T
337 10 382472 DAMING, JACK DIAMOND L
338 10 388397 DANCEL, AYK G
339 10 389768 DANDAN, MERYL JANE M
340 10 382488 DANDASAN, LEAH S
341 10 384551 DANO, JOHN PAUL S
342 10 392395 DAQUIO, PEARL KATE H
343 10 386981 DATUMULOK, HAYANIDAH A
344 10 382381 DAYAP, FRANCO JOHN PERRY A
345 10 386755 DAYONDON, MARCH IVAN KARL S
346 10 390921 DE GRACIA, MARYLAND JOY G
347 10 388516 DECIERDO, RUEZZA D
348 10 392397 DELA CRUZ, IAN REYMAR G
349 10 390349 DELA CRUZ, ISAIAS C
350 10 389278 DELA CRUZ, ZEBEDE M
351 10 390470 DELA PIEDRA, JANINE MARY F
352 10 381051 DELA ROSA, KRISTIN CANDY V
353 10 381008 DELFIN, JUNDEL P
354 10 380873 DELFINO, TESHIA E
355 10 390151 DELOS REYES, GIDEON JR R
356 10 389164 DELOS SANTOS, CHERRY JEAN B
357 10 387235 DERICO, NUR-HUSSIEN ALI B
358 10 385611 DEUTZMANN, RYGINA MARIE T
359 10 391915 DIAMANTE, CHANDA GREY V
360 10 387194 DIAMPUAN, JUNAINAH M
361 10 388427 DIANAL, RAIHANIE N
362 10 390903 DIAZ, DANICA ROSE B
363 10 388723 DIBARATUN, ALIAISSAH N
364 10 388144 DICALI, ABDUL BARRY M
365 10 391223 DIEZ, HAZEL G
366 10 388642 DIMAAMPAO, YASRIMA R
367 10 381577 DINDANG, ALLYSSA JEHAN M
368 10 389584 DINGAL, DEVONAH MAE R
369 10 387565 DIOCOLANO, MAHATHIR A
370 10 388504 DIONIO, SYRIEN KEH D
371 10 382653 DIPATUAN, JAWAHER M
372 10 383802 DIPUS, GINA LYNNE J
373 10 387919 DIRAMPATUN, NAIRA H
374 10 390955 DISTOR, JANNAH JEHN P
375 10 381439 DOLIGOL, PAMELA P
376 10 381215 DOMINGUEZ, PETER JOHN RAE O
377 10 385094 DOMINO, DARRY M
378 10 386494 DORATO, GAEZEL L
379 10 388938 DORING, CHERYL P
380 10 383965 DOSOL, IRENE MAE A
381 10 392443 DUBLIN, HANNAH LEI CARMELA P
382 10 391256 DUBLIN, PRECY A
383 10 386337 DUHAYLUNGSOD, JEZZA MAE C
384 10 391396 DUMALA, ARMIL M
385 10 391049 DUMALAGAN, LEZIEL L
386 10 382809 DUMANJUG, KATRINA MARIAN L
387 10 381506 DUNGOG, KAREN A
388 10 392680 DUQUESA, GERALD L
389 10 390610 EBALE, VANESSA A
390 10 392145 EBGAN, RHEGYLLE JANE MAE D
391 10 386335 EDRES, ASIYAH D
392 10 380986 EDUAVE, NHECEL D
393 10 387031 ELUMBA, JAEZYL C
394 10 391933 ELUNA, JESSA MAE D
395 10 388034 EMAM, JAINAB L
396 10 381662 EMANO, KEN LAWRENCE C
397 10 384657 ENCABO, EDD MARIE S
398 10 383593 ENCOY, JOEY M
399 10 392401 ENGRACIA, LADY SHAMMAH G
400 10 392140 ENGRACIA, YULANE G
401 10 388078 ERMAC, JOHN MYCO E
402 10 390227 ESCALANTE, VAN LOWINE E
403 10 382590 ESCLAMADO, CHRISTIAN ANTHONY
404 10 380942 ESCLAMADO, MARIAN MAE A
405 10 383436 ESCOLTA, ELLEN MAY G
406 10 383364 ESCORRO, ARLENE B
407 10 382149 ESPINA, MARIA MICA GABRIELLE RAPHA E
408 10 381319 ESTORES, JOAN MERIDITH D
409 10 381103 ESTRELLA, JANICE N
410 10 381602 ESTREMOS, ARGIN MAY G
411 10 388801 EVANGELISTA, RHYNA FE M
412 10 382548 EVARITA, KHRISTINE C
413 10 383583 EXCELISE, HANNA JANE C
414 10 386469 EZA, NAZRIMA D
415 10 384329 FACTURA, HORACIO EMMANUEL III S
416 10 386059 FAHAD, ALANIA M
417 10 389251 FAHMI, ROHANISA D
418 10 387926 FAISAL, KHADIJAH P
419 10 384407 FERNAN, ACE IBN ALAN B
420 10 389636 FERNAN, HEZRON D
421 10 384402 FERNAN, LEILANI GRACE B
422 10 386441 FERNANDEZ, DIANNE GRACE B
423 10 382020 FERNANDEZ, JENNIFER C
424 10 384222 FERNANDEZ, JOSEFF ANTHONY G
425 10 386633 FERNANDEZ, KRISTINE JOY
426 10 390545 FEROLINO, CHERRYBELLE N
427 10 389928 FEROLINO, MARK HANZEL D
428 10 380810 FERRAREN, STEPHANIE MARIE
429 10 384088 FLORES, DAISY A
430 10 389388 FLORES, NERISSA T
431 10 385233 FORTIS, NAPOLEON JR G
432 10 382124 FRANCISCO, KARL BENEDICT P
433 10 381535 G0, YOLLIE T
434 10 380926 GABALES, DENVI E
435 10 382376 GABALES, JANET G
436 10 389180 GABION, JOY MAE C
437 10 385885 GABO, SONNY BOY O
438 10 382987 GABOR, JUSTIN JOHN A
439 10 382567 GABRIEL, RODEL NATHANIEL T
440 10 381950 GABRIZA, ROSARY MARIZ P
441 10 392110 GAGARRA, KATHLEEN JOYCE G
442 10 381698 GAJITA, CHERELEN D
443 10 387231 GALABIN, SARAH JOY T
444 10 391397 GALAMGAM, EMMANUEL C
445 10 381762 GALANO, NELY JOY M
446 10 384443 GALARROZA, NESSON JHON J
447 10 382327 GALDO, LEAH CLARISSA J
448 10 383304 GALIA, ROSHIEL M
449 10 387440 GALIDO, NELLY JANE L
450 10 383109 GALINATO, ALLYSSA M
451 10 382967 GALLA, MA. CRISTINA L
452 10 392329 GALLAMASO, DAREEN LOU S
453 10 383351 GALLARDO, KAREN JUDEL R
454 10 388880 GALLO, MA ROCEL JOY R
455 10 390281 GALLOGO, GECELLE GIN T
456 10 384395 GALVADOREZ, JOHN CARLO P
457 10 389364 GAMAMA, MOHAMMAD ALI D
458 10 383563 GAMIL, AIZA JANE A
459 10 383566 GAMIL, JOHN BERYL A
460 10 383764 GANANCIAL, MARY GRACE E
461 10 388165 GAPOR, JEDEDAIAH B
462 10 382170 GAPUZ, KRISTINE CARMEL R
463 10 385830 GAPUZ, TANYA KATHERINE ALLYSA J
464 10 382905 GASCON, EDISON C
465 10 388652 GATAL, ESTHER JADE F
466 10 384062 GAYLA, DONNA JANE B
467 10 382976 GAYOSO, KARREN T
468 10 382635 GELAY, FRANCIS JEOS PERDENI B
469 10 392104 GENCIANEO, JOAN G
470 10 384810 GENERAL, LOVELY JEMINAH L
471 10 383416 GENON, FLOR ELIZABETH O
472 10 391620 GERASMO, ETHEL JEAN F
473 10 388035 GERASTA, MICHELLE M
474 10 383252 GIDA, ELAINE CHARITY V
475 10 391993 GO, JOHNSON L
476 10 386208 GO, LARAINE MARVIE M
477 10 391999 GO, MARIA ISABEL L
478 10 380875 GO, MARY JOY C
479 10 385013 GOLEZ, RIANNA ANGELIC C
480 10 382988 GOMEZ, STEPHANIE D
481 10 388559 GONZALES, JEDDALYN
482 10 381302 GORRE, MANRESA P
483 10 381954 GORRES, HANNAH MARGARETTA I
484 10 388054 GOTE, SITTIE MANTA AMIDA G
485 10 382666 GRIO, FAITH MAE P
486 10 390513 GUANTERO, MARY JOY J
487 10 384211 GUARIN, JOAQUIN MIKHAEL C
488 10 387873 GUINAR, LADY HANEEN A
489 10 383617 GUINITARAN, MARY CHRIS A
490 10 386005 GUINONTAO, NEIL L
491 10 388270 GUMADLAS, DARYL V
492 10 390806 GUMAHAD, GLORIFE S
493 10 386510 GUMALING, RIZA P
494 10 390688 GURAY, CHRISTIAN JAY L
495 10 389477 GURRO, LALLAINE MERCY D
496 10 388017 GUTOC, MUBARAK B
497 10 385079 GUYLAN, SHEILA MAE G
498 10 381882 GUZMAN, ALLEIYAH GAYLE F
499 10 388518 GUZMAN, APRIL KHRYSSTIL A
500 10 385713 H. AZIS, SITTIE HEDAYA H
501 10 388575 HADJI FAISAL, MOHAMMAD HAMDY D
502 10 386723 HADJI RAKHIM, MAYMANAH HANIDAH A
503 10 388110 HADJI SOLAIMAN, FAHAD A
504 10 385889 HADJINOR, SAHARA B
505 10 381629 HALASAN, CONNIE A
506 10 385435 HALLAZGO, AL NICCOLO C
507 10 385942 HAMPAC, SHELLANIE D
508 10 385826 HANDAG, SANSEN JR A
509 10 384326 HAWAN, NALAH RICA M
510 10 381684 HERNAN, MARIANGELINE A
511 10 390531 HERNANDEZ, KATRINA MAY C
512 10 388036 HERNANI, HANSYL JOY R
513 10 381686 HINOGUIN, KATELYN ELIS C
514 10 382968 HISULA, MILAFLOR C
515 10 386584 HORA, MARCH ROWANNE P
516 10 380883 HUGO, SELDOM N
517 10 391974 IBAÑEZ, DAWNNAH B
518 10 391561 IBAÑEZ, MARIANNE MAY L
519 10 390441 IBONIA, RANDOLPH B
520 10 389090 IGNALIG, IMARIE J
521 10 384285 ILLANA, SHIENA MAY G
522 10 389881 INOCENCIO, REZA M
523 10 383086 INSO, REY ANGELIE C
524 10 386926 INTELEGANDO, FELNY C
525 10 385021 IPANAG, JOSHUA DEE G
526 10 391635 ISADA, ODRAUDE XYM T
527 10 387277 ISMAEL, I-ZA FE Z
528 10 381055 ISOLAN, MARK T
529 10 382189 ISRAEL, REUBEN JOSEF M
530 10 384139 JABAGAT, ERICKA MARIE B
531 10 391220 JABILLO, GERALD S
532 10 388742 JABINES, HERSHE B
533 10 381424 JACINTO, JERAMEE JOAN S
534 10 381709 JACOB, NIEVES Q
535 10 385212 JADUCANA, KENNETH JOHN B
536 10 387643 JAGONIA, HONEY JANE D
537 10 382196 JAJI, FHAIZA T
538 10 389596 JALA, SANDER C
539 10 381810 JALAGAT, LYSIE B
540 10 385915 JAMACA, ALYSSA YSAIAH A
541 10 391689 JAMIL, ROMULO JR P
542 10 389100 JAMITO, CHRISTINE M
543 10 385954 JAMOLIN, CLINT JAYSON B
544 10 380867 JAMON, CORAZON C
545 10 388814 JAÑALA, DARLENE JOY S
546 10 385881 JANDAYAN, VETHZ PAULO O
547 10 386223 JANUBAS, BILL KENNETH V
548 10 383010 JAPOS, MARIA DOROTHY R
549 10 387264 JARIOL, VANESSA ANNE V
550 10 381408 JOLOYOHOY, RYAN E
551 10 391392 KIAMCO, CLAIRE ANNE G
552 10 390705 KUIZON, CHARISSE GEM C
553 10 392493 LABADAN, CHENNY PEARL MARIE M
554 10 382790 LABADAN, CHRISTINE MARIE B
555 10 382708 LABAJAN, ROSEL JANE R
556 10 383714 LABAO, GLYN ROSE M
557 10 382566 LABIAL, HYACINTH B
558 10 381132 LABNOTIN, KATHLYN MAE P
559 10 382343 LABUANAN, QUICY A
560 10 381711 LACAPAG, KRISTEL BERNADINE S
561 10 391506 LACAYA, RICA JANE O
562 10 387153 LACHICA, MARY GRACE M
563 10 382455 LADESMA, JUVELYN C
564 10 383184 LADOROZ, MIA N
565 10 381074 LAGANAO, CHRISTINE JANE R
566 10 381159 LAGROMA, WENDY MAE G
567 10 386970 LAGUINDAB, ASLANIE M
568 10 387571 LAGUMBAY, FRANCIS LAURENCE F
569 10 384064 LAGURA, ODETTE L
570 10 386108 LANGIT, EULA MARITONI T
571 10 383667 LANOZO, POCHOLO RALPH P
572 10 384134 LAO, AQUISAH-ROHAIMAH H A
573 10 392277 LAO, DEXTER G
574 10 380870 LAPASARAN, APRILYN A
575 10 382926 LAPUT, ZENEN O
576 10 388193 LARA, MARY KAREN G
577 10 384226 LAROGA, CHRISTINE LOU A
578 10 390005 LARUAN, ROXY JADE F
579 10 392361 LATO, KALE STEPHENIE M
580 10 392283 LATO, KAYE STEPHANIE M
581 10 387812 LAURENTE, LORIE JHUN C
582 10 390201 LAURIO, LHOREVIL M
583 10 391359 LAURITO, NOEL IVAN V
584 10 386674 LAUT, ALJADE L
585 10 391391 LIANDA, ROLDAN JR D
586 10 389332 LIBAGO, NATHANLIE CEL R
587 10 384451 LIBAGO, NORBERTO JR Q
588 10 382875 LIBAY, HENRIA L
589 10 384639 LICOS, HONEYLHEN D
590 10 382235 LIM, HAZEL MAE P
591 10 380915 LIM, HENRY MICHAEL A
592 10 380763 LIM, OLIVER DANIEL P
593 10 389466 LIMGAS, JAMAR T
594 10 382626 LINGI, ROCHELLE FAITH P
595 10 388251 LININDING, SITTIE JANIEMAH M
596 10 386111 LLAMAS, MARIE LOUISSE C
597 10 387492 LLAMAS, VANESSA KYLE A
598 10 391487 LLAMOS, EARLA JADE NAIZA S
599 10 383666 LLANO, KIMBERLEY MAE V
600 10 382432 LLEMIT, ARNEL S
601 10 383508 LLIDO, KRISTOFFER B
602 10 385243 LLUCH, RAMON MIGUEL M
603 10 388974 LOCSIN, RYAN KING Y
604 10 388022 LOMANTONG, JAMALIE C
605 10 387251 LOMONDOT, AMER HASSAN B
606 10 384439 LOMONDOT, SITTIE AISHA S
607 10 385860 LOMPON, GERAM GLENN F
608 10 390774 LOOD, ROEL JR C
609 10 392151 LOPEZ, KAREN LOU G
610 10 386015 LOPEZ, MARIA ISABEL C
611 10 381281 LOPEZ, MARY SHENNETH L
612 10 388335 LOPIO, GLENDA A
613 10 390867 LORCENA, GLAIZA KAYE C
614 10 382970 LORENZO, JUN UNICO E
615 10 384472 LUCEN, LADY LOVE S
616 10 389693 LUCEÑO, JEBOY A
617 10 383543 LUDEÑA, RAOUL JR N
618 10 383008 LUGARES, MA THERESA D
619 10 386547 LUGPATAN, PATRECE M
620 10 390507 LUMAHANG, JIERAHME M
621 10 387589 LUMANGCAG, JOSEPH KEEN S
622 10 385330 LUMANTAS, LINDLEY NIEL C
623 10 386722 LUNA, JERALYN A
624 10 383318 LUSPO, LIZETTE MAE H
625 10 384582 MAAGAD, JAYSON J
626 10 382977 MAANDIG, RADONNA JESSAH CHRISTY L
627 10 390463 MAANO, LOVELYN P
628 10 382482 MACA-AYAN, NORHAIMAH M
629 10 383263 MACABASA, TREXY JEMIMAH B
630 10 382143 MACADATO, MAHID A
631 10 386089 MACADATO, MOHAMMAD NASSIF Y
632 10 384875 MACADATO, NASIBAH B
633 10 382082 MACADATO, OMAYYAH A
634 10 383458 MACAHILOS, CHRISTINE B
635 10 389640 MACAKILING, SITTIE FARHANI D
636 10 386867 MACALANDAP, MOHAMMAD YUSOPH M
637 10 388043 MACALOLON, HOSNIA D
638 10 388208 MACAPANTON, JHANISAH M
639 10 387284 MACAPODI, NAWAF H
640 10 387119 MACARAMBON, AMENA MALIKA M
641 10 383284 MACARAMPAT, ANNA HAYAMERA A
642 10 387948 MACARAYA, JAZEMA B
643 10 386675 MACARAYAN, CHESTER VANRE W
644 10 387991 MACARIMBANG, OZLEM D
645 10 381733 MACASINDEL, JONAIRAH L
646 10 381768 MACAUMBOS, NORHAILAH C
647 10 389414 MACAWADIB, SOHAYLA M
648 10 386028 MACOSE, ERIBERTO JR P
649 10 388278 MACUMBAL, JAMERAH A
650 10 386758 MACUNTE, NASHIBAH S
651 10 389126 MADCASIM, NASSER JR M
652 10 383340 MADJOS, MYLENE G
653 10 383404 MADKI, HUSSEIN P
654 10 386331 MAESTRE, PER ALBERT D
655 10 381173 MAESTRE, SUSIE E
656 10 391134 MAESTRECAMPO, ANGELINO II S
657 10 388933 MAG USARA, SHERRY MAY A
658 10 389998 MAGADAN, ALFY VANN A
659 10 389109 MAGALLANO, JEASHEL
660 10 384006 MAGDARAOG, ALEXANDER JR L
661 10 389378 MAGDUGO, KATHERINE KAYE A
662 10 382895 MAGDUGO, QUEENIE R
663 10 392586 MAGKILAT, JOHN RAY A
664 10 385804 MAGLUNSOD, CINDY SHEEN E
665 10 384236 MAGLUNSOD, MEGA ROSE T
666 10 392114 MAGNO, RACHEL JANE P
667 10 390462 MAGPULONG, MARY GRACE JOY M
668 10 382240 MAIQUE, MARVIN M
669 10 381912 MALALIS, ABIGAIL C
670 10 383217 MALAMUG, MARL LESTER C
671 10 384828 MALANG, ALMANIE D
672 10 388633 MALAWAD, ROHANIAH D
673 10 383125 MALAWANI, ARMEN RASHID O
674 10 388900 MALIWANAG, RELDON E
675 10 391322 MALLEGUEZ, CRISELDA A
676 10 384442 MALLEGUEZ, CRISTOPHER A
677 10 381584 MAMAINTE, BAE ANNA FARINA B
678 10 387886 MAMARINTA, SETTIE NORMINAH P
679 10 381148 MAMAUAG, RAZEL BRYAN A
680 10 387326 MAMBUAY, NURFAIZ B
681 10 388462 MAMHOT, REMM GAIUS R
682 10 391523 MAMUGAY, BONEBIE N
683 10 384448 MANALO, DANILO JR A
684 10 387811 MANALOCON, AMERODIN M
685 10 388314 MANAOL, AMERAH W
686 10 389539 MANAOL, FATIMA ZAHRA W
687 10 388564 MANAYTAY, MIGUELA MACEL N
688 10 387140 MANGBISA, RANISAH P
689 10 387145 MANGELEN, MARIOLLE SHEHERAZADE AJERVAIZAN M
690 10 385948 MANGINO, JERIC F
691 10 386936 MANGOMPIA, ABDEL JALIL S
692 10 384815 MANGORAC, SITTIE NURLAYLAH M
693 10 391902 MANGUBAT, CARLA S
694 10 383555 MANGUBAT, GERRY JR L
695 10 381233 MANGUBAT, JESSE JAMES B
696 10 392125 MANLANGIT, RIZA MAY T
697 10 388052 MANLOSA, GEEDLYN JEANE G
698 10 389875 MANSALAY, GLENN C
699 10 391201 MANUBAG, KRISTINE NIÑA N
700 10 388901 MARANGIT, MOHAMMAD MOJIB D
701 10 385106 MARAORAO, ROVELYN D
702 10 386124 MARBAN, JEANNIE F
703 10 382174 MARCIAL, RAPHAEL ERICK C
704 10 383887 MARIANAS, JOVELYN L
705 10 382878 MAROHOMSALIC, MOHAMMAD SHAID B
706 10 387874 MARTINEZ, GERARDO III D
707 10 385740 MARZON, HERBERT L
708 10 388084 MASAKAL, HASNIAH I
709 10 380809 MASAYON, SHARMANE E
710 10 386862 MASORONG, ANSARULLAH II P
711 10 388334 MASORONG, JANISA M
712 10 387977 MATANOG, MAJED M
713 10 388574 MATURAN, CRISTINE JEAN
714 10 385464 MATUTINO, CRISTINA B
715 10 388904 MEDINA, ROLDAN II A
716 10 381712 MELENDEZ, ANA KARMELA T
717 10 382191 MELITARES, JO ANN R
718 10 387404 MENDEZ, ALMA MAE A
719 10 391009 MENDEZ, RAY CHRISTOPHER C
720 10 388028 MENDOZA, ISAGANI JR O
721 10 386248 MENDOZA, KRISTOFER Y
722 10 381310 MERCADO, DYAN FE D
723 10 384016 MIGALLON, MA. THERESA A
724 10 386432 MIÑAO, HASSANAL A
725 10 391164 MINDAÑA, FRANCIS NIÑO W
726 10 388673 MIÑOZA, BERNADETTE N
727 10 392551 MIÑOZA, DIVINE MAE B
728 10 384688 MISSION, SERAPH A
729 10 389557 MITOMARA, HANIFA D
730 10 387704 MODAALAY, SUHAYMA B
731 10 388628 MOHAMMAD, ALI SOHKRIE L
732 10 381269 MOHAMMADALI, ABDULHAMID M
733 10 388927 MOLINA, EMILIE JOY T
734 10 382640 MONFORTE, LAURICE R
735 10 386160 MONGAYA, ARLENE F
736 10 392035 MONSANTO, JULIE ANN C
737 10 382526 MONTEROSO, LAARNI GRACE P
738 10 381071 MONTES, JUDELEN LOU A
739 10 386065 MONTIL, LADY DAWN P
740 10 389622 MORA, KIM F
741 10 389829 MORALDE, LERIO P
742 10 383460 MORALES, YUL CYRIL
743 10 381289 MORON, KRISTIE MAE C
744 10 384708 MOTALIB, JALALODEN M
745 10 384234 MUGOT, MARY GENEVIEVE B
746 10 387757 MULIG, KARL I
747 10 385810 MUNDO, AUGOSTINA B
748 10 389207 MURILLO, ANTONETTE A
749 10 390465 MURILLO, ELLAINE JOYCE D
750 10 385894 MURILLO, NIÑO JESUS G
751 10 382386 MUSTAPHA, JALANY A
752 10 382345 NABO, KHRISTIAN KHEEN E
753 10 382151 NACALABAN, ROJHIE VENESSE
754 10 381800 NACARIO, JOHANN MAE M
755 10 387477 NAGA, ABDUL BIN GAFUR A
756 10 388099 NALLANO, GENESIS GRACE D
757 10 382470 NALUPA, MARK LISTER V
758 10 391874 NALZARO, QUINN SIEGFRED M
759 10 385907 NAMOC, KEVIN MICHAEL B
760 10 385820 NANAMAN, EULA ROSETTA S
761 10 383952 NANGCAS, LADY GRACE T
762 10 390271 NAPANO, CHARITY FAITH L
763 10 381379 NAPIÑAS, JUNAVILE D
764 10 392021 NARCISO, FRANCIS MARK R
765 10 388331 NASSIEF, LAINERA M
766 10 389657 NAUL, ANA L
767 10 380951 NAVARRO, ANN MAUREEN A
768 10 383716 NAVIDAD, MARIE JEAN S
769 10 381189 NAYRA, MADONNA B
770 10 390489 NEO, PRECIOUS PEARL M
771 10 381198 NERI, BIANCA MARIE M
772 10 384840 NERI, MIKHAIL BAN E
773 10 388309 NERICUA, ALMARIE T
774 10 383829 NIERE, LOUREMEH L
775 10 386994 NIFRAS, CHERRY FLOR C
776 10 391418 NOVENO, SHIELA QUEEN C
777 10 390634 NUÑEZ, IMEE LORAINE C
778 10 383167 OANDASAN, RAFEL JAY A
779 10 384405 OBSINES, JOHN ROY N
780 10 385045 OBSIOMA, RUSSEL B
781 10 386332 OCHIA, LAIZA C
782 10 383828 OCIONES, PAUL BENEDICT A
783 10 386285 OCLARIT, AILEEN A
784 10 385833 ODI, MARY GRACE A
785 10 391939 OLARITA, MARY GRACE E
786 10 382113 OLE, GLORY FHEL B
787 10 384276 OLINAN, IRENE T
788 10 386976 OMAMALIN, SELAH LEMMA MAE C
789 10 386614 OMAÑA, THEA PATRICIA N
790 10 390431 OMBIGA, DIANNE JOANNA MARISSE B
791 10 391572 OMOL, TROY ANTHONY A
792 10 390256 ONDAP, MC RAEL L
793 10 384119 ONG, BERNARD REY S
794 10 385665 ONG, JHONIN B
795 10 383562 ONG, RACHELE JOY G
796 10 381382 ONG, RHYLY E
797 10 392435 ORACION, CHARLEMAGNE B
798 10 389878 ORAG, DANICA YERA C
799 10 385545 ORAN, DEAN PAUL B
800 10 381492 ORANGGAGA, NOR-HIDAYAH M
801 10 385157 ORDOYO, SHARON Z
802 10 383923 ORETA, LUANNE A
803 10 383494 ORIAS, ROSITA A
804 10 389087 OTAZA, KARYL MAE B
805 10 383216 OTIAN, CHARLENE MAY P
806 10 385135 PAANO, REY ANTHONY O
807 10 385204 PAASA, APRIL MAE A
808 10 385774 PABAYO, JENICA D
809 10 387438 PACALNA, MOAMMAR G
810 10 384669 PACANA, RONALD ALLAN C
811 10 384519 PACHECO, CLAUDINE B
812 10 383685 PACIFICO, EDWARD MARLO V
813 10 383204 PACLAR, RAMBRANDT PAUL L
814 10 384361 PADAYHAG, JERVE MAE G
815 10 384041 PADERES, ETHEL MAE G
816 10 382544 PADERNAL, MARIA KATRINA T
817 10 383075 PADILLA, JAMILA HIBA A
818 10 382828 PADILLA, VICTORY D
819 10 384385 PAGALAN, INA MAE B
820 10 386053 PAGARA, APRIL ROSE S
821 10 381489 PALACIOS, NICOLO ANDRE L
822 10 385659 PALARCA, MARICEL M
823 10 382349 PALASOL, DEXTER J
824 10 390711 PALASOL, MARLON DEXTER S
825 10 385890 PALCONITE, DENN PAUL B
826 10 383095 PALER, JALEEL ELHAV B
827 10 381272 PALMERE, JOHN DENBER T
828 10 392335 PAMATIAN, ANTHONY B
829 10 381464 PAMISA, CHEWLYN P
830 10 384546 PAMISA, SHIELA MARIE A
831 10 382328 PANAWIDAN, HASSANAH-CATHERINE G
832 10 388008 PANDAPATAN, MOJAHED B
833 10 384755 PANGAN, JOVANN REY M
834 10 383979 PANGANDAMAN, YUSOPH KHADAFI M
835 10 391555 PANGANIBAN, KRISTINE P
836 10 387364 PANGANTING, INTIZAR P
837 10 381640 PANTONIAL, NIEZA MAY D
838 10 388038 PAPANDAYAN, SITTIE HAMIMA B
839 10 390800 PAPNA, JOCELYN M
840 10 385439 PARACUELLES, BASS F
841 10 390843 PARDILLO, JOEL T
842 10 390486 PARREÑO, JORGE U
843 10 386088 PARUNGAO, NICOLE SHEENA J
844 10 388922 PASAGI, SITTIE HESSAH D
845 10 381942 PASAJE, CHAREMEY C
846 10 392403 PASCO, APRIL JEAN S
847 10 392003 PATALINGHUG, LYLE IVAN S
848 10 382436 PATUNGAN, MICHAEL S
849 10 389125 PAYLAGA, JON PAOLO J
850 10 391914 PEDROSO, BLAZIE E
851 10 389888 PELANDAS, VERNA MAE A
852 10 390131 PEÑAFLORIDA, NOLI JR A
853 10 384511 PEÑARANDA, IÑIGO SEBASTIAN V
854 10 388967 PEPITO, ANALEE S
855 10 387679 PEQUIT, AILENE P
856 10 385294 PEREZ, MARY ANGELA
857 10 384674 PERPETUA, NOEDETTE O
858 10 392649 PESCONES, MARY CRIS
859 10 386209 PETALCURIN, FEROSECHEL J
860 10 391906 PIMENTEL, ROXEENAE D
861 10 381804 PINO, MARGIE MAE L
862 10 381314 PIOS, KURT STEPHEN B
863 10 389513 PISCOS, ELPIDIO III P
864 10 389189 PLATIL, LONGRIO C
865 10 388886 PLAZA, JENSEL P
866 10 381615 PLAZA, LADYMAE W
867 10 380914 PLAZOS, SAMANTHA T
868 10 384643 PO, RYAN JAMES C
869 10 381462 POLINAR, JENNY A
870 10 384388 POLVOROSA, CHARISSE C
871 10 382734 POQUITA, KREENA VI P
872 10 391420 PORE, NEZIE JOY N
873 10 391690 PORRAS, FAITH EBONY L
874 10 381694 PRIMERO, ERIC RYAN U
875 10 391366 PROEL, MHOUERRA D
876 10 385401 QUERUELA, CHRISTINE LOU S
877 10 386514 QUIBLAT, TRIXIE JOY C
878 10 389494 QUIDLAT, JANELLE O
879 10 381948 QUIETA, DESSA JANE A
880 10 389750 QUILATON, JUSTINE D
881 10 385622 QUIMOTQUIMOT, TERENCE JACOB C
882 10 383355 QUINLOG, MA. JUNALENE A
883 10 389580 QUISIDO, QUEENIE A
884 10 389098 QUITARA, JOHN HENEDEE A
885 10 390096 RABINA, MICHELLE M
886 10 391923 RABINA, PINKY ROSE A
887 10 389359 RAKIIN, MUHAMMAD FAHAD S
888 10 388067 RAMIL, ELISHA GRACE C
889 10 384390 RAMONAL, JOHN MATT N
890 10 384537 RAMOS, ARGELYN O
891 10 389714 RAMOS, GODISA M
892 10 389619 RANARA, ROJANNE M
893 10 389339 RANGIRIS, YASSER G
894 10 387333 RAS, KRISTINE GAY E
895 10 391789 RAS, OLIVE ANGELIE A
896 10 383618 RASONABLE, VANESSA SHAIRA D
897 10 390778 RATONE, LEMON GRACE O
898 10 391890 REDOSENDO, JOHN DARYL L
899 10 388337 REGASAJO, ALVIN S
900 10 389672 REGENCIA, CHARISSE J
901 10 384399 REGUALOS, MELFREN J
902 10 385163 REMIGIO, SHIELA MAE A
903 10 386655 REMIGOSO, FATIMA H
904 10 384068 REQUIERME, JOEL D
905 10 385873 RESOOR, ADELLANE JOY T
906 10 382004 REUSORA, ROSYL IAN O
907 10 388531 REVIL, ELIAKEM B
908 10 388206 REVIL, LEE CHEROME C
909 10 392531 REYES, JEVIE P
910 10 389354 REYNO, ROLLYN MAY C
911 10 386620 ROA, JOSE BERNARDO A
912 10 386807 ROA, NATHALIE INA C
913 10 385847 ROA, SHEAN WILLIS F
914 10 391881 ROBERTO, ERLSON J
915 10 382011 ROBLE, JEUS-MAR B
916 10 388211 RODRIGUEZ, PAMELA J
917 10 389062 ROMANILLOS, IVY JILL H
918 10 391019 RONCALES, CAROLYN A
919 10 381403 ROSALES, DAWN RAE M
920 10 390785 ROSAROSO, IB R
921 10 382534 ROSOS, MARIA CASSANDRA MAE P
922 10 382798 ROXAS, SHIELA JANNE N
923 10 388111 RUELO, EARL VINCENT T
924 10 380829 RULONA, JAYCEBEL D
925 10 382560 SAARENAS, SIMON RAY A
926 10 391518 SAB, MAE ANN P
927 10 390280 SABIDO, HITSSIEN KARL I
928 10 392066 SABOCIDO, KIM MARIAN FE L
929 10 392678 SABUCLALAO, EUNICE A
930 10 383024 SABUD, MAY LANI M
931 10 382644 SABUERO, EDNI CHRIS A
932 10 390915 SABUERO, JESSA B
933 10 383208 SABUERO, KAREN MAE A
934 10 387705 SADIC, SITTIE AINAH A
935 10 386866 SAGUINDANG, MIKOO B
936 10 389609 SALAAN, RODERICK JR V
937 10 390667 SALAPANG, SHIELLA R
938 10 382953 SALCEDO, CARMELLA MARIE A
939 10 383499 SALCEDO, SARAH SOFIA M
940 10 389559 SALDIVAR, WINJOY T
941 10 384055 SALE, LHYNDEE FE V
942 10 390233 SALIBO, JAY RAPHAEL C
943 10 387401 SALIC, ALI NADIR A
944 10 386288 SALIC, NAIFAH M
945 10 392149 SALIGUMBA, MARIZ G
946 10 385110 SALIH, NOR-HANIE G
947 10 385011 SALINAS, CHRISTIAN DANIEL
948 10 391813 SALO, CARMEL R
949 10 383108 SALON, BEA MAE M
950 10 381488 SALUDARES, REINA ANGELI G
951 10 382041 SALVA, KRISTEL KATE P
952 10 382434 SALVALEON, AMELITA M
953 10 390466 SALVAN, CRISTINE ERA L
954 10 388390 SALVANI, ELLEN LOU B
955 10 387586 SANDOY, RENELYN O
956 10 383795 SANGCOPAN, NASRULLAH U
957 10 388430 SANGRADOR, LOVELY JOY M
958 10 386188 SANIEL, CHRIS MICHAEL B
959 10 386252 SANORIA, THERESA MARIE B
960 10 387837 SARANGANI, BORHANODDIN JALALODDIN U
961 10 387772 SARANGANI, JAMIL S
962 10 384143 SARANGANI, NAMRAIDA P
963 10 380732 SARAUSA, LEA MARIE C
964 10 388800 SARIGALA, PRINCESS SHORAYYA S
965 10 387756 SARIP, ANNAMELY A
966 10 388741 SARIP, HANZALA D
967 10 388024 SARIP, ISNIHAYA D
968 10 381440 SARIPADA, AL-AMEER B
969 10 386893 SARIPADA, NORJANNAH W
970 10 390259 SARRIA, BEVERLY S
971 10 390514 SARSALE, MARIA TEODELYN
972 10 382498 SARTE, MAYCELL C
973 10 381118 SATAR, SHALMAN B
974 10 386121 SAUD, DANTE JR A
975 10 386980 SAYSON, PRINCESS SHELLA MAE E
976 10 390325 SAYSON, SUNSHINE NEIL G
977 10 391590 SEBALLOS, JEMIE LYN S
978 10 388392 SEBUA, JOHN PERKIN L
979 10 389221 SECOSANA, ERWIN J
980 10 387407 SEGISMUNDO, DANICA ROSE M
981 10 384036 SEGURA, GISELLE JAN A
982 10 381518 SEÑEDO, KIMBERLY CRIS A
983 10 383337 SENINING, EZRA B
984 10 384171 SENO, RELIZA A
985 10 388841 SEÑORON, VIOLA D
986 10 386617 SEREÑAS, SHOJI A
987 10 385822 SERENUELA, EFRAIN T
988 10 384435 SERNA, KRISTINE JOY J
989 10 388686 SERRA, IAN JAY A
990 10 383615 SERRANO, MICHAEL ANGELO P
991 10 389188 SERVIDAD, CHERRIE A
992 10 384043 SETIER, JOHN PAUL P
993 10 381654 SEVILLE, MELISA C
994 10 382793 SIAHAY, CHERRY ANN T
995 10 390879 SIBUG, MARK LEO V
996 10 383991 SILVA, CLARENCE T
997 10 389007 SINAL, MOHAMMAD NASSIF U
998 10 386324 SINGCOLAN, MARIE FE A
999 10 391762 SISTOSO, CHRYSELLE LOUISSE A
1000 10 381400 SO, HAZEL GRACE A
1001 10 384248 SOBER, GLORIFE N
1002 10 391961 SOBRADO, PRIMITIVO JR C
1003 10 384547 SOFOCADO, SHARMAINE O
1004 10 381883 SOLAIMAN, AKRANNE A
1005 10 390080 SOLIS, REY P
1006 10 382980 SOLIVEN, GECYLE GRACE A
1007 10 380775 SOLOG, MOAMAR M
1008 10 385445 SOLON, KRISTEN ANNE C
1009 10 381236 SOLON, NEAL CARLO D
1010 10 381421 SOMBILON, SHAULA T
1011 10 380783 SORISO, MARIBEL R
1012 10 380716 SUAZO, ALEIZA RIKKA R
1013 10 381121 SUEZO, CHRISTINE T
1014 10 385843 SUGUE, MARC LOU L
1015 10 385690 SUIZO, PIERCE DAELAND A
1016 10 386709 SULTAN, ASMA T
1017 10 385695 SULTAN, KHAIRIA M
1018 10 389522 SULTAN, ROHANISAH S
1019 10 385791 SULTAN, SHAYB KHAN B
1020 10 386504 SUMA, KHALID SHARRIF F
1021 10 381465 SUMA, SITTIE SALIHA HA
1022 10 392161 SUMATRA, FLOREVIC P
1023 10 385398 SUMAYLO, PHILJUN V
1024 10 392642 SUMINO, ROSELYN Q
1025 10 382806 SUMONOD, MARY CHRISETTE T
1026 10 384966 SUNGGOD, SAHARAH A
1027 10 382195 SUSADA, MARVIN B
1028 10 385872 SUSVILLA, IAN H
1029 10 383689 TAAL, MEERA LOIDA T
1030 10 385811 TABADA, DANIEL W
1031 10 392352 TABAMO, GLENALYN Q
1032 10 386499 TABAMO, HEARTY FAITH C
1033 10 390274 TABAÑAG, RAIZA KRISTEL M
1034 10 382172 TABAR, THEA J
1035 10 386215 TACASTACAS, RALPH CHRISTIAN B
1036 10 382724 TACASTACAS, VIC ANTHONY III B
1037 10 390813 TACBOBO, ANGEL GRACE T
1038 10 381374 TACTACON, ARJIE ANTHONY B
1039 10 389887 TAGAAN, JOEJEN R
1040 10 385460 TAGAB, MAY P
1041 10 381522 TAGADIAD, DANTE I
1042 10 383660 TAGARO, ORLY S
1043 10 383785 TAGAYLO, VINMARK B
1044 10 389181 TAGO, JAMELAH AISHAH A
1045 10 384489 TAGOYLO, AHNJECAH L
1046 10 389720 TAHADLANGIT, REISSA VALERIE M
1047 10 389836 TAJUNIO, JEMUEL D
1048 10 389694 TALADRO, HANNAH GRACE P
1049 10 382688 TALIPAN, MA. ROWENA B
1050 10 382103 TALON, KRYZZA MAE C
1051 10 385623 TAMAYO, JENNIBETH V
1052 10 390452 TAMPARONG, JALOU MAE G
1053 10 383472 TAN, JAMES KEVINSON M
1054 10 382469 TAN, JOCELYN G
1055 10 391377 TAN, JUNDEL M
1056 10 383151 TAN, KATRINA R
1057 10 389167 TANA, PHILIP BRYAN JAKE A
1058 10 382355 TANCONGCO, APRIL ANN U
1059 10 388829 TANGGOL, MOHAMMAD REHAN M
1060 10 386261 TANGGOTE, ALLANI R
1061 10 391938 TANGSO, RUSHEL CLYNE C
1062 10 384773 TANOG, AL-MINAH L
1063 10 387962 TANTAO, JENAN S
1064 10 392457 TAYONE, DY ANN P
1065 10 381680 TELERON, RECELLEJEAN Y
1066 10 387854 TIAGO, SITTIE HAYA M
1067 10 389298 TIBANG, KIN BARKLY E
1068 10 391987 TILANDUCA, LENDON A
1069 10 382652 TILOS, MICHELLE VON T
1070 10 386164 TOLO, RADHEL FAITH V
1071 10 382517 TONGOL, ROBEL C
1072 10 383758 TORRALBA, ERIKO FLORENZE S
1073 10 381925 TORRALBA, JULIUS RYAN T
1074 10 383699 TORRENTO, JULIAN CRISNE D
1075 10 389647 TOTANES, MONIQUE PHILIPS B
1076 10 385692 TRABAJO, ROY D
1077 10 383883 TRAVERO, ARNEL S
1078 10 382080 TRONO, DANA JOANNE VON L
1079 10 382384 TROPEL, NIÑA ERIKA S
1080 10 382873 TUBALINAL, CHEBELLE ANN C
1081 10 381182 TUBO, BEBIE MARISSE A
1082 10 386580 TUNGCALING, JOHAINA I
1083 10 383936 TUPAG, JOYFEL N
1084 10 388944 TUQUIB, MARIANE CRYSSA A
1085 10 392009 TURQUE, ALBERLYN O
1086 10 390910 TUSOY, ELSIE R
1087 10 381576 UAYAN, CYRIN MAE T
1088 10 384903 UCAB, CHRISTIAN AARON E
1089 10 380981 UCAB, DARYL JEAN Q
1090 10 390399 UMBAY, MAYVELYN R
1091 10 392396 UNDAG, DANICA A
1092 10 380817 UNDE, JECKER L
1093 10 382785 UNSON, CLARK AIRON G
1094 10 390164 URBINA, HARRIET JEANNE M
1095 10 392507 URSAL, RAYMOND JOSE C
1096 10 389363 USMAN, MOHAMMAD AMAL G
1097 10 387421 USMAN, SITTIE YASERAH L
1098 10 382039 USNGAN, AMER C
1099 10 383218 UY, MICHAEL STEPHEN G
1100 10 386101 VALCURZA, CLAVELLE A
1101 10 387203 VALENCIA, CARYL MAE P
1102 10 386624 VALENCIA, HENRY JR B
1103 10 381355 VALERO, YVES YVIONNE C
1104 10 385189 VALLAR, CHARLANE B
1105 10 391522 VALLAR, LEAN MARIE ANAVIC C
1106 10 383246 VALLEDOR, GHIA S
1107 10 388183 VALLEJO, LE-JOVALE R
1108 10 390443 VALMORIDA, IRISH CLAIRE D
1109 10 391632 VASQUEZ, DESIREE R
1110 10 387693 VEDRA, GLARRY JUN A
1111 10 390012 VELASCO, ALBERT JR T
1112 10 389403 VENDER, JERELLE F
1113 10 391121 VENTIC, MELCHOR BENIGNO T
1114 10 385871 VENTURILLO, JAIBY JANE G
1115 10 392484 VERGARA, CLEBBERD K
1116 10 391614 VESTIL, RODEL JHON M
1117 10 381373 VICENTE, RIZZA MALOU R
1118 10 382019 VICERA, ANNMIELYN G
1119 10 387574 VICOY, DEVINE D
1120 10 383195 VIDAL, MARIA TIARA A
1121 10 390278 VILLAMOR, JAMES JASPER D
1122 10 388684 VILLANCA, CZAREANNAH LEIGH S
1123 10 381030 VILLANUEVA, ANNIESZA DIANNE C
1124 10 381381 VILLANUEVA, KIRSTEEN ELNA C
1125 10 388150 VILLAREAL, JELLE KYRA MAE A
1126 10 385691 VILLARIN, ROSE ANN M
1127 10 384002 VILLARTA, REYNOLD B
1128 10 382625 VILLARTA, SANDEE ANGELI M
1129 10 391601 VILLELA, ERIC JAN I
1130 10 381065 VILLO, VENICE MARIE P
1131 10 392059 VIÑAS, JOANNE MARIE O
1132 10 384491 VIVERO, CARILE JOY I
1133 10 392281 VOCAL, MAJARAH V
1134 10 386795 WADE, ABNER M
1135 10 387322 YABO, JONERSON L
1136 10 386106 YACAPIN, ALLAN IVAN E
1137 10 384398 YAÑEZ, DOROTHY JOY L
1138 10 384339 YAÑEZ, JANINE MARISSE M
1139 10 383533 YAÑEZ, MARIE CHRIS A
1140 10 384156 YANGULAR, ROXAN P
1141 10 392670 YAP, JASON
1142 10 387944 YASSER, ANA REZA A
1143 10 380994 YATAN, NEIL STEPHEN L
1144 10 382317 YBAÑEZ, COOKIE PEARL A
1145 10 387979 YBAS, JOAN R
1146 10 392380 YOLDAN, ALBERTO JR L
1147 10 391734 YONGCO, MICHAEL NICO C
1148 10 387662 YTING, BYNN JESSA H
1149 10 385213 YU, FERGEM L
1150 10 381217 YUSON, SHERWIN A
1151 10 388032 YUSOPH, JOHANNAH N
1152 10 391521 YWAY, JUWETT O
1153 10 383955 ZABALLERO, ROLEN C
1154 10 386134 ZAGADO, VANESSA EVE D
1155 10 380830 ZAMBAS, MARY CHARMIN V
1156 10 387286 ZAMORA, KATE VALERIE ANNE S
1157 10 381426 ZERNA, IRIS CHALDENE B
~~ NOTHING FOLLOWS ~~