CSC announced that passers who got at least 80 percent score will be eligible for the first and second level positions in the civil service provided the eligibles meet the qualifications and other requirements of the positions (education, experience, and training).
You can see below the full list of successful examinees and it was categorized by region for easier access of your name. The list contains the complete list of passers regionally in the Professional and Sub-Professional Level. You can click your region now in order to know whether you passed the exam or not.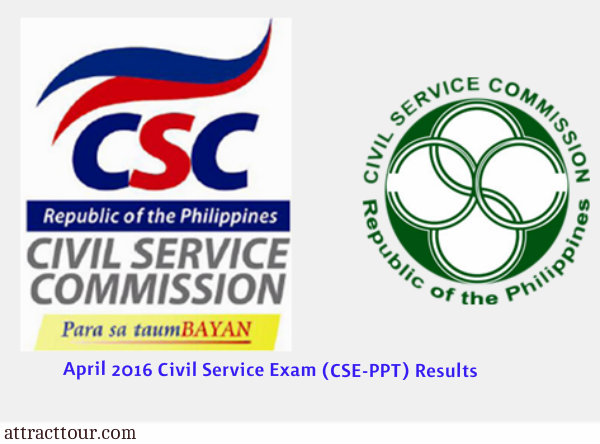 April 17, 2016 Civil Service Exam or also called Career Service Exam – Paper Pencil Test or CSE-PPT for the Professional level in Region 11 or the Davao Region (Compostela Valley, Davao del Norte, Davao del Sur, Davao Oriental).
Region 1 >>>>>>>>>>Professional & Sub-Professional
Region 2>>>>>>>>>>Professional & Sub-Professional
Region 3>>>>>>>>>>Professional & Sub-Professional
Region 4>>>>>>>>>>Professional & Sub-Professional
Region 5>>>>>>>>>>Professional & Sub-Professional
Region 6>>>>>>>>>>Professional & Sub-Professional
Region 7>>>>>>>>>>Professional & Sub-Professional
Region 8>>>>>>>>>>Professional & Sub-Professional
Region 9>>>>>>>>>>Professional & Sub-Professional
Region 10>>>>>>>>>Professional & Sub-Professional
Region 11>>>>>>>>>Professional & Sub-Professional
Region 12>>>>>>>>>>Professional & Sub-Professional
ARMM>>>>>>>>>>>Professional & Sub-Professional
CAR>>>>>>>>>>>>>Professional & Sub-Professional
CARAGA>>>>>>>>>>Professional & Sub-Professional
NRC>>>>>>>>>>>>>Sub-Professional
List of Passers: Region 11 – April 17, 2016 CSE-PPT (Professional) Results / Civil Service Exam – Paper Pencil Test
SeqNo Region ExamNo Name
1 11 403945 AALA, ISAH CLAIRE NICOLE B
2 11 409280 ABARICO, YVONNE Q
3 11 402808 ABARQUEZ, RYAN ALLEN C
4 11 405463 ABATAYO,MARY JOY B
5 11 408012 ABELLA, KENT JOHN B
6 11 402954 ABELLERA, ADAMSON D
7 11 402049 ABIÑO, KRISTINE ANN C
8 11 404561 ABRIL, VERNA JOYCE H
9 11 407931 ABUCAY, REY MART R
10 11 405699 ABUNDO, MANILYN G
11 11 405791 ABUTAZIL, SITTIE ALYSSA B
12 11 403486 ACASO, BERYL MARIE G
13 11 409089 ACASO, SHEINA MAE R
14 11 402425 ACDOG, PHOEBELYN V
15 11 408013 ACEDO, JOHN GERARD S
16 11 401117 ACHAS, NIÑA PAULA MARIE D
17 11 401935 ACLAN, MARNELLE A
18 11 401469 ACOSTA, FARINA S
19 11 402120 ADAO, VILTON JUDE C
20 11 406668 ADARNA, KARREN D
21 11 400807 ADLAO, ADRIAN J
22 11 407667 ADLAON, SHANDY MAE T
23 11 405233 AGAD, JENNIFER S
24 11 400249 AGANA, ERIKA DANIELLE P
25 11 401928 AGOD, JOENA MARIE M
26 11 406107 AGUILAR, JULIE ANN I
27 11 403936 AGUILAR, MITSUME
28 11 401730 AGUITON, ICARAH JOY P
29 11 403243 AGUSTIN, AI G
30 11 410329 AGUSTIN, HAMMIEL O
31 11 401698 AJERO, JOHN WINSTON ANTHONY II C
32 11 410155 ALABA, MARK ELLY
33 11 402324 ALAGABAN, CRISMA L
34 11 406776 ALAGENIO, RUBY ANN L
35 11 400480 ALANO, DAVE ABBY M
36 11 410084 ALASTRA, MARLENE R
37 11 404439 ALBIAR, RITCHELLE M
38 11 401257 ALBINO, ABIGAIL D
39 11 408531 ALCANTARA, ANNE SHARON M
40 11 404962 ALCORIZA, ANDREI REMI P
41 11 406529 ALEJANDRO, ROCHELLE KARLA M
42 11 405967 ALESNA, KESHEN KARTLY R
43 11 405657 ALFONSO, FAYE LYN M
44 11 401626 ALFORQUE, FRANCISCO MARLITO M
45 11 402107 ALIÑO, PATRICIA MAE D
46 11 401412 ALKUINO, WELLA D
47 11 401589 ALMANZOR, REYNA CHRISTHEL A
48 11 403767 ALMAZAN, MEA KATES F
49 11 403646 ALON, MOHAMMAD ABQARY A
50 11 400698 ALTIZO, MARY GRACE N
51 11 405039 ALVARADO, KATRINA SHAGNE D
52 11 409041 ALVARADO, SHARON R
53 11 403569 ALVAREZ, YVONNE GRACE A
54 11 400799 ALVIAR, HART LOUIS M
55 11 405989 AL-ZAABI, KRICELLE VINE MAHA S
56 11 406446 ALZATE, RACHEL C
57 11 409487 AMABAO, JESSA MARIE L
58 11 405514 AMAR, PIA ROSE O
59 11 402096 AMIGLEO, LOUIE M
60 11 402690 AMOGUIS, PHILIP JOSHUA B
61 11 401501 AMORA, DIANNE MARIE A
62 11 405679 AMPUYAS, SHAIRA SHANE G
63 11 402056 AMYER, HARIETTE O
64 11 403100 ANCIA, CHARYN B
65 11 407053 ANDALES, KIMBERLY B
66 11 402406 ANDAO, ALSAD A
67 11 403724 ANDING, PHILLIP ADRIAN P
68 11 409104 ANG, DAVE MARK C
69 11 400165 ANG, FESHROB J
70 11 410583 AÑIDES, JELAINE A
71 11 407401 ANIEL, RAY MON G
72 11 405787 AÑOBER, RIZEN MAY M
73 11 409775 AÑONG, WARREN C
74 11 400102 ANTIOQUIA, SANDINO THADDEUS O
75 11 400374 ANTIQUINA, KRISTIN L
76 11 410476 APARECIO, DAVE E
77 11 404601 APINAR, GLORY JANE P
78 11 405474 APOLINARES, MARK A
79 11 410059 APOSTOL, GLENNA G
80 11 405036 APOSTOL, LAARNI H
81 11 401878 APURADA, KATHRYNE V
82 11 400363 AQUINO, CHIARA PATRICIA O
83 11 401990 ARABIS, GARLIEN L
84 11 405827 ARADO, JACKY L
85 11 401298 ARAMBALA, RONA FLOR B
86 11 402138 ARANAS, DAN MATTHEW O
87 11 405496 ARANDA,KRYSTAL MAY B
88 11 408266 ARANGALE, ANALOU T
89 11 400805 ARBAN, RONIE JUN F
90 11 402913 ARBOZO, ALPHA L
91 11 406566 ARELLANO, REGINE MAE C
92 11 404912 ARENO, MARA ANGELA S
93 11 407151 AREVALO, REEDEN T
94 11 405266 ARMAN, JEANNETTE N
95 11 403019 ARMILLA, RUEL C
96 11 403247 ARMONIO, JAY SAR B
97 11 401860 ARREZA, MARLA L
98 11 402052 ARRO, ELLEN JANE E
99 11 406049 ASERIOS, JOHNROY M
100 11 400151 ASI, HANEYA JEAN M
101 11 410365 ASIDOY, CHERRYL ANN P
102 11 408573 ASPACIO, AIZA G
103 11 407807 ASTRONOMO, IVI JAQUELU T
104 11 405912 ASTRONOMO, IVI JAQUELYN T
105 11 402294 ATES, ALYSSA FAYE C
106 11 406152 ATILANO, KARLA NADINE G
107 11 403656 AUGUSTO, KRISTINE LEAH F
108 11 405223 AUSTRIA, KARLVEL M
109 11 402385 BABA, KARISSA JANNA C
110 11 405909 BABAGAY, REMYLYN L
111 11 401330 BABAO, AIREEN T
112 11 406196 BABIERA, DENIECE ANNE R
113 11 403487 BACALI, IRA MAE F
114 11 400531 BACARON, GARELLE KRIS J
115 11 404599 BAGNOL, MAE DARYLE P
116 11 403443 BAGUIO, MILDRED M
117 11 406812 BAGUION, DAYANARA ARMEL P
118 11 407612 BAHANDI, FRANCIS ERL A
119 11 404453 BAHIAN, PETER JAMES B
120 11 403471 BAHIDI, SHERYL N
121 11 400945 BAIN, RODITH D
122 11 403735 BAISAC, PEACH JERRYLIE T
123 11 403814 BAJAO, ADRIANNE M
124 11 401147 BAJAO, CHERRY LOU G
125 11 402649 BAJENTING, JOCEL ANN B
126 11 401654 BALDOZA, REAN PAUL A
127 11 408399 BALEROSO, MARZON D
128 11 407089 BALLOS, JEREMIAH A
129 11 402244 BALON, HANNA JOHARA A
130 11 404600 BANA-AY, EVA MAY R
131 11 405361 BANDIOLA, CHARLE D
132 11 409218 BANGCAYA, FRANCIS REL A
133 11 402553 BANGOT, JANINE C
134 11 400159 BANOY, GLENN LOUIE B
135 11 406384 BANTING, JEN JEN R
136 11 402615 BANTULO, HONEYBE D
137 11 404006 BARBARONA, GAIL S
138 11 403052 BARBIN, KHRISTINE B
139 11 403824 BARCENAS, JESSA MAE A
140 11 408538 BARDE, JHONALIE S
141 11 405416 BARDOQUILLO, THERESE M
142 11 407724 BARNIDO, JEREMY B
143 11 401993 BARREDO, MARIA JEAIA ALEXIA C
144 11 407691 BARRETE, MARITES G
145 11 405579 BARRIGA, THEOTIMA EYA E
146 11 404849 BARRIOS, HANNAH LYNNIE B
147 11 402613 BARRO, KARA MARCELLA G
148 11 403578 BARSALES, RANZEL P
149 11 403177 BARSALOTE, LORENE MARIE C
150 11 409634 BARTE, JENNYVIVE D
151 11 404495 BARTOLOME, JEAN J
152 11 408271 BASA, GLINDEL O
153 11 401427 BASALAN, MICHAEL JOSEPH P
154 11 407468 BASALLO, JIFTHIE B
155 11 410379 BASBAÑO, CLINT JOHN G
156 11 408133 BASIAO, IVY M
157 11 404777 BASILLOTE, ROEL SIMON D
158 11 402267 BASOY, CLYDE GLEENN O
159 11 405783 BASTE, KYRA AUDREY M
160 11 401056 BASUNILLO, MARIANELL M
161 11 407216 BATAQUE, AARON D
162 11 403515 BATICAN, CARL MATTHEW D
163 11 401564 BATILO, KEVIN JOHN LITO O
164 11 409123 BATISLAONG, BYRON JEFF A
165 11 402375 BATOSALEM, VINCENT PAUL J
166 11 400904 BAYLOSIS, AIZA C
167 11 401387 BELEN, JOHN BENJAMIN C
168 11 403213 BELLO, REMALYN G
169 11 407054 BELOY, JOELLENE MAE S
170 11 405740 BELOY, SYLVIA P
171 11 404877 BELVESTRE, MARIECHU B
172 11 402268 BENABESE, ALEXIS ANDREW M
173 11 401225 BENDEJO, FRANKLIN YVAN S
174 11 407121 BENDEJO, MA. FAYE VANESSA S
175 11 402989 BENGAY, MAE D
176 11 405974 BENGIL, JESSRAEL T
177 11 405289 BENIGA, JERSON C
178 11 404718 BENONDO, ROSAMIE P
179 11 410345 BERDERA, FLORA MAE B
180 11 403288 BERMEJO, MONALIZA R
181 11 400409 BEROU, APPLE KARESSA B
182 11 407093 BERSAMEN, DASHIELLE B
183 11 400594 BESOYO, ETHER CELLY P
184 11 400128 BETIA, CHILYN GELA MAE C
185 11 403246 BETITA, ZERWIN A
186 11 406097 BILBAO, MARIA JULIE DAWN S
187 11 408417 BILITA, JERIC F
188 11 401339 BISNAR, HANNAH L
189 11 410795 BLANCO, REMELYN F
190 11 402723 BLASABAS, BEA J
191 11 404618 BOCTOT, SHEILA MARIE B
192 11 405952 BOJA, GERNE T
193 11 401008 BOJOS, BRIAN KIM S
194 11 402706 BOLADAS, MARY ANTONETTE T
195 11 403566 BOLONGAITA, REA MAE S
196 11 400190 BONETE, DAN EXERLIN E
197 11 401799 BONGO, ELHIE ZHIERE S
198 11 405580 BONHOC, PATRICK P
199 11 401729 BONITA, MIAH TRIZZA M
200 11 400297 BOUT, JONATHAN P
201 11 400684 BRAGA, JUNE ENZEEL T
202 11 406038 BRIONES, ELJAY A
203 11 405402 BROBIO, CLARICE JOY L
204 11 401150 BUAL, CHRISTINE IRISH G
205 11 405701 BUAL, JAY-AN M
206 11 402383 BUENAFE, IAN VINCENT A
207 11 400149 BUENVIAJE, ARIANNE SHANE M
208 11 401433 BUEZA, JAMES VINCENT L
209 11 404957 BUIT, HAZELINE PEARLE N
210 11 406139 BUJIYAN, MARY JOY G
211 11 409899 BUNGABONG, SHERIDYL B
212 11 407990 BUOG, LAURITO JR B
213 11 402470 BURGOS, JAYNELYN B
214 11 400687 BUSCH, STEPHAN EDUARD M
215 11 403610 BUSTARDE, RUFA D
216 11 402725 BUTIL, GINALYN G
217 11 400092 BUTLIG, FLORYANNE MAY V
218 11 400776 BUTT, JERRYN U
219 11 403819 CABAL, RALPH ANGELO C
220 11 407333 CABALLERO, CLEO S
221 11 404708 CABALLERO, HANNAH M
222 11 408604 CABANES, CHRISTINE FAITH M
223 11 408591 CABANES, TRISHIA DELE M
224 11 402058 CABANGON, KRISTINE BETH DAPHNE G
225 11 401161 CABANIG, MARY ROSE M
226 11 404234 CABARDO, DAYNIE BETH D
227 11 401238 CABARDO, FERDINAND
228 11 403647 CABARSE, NIKKI YVONNE P
229 11 404595 CABATAS, JASSEN MAE E
230 11 405673 CABELLON, ROZANNE R
231 11 403242 CABIGAS, JEZZA MAE V
232 11 400898 CABILES, NANCY G
233 11 406620 CABISARES, ODETTE M
234 11 407656 CABONCE, ROLLYN M
235 11 402128 CABRERA, DARLING MAE J
236 11 406320 CABREROS, MIGUEL ANTONIO T
237 11 401101 CABUG-OS, ROMNICK B
238 11 405576 CADAYONA, JODIEWENLYN
239 11 405312 CADIGAL, SIMVIN R
240 11 403184 CADIZ, TRICIA LAURISSE R
241 11 405995 CAFE, CARLOU DEVIN U
242 11 406485 CAGA-ANAN, CECIELLE IRENE L
243 11 402722 CAGATIN, KRISTELLE MAY O
244 11 400410 CAGBABANUA, CAMILLE S
245 11 406402 CAGULA, ELEAZAR P
246 11 407771 CAIDIC, CHRISTIAN GERARD C
247 11 402228 CAJANO, FRINCESS JADE C
248 11 401629 CAJANO, KRISTHER FAITH C
249 11 405798 CAJEGAS, KRISTINE MAE C
250 11 403110 CAJES, JENESSA M
251 11 402459 CALACAR, JECIL GRACE N
252 11 406355 CALAG, VINCENT JAKE K
253 11 406653 CALANAO, SAMANTHA DIANNE D
254 11 402881 CALAPIT, RINNO A
255 11 406282 CALLATA, JAYSON G
256 11 406429 CALOPE, LOURIE MAE I
257 11 404128 CALVO, JENNIFER S
258 11 408629 CAMAY, JYD L
259 11 404001 CAMINADE, MARGEON G
260 11 410459 CAMPILAN, EZL P
261 11 404596 CAMPILAN, KIMBERLY B
262 11 407975 CAMPOMAYOR, REIL M
263 11 401112 CAMPOREDONDO, PETE LUNINGNING B
264 11 400514 CANDIDO, ELGIE M
265 11 406028 CANDONTOL, JIEZL MARY E
266 11 402914 CAÑEDA, SHANIELLE QIM F
267 11 405292 CAÑEDO, KARINA V
268 11 407223 CANO, LORELYN M
269 11 401403 CANONO, ANNA MAE M
270 11 406959 CANSE, EMILYN A
271 11 402321 CANTARA, KRISHA AMOR A
272 11 403782 CANTERO, JECILL O
273 11 401198 CAPA, BOBBY D
274 11 401099 CARALOS, MARIA FARAH D
275 11 409998 CARO, JORGE ANTHONY P
276 11 407694 CARPIO, DENNIS P
277 11 410425 CARREON, CHERRY JEAN A
278 11 405678 CARREON, MA. CZARINA V
279 11 406510 CASALLAS, JHOVANIE M
280 11 401691 CASAÑA, NIEL CEN L
281 11 400575 CASAÑA, SHANDA L
282 11 410178 CASAS, AIRA FAYE I
283 11 402979 CASIA, LORRAINE PATRICIA S
284 11 404476 CASTRES, SANDRA KATHREENA T
285 11 404069 CASUGBO, JORIEL P
286 11 406077 CATALUÑA, LUIGIE WILHELM C
287 11 402651 CATILOC, WYNLHOR JANE M
288 11 401802 CAVAN, MATTHEW ELENO C
289 11 400696 CENAR, JEANNE PAULINE C
290 11 410363 CHAN, CARLO V
291 11 402917 CHIN, KARA V
292 11 403198 CHONG, ERIC C
293 11 403142 CLAROS, BENJO O
294 11 403549 CLOA, ALVINCENT JAN F
295 11 406014 COMBOY, EDEN L
296 11 407444 COMENDADOR, CHRISTINE JADE P
297 11 407172 COMICHO, BIANCA J
298 11 402124 CONCEPCION, BRYAN GABRIEL D
299 11 403716 CONCEPCION, VETRIMAR JR D
300 11 400764 CONCON, EMY-MHAR P
301 11 410503 CONDE, EDGAR ALFONSO I
302 11 409110 CONEL, CHERELYN V
303 11 408138 CORBITA, RENE ISAGANI L
304 11 403108 CORDERO, RAY JANE N
305 11 402745 CORITICO, DARYL JILL D
306 11 405084 CORONAS, KRIZIEL GRACE V
307 11 400350 COROTAN, LOUISSE VINCENT B
308 11 407976 CRODUA, JOVITO JR B
309 11 408663 CRUCIO, GABRIELLE FRANZ P
310 11 402864 CRUIZ, ROVELL S
311 11 406540 CRUSIO, REIL JOHN P
312 11 403411 CRUZ, CLAIRE ESTELLE G
313 11 406826 CUA, JOANNE MAE V
314 11 410175 CUARTERON, OLYFER V
315 11 406278 CUEVAS, IRISH JANE N
316 11 410205 CUIZON, RHEA MAE S
317 11 408355 CUÑADO, MARIVIC S
318 11 407103 CUNANAN, LUIS ANTONIO R
319 11 404475 CURADA, KRISTY LANE LJ B
320 11 401379 CURILAN, MARIA TERESA C
321 11 407306 CUYOS, SACHE CAZXANDRA L
322 11 401365 DADIS, RAUL JR Q
323 11 409045 DADULA, MICHELLE C
324 11 405175 DAFFON, JELLY O
325 11 408616 DALAGAN, ROXANNE T
326 11 407079 DALAGAN, WARJIE P
327 11 407863 DAPITANON, KATHLEEN ROSE N
328 11 410380 DAPROSA, JENNIFER M
329 11 407373 DAQUIGAN, MARC VOLTAIRE F
330 11 407257 DATO, JC JANE G
331 11 406403 DAVIDE, MICHELLE JANE S
332 11 410302 DAYOC, JAN MICHAEL W
333 11 402919 DE GUZMAN, DENI M
334 11 402489 DE GUZMAN, JOHN ANTHONY
335 11 401233 DE GUZMAN, VANESSA MAE B
336 11 407031 DE LA CRUZ, RENATO JR B
337 11 404391 DE LEÑA, JANIE MAE R
338 11 402531 DE PEDRO, NIEVES A
339 11 401586 DE TOMAS, WILSON JOHN L
340 11 402987 DEDUYO, ROGEL MARI V
341 11 400754 DEFIÑO, ESTEPHANIE JOYCE B
342 11 410772 DEGAMO, LOMY S
343 11 405077 DEGAMON, MARY GRACE L
344 11 402804 DEL ROSARIO, DEXIE JOY R
345 11 400181 DELA CERNA, SHELLA LU M
346 11 405617 DELA CRUZ, CZARLIE MAE S
347 11 402401 DELA CRUZ, JANE ROLFMAR R
348 11 402423 DELA CRUZ, VICTOR PAUL J
349 11 403285 DELA TORRE, EUGINE R
350 11 406772 DELA TORRE, MIZPAH MAE D
351 11 403480 DELGADO, ROMMEL P
352 11 407183 DELIG, WALTER S
353 11 405931 DELIGENCIA, RIZIEL C
354 11 406201 DELLOMES, DANIELLE DOMINIQUE D
355 11 408470 DELOS SANTOS, MARKLIN D
356 11 405821 DEMALANTA, LIEZL ANN
357 11 400108 DEMANARIG, JERA B
358 11 409127 DEMAPANAG, TEODY P
359 11 402687 DEOCAMPO, DIMPLE GRACE C
360 11 403940 DEPAMALLO, SHIELY B
361 11 403995 DEPOSITARIO, ROSELLE C
362 11 401596 DEQUITO, RIZZA MARJORIE Q
363 11 409913 DESALES, HARVY B
364 11 407010 DIACONO, KEVIN JADE B
365 11 403618 DIAMA, KRISTELL RESHEL JOY M
366 11 407934 DIDAL, CHRISTINE JOY I
367 11 403075 DIEZ, JUNE ALLAN B
368 11 400834 DILIG, MARC DENNIS B
369 11 402024 DIMALANTA, CHARMAINE ANNJEANETTE P
370 11 410720 DIMATAWARAN, JOANNAH FE C
371 11 402113 DINGAL, CHARLYMER JR C
372 11 406161 DINOPOL, NIKKI ANDREA C
373 11 403366 DIOHANG, KRISTAL L
374 11 408095 DIOLA, REGINE MARIE T
375 11 404642 DIVINAGRACIA, AUSTIN VON A
376 11 400375 DOLOJO, JEFFREY B
377 11 400186 DOLORES, ERIKA PEARL D
378 11 409495 DOLORITO, VANESSA C
379 11 404983 DOMAOAN, GIRLIE MAE V
380 11 410301 DOÑA, CRESILDA P
381 11 401086 DORADO, LESLIE ANN M
382 11 403573 DUARTE, DANNA ANGELICA B
383 11 402453 DUBLAS, XENITA JOY A
384 11 402654 DULAY, NOVRENE G
385 11 410159 DUMAGUIT, JOESELLE LORRAINE C
386 11 400432 DUMDUMAYA, YVONNE I
387 11 403410 DUPITAS, ROLLIE JAY B
388 11 403994 DUQUE, MA. ASUNCION S
389 11 400075 DURAN, MICHELLE JEAN G
390 11 406318 DURAN, NOELYN GAY M
391 11 405541 DUREMDES, RACHEL ANNE A
392 11 403183 DURON, RED REINNE C
393 11 400174 DY, KRISTELLA DAWN S
394 11 402009 EBON, EDUARD T
395 11 404147 ECHAVEZ, HONEYLYN JANE A
396 11 408717 ECHAVEZ, MARITESS T
397 11 403119 ECONG, CRISTAL GRACE C
398 11 406672 ELANGOS, HANNAH RACHELLE M
399 11 404142 ELECANAL, JERICO ALLEN D
400 11 403004 ELEMINO, JIMS P
401 11 402853 ELISEO, RACHELLE JOY L
402 11 409209 EMBODO, AIZA E
403 11 405054 EMNACE, SHAIRA ROSE G
404 11 401692 ENATE, MERYL D
405 11 404272 ENCARNACION, MICHELLE M
406 11 402132 ENDRINA, LAILA C
407 11 401244 ENGALAN, PAMELA DENISE P
408 11 405862 ENGBINO, JOY MELARIE B
409 11 404347 ENOROBA, SIRIKIT H
410 11 402017 ENRIQUEZ, MYCKEL GIDEON L
411 11 403082 ERBITO, CHARLENE I
412 11 405419 ESCABARTE, BEY S
413 11 407458 ESCALA, HONEY MAE M
414 11 404910 ESCRAMAN, JHERRY MAE O
415 11 402855 ESCUADRO, ANGELICA C
416 11 409932 ESPERANZA, NEIL JOSEPH L
417 11 406929 ESPINA, JANNIV P
418 11 408256 ESPINOSA, VANESSA O
419 11 400621 ESPRA, ARAN NEIL D
420 11 406749 ESPURA, EUAR JANLEY E
421 11 405828 ESTILLOSO, CHARDELYN M
422 11 406489 ESTINOSO, RENALEN SHEEN D
423 11 409033 ESTORBA, FLORAMIE M
424 11 410138 ESTRADA, JOSE RAMIL JR D
425 11 400201 ESTRELLA, JEZIEL H
426 11 407846 EVANGELIO, SHERELYN A
427 11 409586 EWICAN, RONA VILLA R
428 11 406404 FABILA, JECON VANCE G
429 11 404393 FABULA, RONAFE CYRILLE B
430 11 406243 FACULTAD, LOVELY O
431 11 402246 FACURA, BIANCA FREYA Q
432 11 406474 FADRIQUELA, PEBEN JAY F
433 11 410472 FAJARDO, EDLYN R
434 11 404311 FAJARDO, EUNICE P
435 11 404004 FEDERICO, KHRISTINE JOY S
436 11 410120 FELIPAS, KEYMARK A
437 11 401930 FERENAL, CHRISTINE LORRAINE S
438 11 407243 FERNANDEZ, BERNABE JR D
439 11 400653 FERNANDEZ, DARRYL A
440 11 400447 FERNANDEZ, EUNICE A
441 11 401620 FERNANDEZ, JEANA LUISA P
442 11 406751 FERNANDO, VIRGILIO JR C
443 11 409761 FESTIN, BERNADETTE M
444 11 402418 FLAME, JOHN PAUL F
445 11 401862 FLANDEZ, JOHN PAUL J
446 11 402821 FLORENDO, EDEN GENESIS G
447 11 406815 FLORES, ANN JEAREN T
448 11 401850 FLORES, BRYLYN D
449 11 406516 FLORES, FRANCIS NEIL A
450 11 409053 FLORES, JOE MARI N
451 11 400574 FLORES, KEESHIA NEECA S
452 11 403449 FONG, MARIAN L
453 11 402986 FORMENTERA, RIZZA MAE L
454 11 402709 FOSTANES, PHILIP BRYLE C
455 11 400762 FRANCISQUETE, JEFREY OLIVER M
456 11 400414 FRIALES, JOANNA ERL P
457 11 405281 FUDADERA, JOHN PAOLO C
458 11 406413 FUELLAS, VINCENT RAYMOND G
459 11 401278 FUENTES, JASTY MART L
460 11 409844 FULGUERINAS, LOU APRIL M
461 11 406105 GABONADA, MELANIE M
462 11 402817 GABUNADA, MARIA DIVINA S
463 11 406648 GADGUDE, EUNICE GRACE J
464 11 404258 GAJUNERA, FUNNY PEARL A
465 11 404186 GALA, HANNA RIA MEI A
466 11 401148 GALAURA, AILLA JOLECA Y
467 11 400127 GALELA, MARY GRACE C
468 11 401054 GALLEGO, MARIAN KAYE F
469 11 404026 GALLEGO, MARJEWRIE F
470 11 400247 GALLEROS, CYRIL V
471 11 401370 GALVEZ, ANDRIE REY P
472 11 405972 GAMO, IAN JAY A
473 11 400175 GANACIAS, NIKKI JOAN G
474 11 404903 GARADO, JOANNA PAOLA R
475 11 402608 GARAY, MCDONNELL P
476 11 406557 GARCES, DAISY GRACE S
477 11 404750 GARCIA , PAULO GIOVANNI C
478 11 410709 GARCIA, JOSE CARLO V
479 11 400931 GARCIA, KAREN L
480 11 409373 GARCIA, MERYL SIOUX FLORANTE N
481 11 406043 GARCIA, PAMELA V
482 11 406119 GARSUTA, KARL VINCENT M
483 11 401022 GELBOLINGO, ETHEL B
484 11 400606 GELERA, PERCIE JOY Y
485 11 402225 GEMENTIZA, GETT MARI I
486 11 404225 GEMENTIZA, JUNE PHILIPP R
487 11 409777 GENERALE, CYRENE P
488 11 401299 GENEROSO, RETCHEL D
489 11 410214 GENITA, ALFRED CYRIL Q
490 11 405613 GENOLOS, REVI PEARL S
491 11 405024 GERAL, MELISSA C
492 11 408572 GERALDE, CARLO GUILLERMO M
493 11 402947 GICOLE, SHENNAH MAE S
494 11 402888 GICUM, ANTHONY S
495 11 405999 GIDUCOS, MARILYN F
496 11 402559 GO, ENRIQUE JR A
497 11 408015 GOGO, REYJEL M
498 11 401468 GOLOSINO, CHERIE MAE S
499 11 404562 GOMEZ, SHANNIN LEIGH A
500 11 401522 GOMEZ, TREXIE MARIE K
501 11 410783 GONZAGA, APRIL JULIE MAE P
502 11 404316 GONZALES, GERALDINE M
503 11 407328 GORNES, GRACE R
504 11 410191 GOROSPE, LAURENCE A
505 11 400402 GORRE, KENN N
506 11 409013 GRANCHO, GILLIAN RUTH A
507 11 404549 GREGORIO, SHAYNE JAE A
508 11 400412 GRIÑO, RENEE ANN F
509 11 404185 GUELOS, KRISTEN JOAN P
510 11 406322 GUERRERO, ANNA SABENA A
511 11 406004 GUERRERO, MA. ERIKA KRISTABELLE M
512 11 403086 GUILLERMO, JUSTINE REMUS B
513 11 405132 GUILONSOD, KATRINA P
514 11 400672 GUINO, REGINA C
515 11 404895 GUINTO, HAZEL B
516 11 400307 GUITGUITIN, PATRICK JOHN P
517 11 401046 GULANES, GENE MICHAEL P
518 11 405286 GULLE, HARAH DAVE G
519 11 405744 GULLE, QUEENIE MARIZ G
520 11 401072 GULLES, GEMELIE B
521 11 406727 GULTIANO, NEPAL R
522 11 403180 GUMANID, MA ISABEL D
523 11 403665 GUNDAYA, ELEORA CECILIA F
524 11 402483 GURREA, CYRELLE E
525 11 405992 HAIROL, SITTI KULSUM D
526 11 401425 HALI, KRISTINE JOY B
527 11 406132 HALILIO, JULAYSA O
528 11 405459 HANDUGAN, ANCELLE REEM
529 11 406847 HARDER, CHRISTIAN JOIE B
530 11 405656 HARRID, NUR JANNAH FATIMA L
531 11 405727 HERNANDO, MARK ARNCELO V
532 11 403939 HINGPIT, MARK ANTHONY A
533 11 400234 HIPOLITO, HALLEY JOSEPH A
534 11 406686 HIPONIA, CHARMAINE S
535 11 410244 HOMIGOP, EVELYN B
536 11 409355 HOMIGOP, REYNANTE M
537 11 404133 HONRADO, KATHERINE ROSE M
538 11 406927 HUELAR, JEHRWIN S
539 11 401955 HUERTAS, TISHA CORRAINE S
540 11 409742 IBALE, RODOLFO JR C
541 11 404967 IBAÑEZ, JULIE ANN S
542 11 402789 IGPIT, KREZZEL JOYCE J
543 11 404229 ILUSTRISIMO, QUYVONE SHAMIKA R
544 11 401302 IMAN, GENTNER C
545 11 402961 INOFERIO, MA. DINA DANIELLE D
546 11 401951 INSONG, KAY CELINE P
547 11 403250 INTING, MARIE ROBE A
548 11 410139 INVIDIADO, JIZA A
549 11 401310 IPAW, MARY FAMILLE P
550 11 403080 ISAIS, MARY CRYSTEL C
551 11 401195 ISMAEL, ELLA JADE E
552 11 410384 IYANA, JIENIFER B
553 11 408486 JABINES, NIÑO KENT A
554 11 408643 JACALAN, HANNAH R
555 11 406788 JADULCO, GERLIE O
556 11 405829 JAIRAL, KATHLEEN CARELL B
557 11 406536 JALA, JENNIFER ROSE K
558 11 409566 JAMANG, FRANZ MARIONE E
559 11 400332 JAMERLAN, JEANIELYN T
560 11 401625 JARANILLA, STEFFI CHRISTINE T
561 11 403084 JARDINEL, SHARMAINE ANNE D
562 11 401335 JAUGAN, INGRID NATALIE ROSE D
563 11 406553 JENILLA, RECHILYN JANE T
564 11 406803 JIMENEZ, MARK KEVIN A
565 11 400024 JIMENEZ, ROSE ANN F
566 11 403730 JOSE, CHRISTINE RONITA T
567 11 404921 JOVEN, RHEA JOY C
568 11 406444 JOVER, GREGG MEYRICK S
569 11 410064 JOVITA, ALMIE JANE A
570 11 400314 JUGALBOT, FLORIE MAY L
571 11 402141 JUMADEL, ELIHAM P
572 11 403840 JUMAWAN, JETTO PAOLO F
573 11 405124 JUNTILLA, HEDRICK JEFLEE B
574 11 405293 JUNTILLA, QUEENY GRACE IVYLENE G
575 11 409418 JUSTIMBASTE, MAE P
576 11 401375 JUYO, NIÑA MAE S
577 11 407345 KINAZO, DENISSE ROXANNE L
578 11 402603 LABAJO, JONNAVIL M
579 11 409961 LABASANO, ICY F
580 11 400692 LABIAO, RYAN JAY G
581 11 404293 LABIS, CHRISTINE MAE B
582 11 402452 LABITA, JACK DARREN B
583 11 405950 LABRADOR, NATHASIA G
584 11 404209 LABRO, FRADILYN M
585 11 405447 LABRO, FRANCISCO II M
586 11 401962 LADICA, CARYL JEAN V
587 11 405997 LADRA, JESSEL JANE C
588 11 400440 LAGANSUA, PAUL ARNOLD S
589 11 405269 LAGMAN, THYRON KYLE M
590 11 404474 LAGUNSAY, CHERRY MAE T
591 11 407553 LALONG, MHONABETH S
592 11 406816 LAMBAN, JUDE DENZEL VENCE M
593 11 403455 LAMIGAS, MARK JOHN S
594 11 401417 LAMORENA, IRVIN P
595 11 408418 LANIBA, JOFEL B
596 11 409290 LANTAYA, MARY JOY M
597 11 410602 LARA, LEONARD RAY M
598 11 400527 LARECHE, TERENCE JOY P
599 11 410471 LARUBES, JEZRELLE M
600 11 400540 LASTIMOSA, MA GERNIE B
601 11 404893 LASTIMOSO, ERNESTO JR G
602 11 400562 LAURENO, SHEILA MAY V
603 11 401388 LAURENTE, JOSE JESUS II B
604 11 406037 LAURETA, RUTCHIEL D
605 11 401560 LAURITO, KAREN S
606 11 410822 LAVADIA, DYANARHA P
607 11 401326 LAYA, CHERLY M
608 11 405502 LAYOS, PAMELA AMOR P
609 11 410152 LAZARTE, EMESVEM B
610 11 408361 LEBRIA, JAIME JR D
611 11 400442 LEDESMA, CHRISTIANNE LOI U
612 11 402620 LEDRES, SIZZLE MARL
613 11 408021 LEE, ROCHELLE L
614 11 401088 LEGASPI, LUYJILENE V
615 11 402205 LEGITIMAS, JENNIBETH D
616 11 403332 LENDIO, MEGAN KRISTYL B
617 11 404953 LEONOR, CLYDON D
618 11 407102 LEPARDO, KRESHIA JEL A
619 11 404011 LI, DANICA VINA T
620 11 406758 LICMUAN, BONA VERA G
621 11 405780 LIM, FELIZ AMANDA C
622 11 403527 LIM, IRISH BARBARA E
623 11 400858 LIM, STEPHANIE B
624 11 405011 LIMPIO, RIO E
625 11 402388 LINOG, NORJANAH G
626 11 405831 LINSO, FARHANA JANE S
627 11 403017 LINTOGONAN, MARK ERVIN P
628 11 400652 LIPANG, JANNICA MARIE A
629 11 404203 LISCANO, MARIE ANNE B
630 11 410649 LLABAN, LYNJIE T
631 11 409758 LLIDO, MARJORIE B
632 11 404654 LOLO, MARY JUNALYN V
633 11 408520 LONGYAPON, MIA CRESS G
634 11 402044 LONTOK, RAPHAEL JOHN M
635 11 409985 LOPEZ, ALEXIS V
636 11 400560 LOPEZ, DEBBIE JALE A
637 11 408561 LOPEZ, HAZEL M
638 11 410470 LOPEZ, JONATHAN JR Q
639 11 405125 LOPEZ, JUANCHO JULIUS III M
640 11 401863 LOPEZ, NICO JAY G
641 11 403914 LOPEZ, YVETTE I
642 11 403256 LOQUINARIO, JANET G
643 11 407362 LOQUINIO, ELDITO C
644 11 406365 LORA, LEO ANGELO L
645 11 402008 LOREN, EDUMER BRYAN D
646 11 402907 LOREN, LEONALYN MAY A
647 11 410741 LOYLOY, WIL VINCENT C
648 11 401704 LOZADA, HAZEL P
649 11 406947 LUAYON, SUGAR RAY T
650 11 408601 LUCNOD, JUNEL J
651 11 403701 LULAB, IMMANUEL D
652 11 410461 LUMAAD, RIZA MAE B
653 11 400704 LUMABAO, GLEAN PAULO A
654 11 404925 LUMACAD, CHRISTY M
655 11 404916 LUMANCAS, LEA JANE D
656 11 400272 LUMANDAS, JEBSON LOUIE L
657 11 400341 LUMANGTAD, JESSA ANTONETTE
658 11 407083 LUNA, AUREA CAMILLE B
659 11 407919 LUPIBA, PAMELA JADE
660 11 404607 LUTIAN, ARRA G
661 11 408253 LUZANO, VANESSA JOY P
662 11 404510 MABOLOC, ALDRIAN E
663 11 405911 MACADIZ, JESAH P
664 11 400070 MACAPANAS, GAYLYE FIRN P
665 11 400315 MACARAYO, BRYAN B
666 11 407038 MACIAS, JUFREDEM IKE P
667 11 401890 MACO, EDERSON A
668 11 406452 MACOTIN, EUGENE J
669 11 401239 MACROHON, MARIEL MAE ANNE R
670 11 401683 MADANLO, CHRISTY A
671 11 403722 MADARANG, ARVIN LEROY G
672 11 400019 MADERA, RHEA JANE M
673 11 401261 MADRIAGA, JESSE RAMON B
674 11 405710 MAGALLANES, JOERIE ANNE V
675 11 402127 MAGALLONES, SUSHI MAE P
676 11 400968 MAGAWAY, DENISE C
677 11 400390 MAGAWAY, KRIZZIA LYNN L
678 11 403299 MAGBANUA, MARISA O
679 11 409628 MAGDIPIG, LOVELY M
680 11 407891 MAGHANOY, LAIRA M
681 11 408551 MAGLENTE, JAYSON S
682 11 401144 MAGNO, TRISHIA CAMILLE C
683 11 410502 MAGONCIA, IRISH MAE S
684 11 407173 MAGULTA, EMMANUEL HECTOR A
685 11 409159 MAHINAY, GINALYN C
686 11 401628 MAJADAS, MAUREEN L
687 11 405377 MALABAD, ANGELA MEL O
688 11 405523 MALACAD, NOELYN C
689 11 405869 MALAGDAO, ROUGHE ANNE Z
690 11 410621 MALAZARTE, CHARMYN
691 11 409605 MALNEGRO, IRISH B
692 11 405095 MAMITES, ANTHONY LOUISE M
693 11 408500 MAÑACAP, MARY ROSE C
694 11 405294 MANAMPAN, SANDRA S
695 11 403700 MANDANGAN, ABDUL WALI O
696 11 401129 MANGAMPO, YSMAEL JANUAR S
697 11 408702 MANGAOIL, SHARON F
698 11 408447 MANGARON, MARVIN B
699 11 400613 MANGLICMOT, RAZYL E
700 11 408586 MANGUIOB, CRISANN JAKE L
701 11 404436 MANIGO, CHARIZZA KRYSTEL S
702 11 406925 MANLAPUS, KATRINA ANDREA B
703 11 400153 MANLIGOY, JOSHUA T
704 11 405319 MANLUYANG, SARAH JANE M
705 11 408630 MANOG, KHENNA MAE G
706 11 401031 MANREAL, CHERRYL KIN L
707 11 402261 MANTO, ALJON REY L
708 11 404428 MANUEL, ANGELITO JR R
709 11 404760 MAPUTOL, MARYJEN A
710 11 401997 MAQUILAN, RASYLANE S
711 11 402277 MARCES, JET O
712 11 400061 MARCO, BEN MAVERICK B
713 11 400054 MARIANO, JANINE BEA B
714 11 408056 MARIANO, KIEZARINA JANE B
715 11 403570 MARIANO, RAE CAMILLE F
716 11 407267 MARIBAO, MA. ALMIRA BEATRIZ B
717 11 407037 MARILAO, JEZLE C
718 11 406075 MARMONEJO, SWEETZEL B
719 11 404024 MAROHOMSALIC, JAFFAR U
720 11 405481 MARTE, CATHERINE C
721 11 400861 MARTEJA, JERRY MAY I
722 11 406730 MARTIN, JOEL JR D
723 11 405627 MARTIN, ROSEMARIE P
724 11 402822 MARU, MARJORIE G
725 11 400761 MARZADO, QUEENIE L
726 11 404902 MASAJO, HAZEL S
727 11 406483 MASANGUID, MYRA JANE Z
728 11 402372 MASIGA, MARK ANTHONY P
729 11 405457 MASINADING, RACHEL G
730 11 404931 MASLOG, RENZCEL REY B
731 11 405915 MATO, KASANADIN MUSAWWIR D
732 11 404682 MATON, MERRYNIL KAY P
733 11 401980 MATUGAS, APRIL JOY I
734 11 406276 MATURAN, LODYNNE B
735 11 401440 MATURAN, SHAIRA JOY A
736 11 405214 MAUNES, DARELLE D
737 11 404707 MAYA, CHENDIE C
738 11 409074 MAYANG, JERIZA M
739 11 409112 MAYANG, KRISTA MAE R
740 11 407485 MAYANTANG, MARY CRIS M
741 11 406721 MAYON, ANGEL A
742 11 407875 MAYPA, AUDREY KRISTINA V
743 11 406482 MAZO, ANGELI ROSE T
744 11 406938 MEDINA, JAYA ROWENA C
745 11 406348 MEJIA, JOANNA ROSE C
746 11 405334 MEJORADA, CHRYSOLYTE ANN B
747 11 401790 MELARGO, SHINETTE JEAN T
748 11 410387 MELENDRES, JEA MARIE N
749 11 402746 MELENDRES, MARGARETT MAE I
750 11 409101 MELENDRES, MARY JOY I
751 11 406554 MELENDREZ, JANISSA B
752 11 406279 MELICOR, CHARLS N
753 11 410731 MELLORIN, FLORAMIE A
754 11 401200 MENDEZ, APRIL HONEYLOU G
755 11 404269 MENDEZ, JOYCE KILMER S
756 11 405176 MENDIOLA, RIAN WENCEL R
757 11 406190 MENDRICO, RENZ KRISTOFFER P
758 11 404806 MENESES, RONNITH P
759 11 400547 MERIDA, REY G
760 11 401531 MIGUEL, KERVIN L
761 11 406726 MILAGROSA, ELEOJASMIL J
762 11 405528 MILLADO, SHAHANI FLORENCE D
763 11 404598 MILLAN, QUEENIE ANNE V
764 11 402983 MIPANTAO, JOANNE FARIZZA E
765 11 405520 MIRANDA, JEE ROSE V
766 11 409304 MIRAS, ERN MILKEE J
767 11 404148 MIRO, DOREEN PAMILE T
768 11 404013 MOLINA, ARIANNE N
769 11 405337 MONATO, JOHNMAR T
770 11 401725 MONFORTE, BIANCA JOANNE C
771 11 404656 MONILLA, LARA B
772 11 401502 MONSERATE, SHANE GAY G
773 11 407813 MONTEBON, DARYL D
774 11 404274 MONTEBON, KATRINA ANNE D
775 11 405332 MONTECLARO, LORIVIC NOELINE G
776 11 410554 MONTEMAYOR, LILY JEAN S
777 11 401527 MONTENID, THARA TIFFANY D
778 11 408153 MONTERO, ROXAN S
779 11 400783 MONTEZA, GAIL ASHLEY T
780 11 405956 MONTEZA, SCARLLEY D
781 11 403572 MONTILLA, NATHANIEL B
782 11 406525 MORALES, MARY LOU M
783 11 406517 MORAN, MOCA JAEV C
784 11 401808 MORAN, NORMAN JONES E
785 11 410386 MORATILLA, MAVIS P
786 11 405218 MORENO, HANFREY ROSCOE C
787 11 410168 MORILLA, MARIGIE U
788 11 406071 MORTA, WINADEL B
789 11 405421 MORTILLERO, CLIM M
790 11 410151 MUNDA, ROXANNE EVE M
791 11 406118 MUÑEZ, BIANCA A
792 11 405808 MURING, CYRIL LEONARD L
793 11 407142 MUTIN, HOSNIE G
794 11 406200 NABUA, JON FRANCIS D
795 11 401464 NACARIO, DIANNE JEAN A
796 11 400492 NADERA, JASMEN EZRA S
797 11 401846 NADUARAN, YZA MAE G
798 11 404268 NAGALIZA, MARK ANTHONY S
799 11 401133 NAGASAKI, HISHIEKO C
800 11 405094 NAHIAL, DELANIE HEAL C
801 11 402447 NAMAN, MARK PHILIP P
802 11 400192 NAMUAG, MIKE ERBYNN M
803 11 402683 NARCA, DEO MARLOU NOEL P
804 11 406506 NASA, JOHYNNE AMILYN G
805 11 403836 NATAD, MARLON RHEY C
806 11 409323 NAVALES, JULIE ANN F
807 11 407264 NIERRAS, LEO PAULO L
808 11 409456 NINIEL, JAYLOU C
809 11 405500 NIONES, YVONNE PAULA L
810 11 402984 NOGRALES, KYLA P
811 11 403532 NOLASCO, DARLENE MAE T
812 11 407217 NOLASCO, RHODORA MARIE P
813 11 405497 NOMBRE, MARIANNE PAULINE C
814 11 400349 NOVELA, ROCHE E
815 11 405068 NUESCA, ANDREA CAMIL S
816 11 401957 NUEVA ESPAÑA, LORIE MAE A
817 11 410855 NUÑALA, KATHLEEN KEY A
818 11 402845 NUÑEZ, JOESAEL M
819 11 408708 NUQUI, APRIL LOVE D
820 11 405625 OBEDENCIA, ELIZABETH O
821 11 400857 OBELLO, LEAH ANGELEE P
822 11 401264 OBERO, DANEVE S
823 11 401465 OBSEÑARES, NICKY ARJOE M
824 11 401634 OCAN, EMMANUEL O
825 11 404345 OCLARIT, ELLAINE E
826 11 402867 OCON, JAY ANN V
827 11 400215 OCOY, VIRGILIO III G
828 11 400829 OCTOBRE, ALBERT A
829 11 408069 ODILAO, MARLON A
830 11 410562 ODVINA, FRENDELYN P
831 11 404818 OGARIO, RHEA T
832 11 405929 OHIDOR, ROSHIEL C
833 11 404695 OLAMIT, ZAREN GRACE C
834 11 401120 OLIVEROS, ELOISA A
835 11 409077 OLMEDO, ARMANDO M
836 11 400389 OMELDA, NIZZA U
837 11 406562 OMILA, JASMIN
838 11 406315 OMPOC, MICHELLE JALE B
839 11 402026 ONA, DANI A
840 11 405453 ONGCOY, MERGILYN M
841 11 403739 ONGGAO, LOIS ANTOINETTE L
842 11 406050 OPIASA, JUVIE F
843 11 402370 OPORTO, GLENN G
844 11 410837 ORNIDO, KATRINA CARLA C
845 11 403659 ORPINA, ANA TRIXIA F
846 11 401631 ORTUYO, ERICA P
847 11 405822 OSCARES, CHRISTAN L
848 11 406208 OSORIO, LYNE L
849 11 403148 OTOC, EHERSON CHERWIN B
850 11 405173 OXALES, JULIENNE HANNAH M
851 11 400715 PACATANG, JEFFREY C
852 11 405326 PACO, DEVIDETTE DUNE D
853 11 401852 PACRES, CRISBERTNONIE JOHN G
854 11 405833 PADEN, JOICE DIMPLE
855 11 406007 PADERNAL, HERMAN JAE II C
856 11 400596 PADERNILLA, ZELINE MARIE S
857 11 405991 PADILLA, ANGEL ROU C
858 11 406592 PADILLA, PRINCE REGI M
859 11 407139 PAGLAS, NIZA M
860 11 402216 PAGPAGUITAN, FEL JUN Z
861 11 405174 PAHAMUTANG, RHONA MAE P
862 11 406023 PAHAYAHAY, WILDY L
863 11 407427 PAJARITO, ANDREW JUSTINE P
864 11 401204 PALANGGALAN, JANELLE L
865 11 403806 PALER, MARIELLE MAE P
866 11 410200 PALLE, DIANNE KATE Q
867 11 401470 PALMA, MARY GRACE D
868 11 406263 PALMA, MARYANN C
869 11 400536 PALMA, SANCIA NOVIE P
870 11 404241 PAMAT, RIMSON C
871 11 402742 PAMAYLAON, GEOFFREY A
872 11 405618 PANANGUILAN, SHIRLYN P
873 11 409037 PAÑARES, FRANCIS JR M
874 11 410004 PAÑARES, KRISTOFER M
875 11 404930 PANGALDIN, REYNAR JOYCE S
876 11 407997 PANGANDOYON, GENEVA L
877 11 400603 PANSOY, KRISTEL NOREEN S
878 11 402357 PANTIG, KAYE ANNE S
879 11 402787 PANTONIAL, JANNA MARIE D
880 11 401482 PARADO, NOEL A
881 11 403181 PARAGOSO, LESLIE MARIE U
882 11 400705 PARAGOSO, ROGELIO LORETO A
883 11 403900 PARANTAR, JOHNNYLENE B
884 11 403545 PARANTAR, SUREN DAE R
885 11 410252 PARREÑO, GIMOND T
886 11 405325 PASAMBA, APRILLE KATHLEEN B
887 11 400259 PASCO, MAE MARGARET B
888 11 404472 PASCUAL, RIZA MAE B
889 11 402376 PAYOR, MIRAFLOR L
890 11 403431 PECHON, EUNICE NEY P
891 11 402061 PECONADA, SHANE ANTHONY M
892 11 410444 PECONCILLO, CHILLA MAE M
893 11 408435 PELANDAS, ANNA MARIE O
894 11 407430 PELIN, RISSA JEAN A
895 11 404086 PELLERIN, MACY P
896 11 409647 PEPITO, MARY GRACE U
897 11 404106 PEQUIRO, MERRYLL ANNE B
898 11 407954 PERALES, RONNIE G
899 11 401553 PERALTA, JAMBRES L
900 11 406977 PEREZ, ACE JUNE RELL S
901 11 404613 PEREZ, DENMAR S
902 11 403807 PEREZ, JASON GLENN G
903 11 408445 PERIAS, JOYCE GENARD Y
904 11 400499 PERNITES, JHULIE SHEEN A
905 11 401784 PIA, AMIRODIN O
906 11 410744 PILLOTES, JENIBELLE B
907 11 404713 PILONG, RUBY JEAN R
908 11 400814 PINARA, BEBIE GRACE V
909 11 401682 PINGKIAN, HANNAH GRACE P
910 11 400280 PINGOL, ALEXANDRA D
911 11 402726 PIQUERO, RONI O
912 11 402712 PIRA, MARY ANN A
913 11 400576 PITOGO, FRANCES ISABEL D
914 11 404845 PLACENCIA, SHEMAIAH GAIL P
915 11 400542 PLAZA, LOUISE KAREN G
916 11 401507 PLEÑOS, WENDELL B
917 11 405415 POLICARPIO, WILBUR CHAD J
918 11 409163 POLINAR, JERIEL A
919 11 405652 POMAREJOS, NICOMEDES JOHN E
920 11 404188 PORTILLO, PHILIP JR N
921 11 405708 PRADES, JAN VINDHYA J
922 11 408162 PREGUNTA, WILLIAM R
923 11 403010 PRESBITERO, SHARRA R
924 11 403783 PRETAL, MICHAEL BRYAN N
925 11 406981 PRETAL, NERISSA N
926 11 403236 PREVENDIDO, HAZEL D
927 11 408154 PRIOR, SYLVER JAN B
928 11 407344 PUEDAN, MARY PRECEOUS F
929 11 400601 PUERTO, KARLO ALEXIE C
930 11 400443 PUNO, JANICA G
931 11 405001 PUYAOAN, RUBEN II B
932 11 404505 QUEVEDO, JELYN C
933 11 400859 QUIBIN, JOSELLE FLORIANNE T
934 11 407175 QUICO, KRYSTAL FAITH A
935 11 407502 QUIDET, JERUH FAITH D
936 11 407522 QUIÑAL, QUEVIN V
937 11 400862 QUINCO, STEPHANIE KHAYE R
938 11 400267 QUIÑO, DANIEL RYAN D
939 11 405729 QUIÑO, RAUL B JR
940 11 407133 QUINTE, PRECIOUS HONEY MAE A
941 11 404368 QUINTERO, RACHELLE T
942 11 402393 QUINZON, JOLO ALFONSO M
943 11 403974 QUITONG, NOVIE GRACE N
944 11 405009 RAAGAS, EMARALDENE R
945 11 406158 RABACAL, DANICA D
946 11 401598 RAGANAS, ROSELLE GLADYS B
947 11 401920 RAGUNTON, SZARA JIN Z
948 11 409513 RALLOS, ALYSSA FAYE F
949 11 405608 RAMBOANGA, TIARA PATRICIA F
950 11 405865 RAMIL, HAZEL SHAYNE I
951 11 405255 RAMIREZ, CARMELLA L
952 11 400651 RAMIREZ, DON M
953 11 402522 RAMIREZ, JOHN M
954 11 402287 RAMOS, BIANNE MARRIE A
955 11 404029 RAMOS, EXCEED RENZ M
956 11 401697 RAPISURA, COLEEN M
957 11 402053 REAL, KYRL KAREN GIN T
958 11 409798 RECAÑA, SHELLA MAE E
959 11 405853 REDONDO, AUDREY D
960 11 407598 REDULLA, DANNA YELL A
961 11 402485 REMETICADO, LORELIE E
962 11 405090 RENDON, DANICA S
963 11 403301 REQUILLO, ALLAN PAUL Y
964 11 406724 REQUIZO, ANDREA PEARL B
965 11 401662 RESPITO, KAYCEE F
966 11 405452 RETIZA, ANTHONY F
967 11 400914 REYES, DOMINIC G
968 11 406775 REYES, IMA FAITH S
969 11 406896 REYES, KRISTEL ANNE E
970 11 405007 REYES, MAY GLYCA D
971 11 403565 REYES, REGINE R
972 11 407225 REYNO, KATHLEEN DEBBY P
973 11 408555 RICO, MARRY GRACE V
974 11 401493 RIGOR, JAYVEMAR G
975 11 410110 RIGOR, JEANNETH A
976 11 407135 RIÑOS, LOUIE J
977 11 402686 RIVERA, ELEANEE GRACE P
978 11 402708 RIVERA, VANESSA RIENA P
979 11 402982 ROBINES, HONEY GRACE Z
980 11 403526 ROBLE, AIVIE JOY L
981 11 410920 RODA, SHIENA MAE A
982 11 406406 RODAJE, JULIUS VOGHN JOSHUA D
983 11 406926 RODRIGUEZ, JOSEPH M
984 11 400224 ROFLO, HAZEN MARIE S
985 11 401364 ROMAN, RODEL D
986 11 407654 ROMANO, LOREINE JOIE P
987 11 407747 ROMARATE, CHRIS Y
988 11 405830 ROMBLON, SHIRLEY KRIS M
989 11 406386 ROMERA, GLEN MARK D
990 11 405668 ROMERO, DIVI MESHA T
991 11 403233 ROMUAR, BRUXELLES B
992 11 402653 ROMUAR, CHARILOWE C
993 11 402652 ROQUE, KIEZEL ROSE D
994 11 402249 ROSAL, AIN AJIT G
995 11 401492 ROSAL, DOLLY N
996 11 405705 ROSAL, JONA BELLE E
997 11 406324 ROSALES, MA. QUERELEE G
998 11 407104 ROSALES,NICOLE KHRISTINE M
999 11 406270 ROSETE, CAESA LEA ANGELA B
1000 11 407186 ROSETE, CERLENE MAE DIMPLE B
1001 11 405615 ROSETE, HARMON COLEY P
1002 11 407321 ROTAQUIO, WALTER JOHN A
1003 11 406573 RUBA, RUDITH A
1004 11 405623 RUBI, MARICAR M
1005 11 407081 RUBIN, ANNA MARIE L
1006 11 405614 SAAVEDRA, MANILYN J
1007 11 401381 SABAC, LESLIE A
1008 11 405291 SABERON, JELEAH T
1009 11 409588 SABIO, PATRICIA ANGELA P
1010 11 400988 SACLAUSO, SALLY MAY M
1011 11 401856 SACOTE, ROSE ANGELIE A
1012 11 400413 SAGLAYAN, JAMAICA P
1013 11 405607 SALANG, VINCE LOIS L
1014 11 409243 SALAPANTAN, RUSSELE JHUDE P
1015 11 405409 SALAR, MARY ANN A
1016 11 410484 SALASINAS, DORIS DEL I
1017 11 405400 SALDIVAR, DIANA A
1018 11 407185 SALERA, RESCILLE I
1019 11 405434 SALI, THERESA S
1020 11 400690 SALIGUMBA, KRISTINE CYRIL T
1021 11 405963 SALOMA, ALBERTO JR T
1022 11 404160 SALVADOR, JOSIAH A
1023 11 401023 SALVAÑA, CLINT JAN C
1024 11 406367 SAMAR, NARCISO J
1025 11 403047 SAMBRANO, BIANCA L
1026 11 403882 SAMOING, ABDUL RASHID L
1027 11 405885 SAMONTE, AILEEN MAE C
1028 11 407263 SAMPULNA, JEFFREY AHMED D
1029 11 405586 SAMSON, CHRYZAMAE P
1030 11 401768 SAMSON, MARCO D
1031 11 407478 SANCHEZ, AUGUSTUS MARYKNOLL MAY I
1032 11 402830 SANCHEZ, WINIEBELLE C
1033 11 402754 SANGID, BAI SYRAH LAILA YAZEN
1034 11 403351 SANGUENZA, JOEL JR T
1035 11 400062 SANGUENZA, WINDELYN C
1036 11 401290 SANIEL, JENNYLYN R
1037 11 401472 SANTANDER, WENDELYN D
1038 11 407567 SANTIAGO, FEL JAN KEITH S
1039 11 405040 SANTOS, CHRISTIAN I
1040 11 405669 SAQUILABON, BRITZ DIANNE D
1041 11 402618 SARANDE, MARK ANTHONY D
1042 11 404741 SARCENA, ROSALY MAY P
1043 11 405418 SARDEÑOLA, ALILY GRACE M
1044 11 404413 SARSABA, RHIAN DHAE B
1045 11 403657 SASUMAN, MICHELLE E
1046 11 409471 SATO, JAMES MARC P
1047 11 401404 SATOR, RE-ANNE STEPHEN KEITH T
1048 11 405401 SAUZA, CHRISSE D
1049 11 405891 SAVELLANO, JAN ANGELI D
1050 11 407254 SAYAO, JENINA MAE M
1051 11 404107 SEBUJA, JAIROSE O
1052 11 400700 SEKINO, HAYATO JAMES S
1053 11 403894 SELMA, ROGEAN R
1054 11 404807 SENCIO, NISHELL EVE P
1055 11 404386 SENSANO, RICHARD DARIEN P
1056 11 406971 SEPULVEDA, MERCY M
1057 11 403371 SERRANO, CHARISSA A
1058 11 401499 SEVILLA, CLINT C
1059 11 405253 SEVILLA, YVES A
1060 11 407062 SIAO, COLEEN GRACE A
1061 11 406354 SIARES, ARCHIE V
1062 11 402021 SILAO, DAVID JASSON S
1063 11 404100 SILLACAY, FELIX JR C
1064 11 400757 SILVALLANA, KIMBERLY JANE B
1065 11 408692 SIMBAJON, AIZEL JADE H
1066 11 407639 SINAMAO, RHAYFEIL O
1067 11 400999 SINCO, RONILA M
1068 11 404730 SINTO, JASPER C
1069 11 404966 SIPSIP, JOENEL L
1070 11 405907 SISON, RANDEL KRISTOFFER P
1071 11 406880 SOBERANO, JC LYN D
1072 11 410499 SOLIDARIOS, CYRYLL DOMINIC O
1073 11 404357 SOLON, FEBIE JANE P
1074 11 400160 SOMBILON, ANDREA D
1075 11 407609 SOMOZO, JANESSA A
1076 11 407179 SOPERO, DANICA MAY T
1077 11 406879 SOTOMIL, KING JOHN B
1078 11 403926 SUANSING, SHELA MAE L
1079 11 404375 SUAREZ, GRACE B
1080 11 409117 SUAYBAGUIO, JUDY E
1081 11 407261 SUDARIA, SARAHLEEN P
1082 11 401896 SUGANOB, JEAN CLOWIE R
1083 11 410677 SUGAROL, REY C
1084 11 400570 SULLANO, JOCELYN B
1085 11 400095 SUMABONG, GERWIN A
1086 11 402207 SUMABONG, SHEGRID JOHN A
1087 11 403865 SUMALILING, ROVELLE JAN B
1088 11 406647 SUMATRA, JOSE ANGELO A
1089 11 401322 SUMOOK, KHARA MAE B
1090 11 400541 SUSTENTO, PAULINE MARIE P
1091 11 403524 TABANAO, MARLON JR N
1092 11 410478 TABIGUE, GEO V
1093 11 401275 TABURADA, RUBY JANE T
1094 11 402650 TAC-AN, MARINA ISABEL A
1095 11 405537 TADO, DIANN KATHELLINE A
1096 11 401536 TADTAD, KRISTEL DIANE C
1097 11 407918 TAGALOG, JESSA MAE A
1098 11 404308 TAG-AT, ERA MARIE V
1099 11 403454 TALEON, KARL JHEO T
1100 11 401956 TALIC, JIHAD B
1101 11 400433 TALINGTING, KATHLEEN P
1102 11 400140 TALION, ZYANYA JAMES G
1103 11 404380 TAMISEN, MELANIE R
1104 11 401494 TAMPARONG, GRACE S
1105 11 402624 TAN, ETHEL TRICIA A
1106 11 405781 TAN, MYNETTEE A
1107 11 405252 TAÑA, KIM ALBERT V
1108 11 405883 TAÑAC, MELLIZA JOIE B
1109 11 405524 TANGALIN, AIZA A
1110 11 403484 TANO, CEDRICK RANZ S
1111 11 401769 TAPALES, EDWARD KEITH A
1112 11 403627 TAPANG, JANICE M
1113 11 404557 TAR, KESSIA CAROL D
1114 11 401721 TARAYA, RACHEL QUEEN S
1115 11 403808 TAWI, FATIMA ROSE M
1116 11 410311 TE, CHRISTIE NOVA L
1117 11 404680 TE, JANICA CAMILLE C
1118 11 400922 TECSON, HELENA RHAE P
1119 11 401952 TECSON, RUE JILL S
1120 11 402149 TEJOR, MARY ANN O
1121 11 400886 TENEBRO, MECHELE GRACE R
1122 11 401566 TERIO, DENISE ISABEL
1123 11 409549 TERO, KIMBERLY H
1124 11 400950 TERO, NIKKI ANNE LESHANE S
1125 11 404541 TIBAYAN, ABEGAIL C
1126 11 406430 TIMBAL, LYSTER B
1127 11 408270 TIMTIM, VYNILLE A
1128 11 410442 TINAMPAY, CAROLLYN M
1129 11 409609 TITO, JESSERY JILL S
1130 11 400283 TIU, KRIS SHELLEY MARIE M
1131 11 403106 TOBIAS, KRISTAN MARC R
1132 11 408362 TOLEDO, FLORDE MAY D
1133 11 404889 TOLEDO, SHAEZA MAY E
1134 11 402461 TOLENTINO, ERICK JAMES G
1135 11 409531 TOMAS, KENT ADRIANE C
1136 11 405939 TONZO, ROXANNE MARIZ B
1137 11 402816 TORIALES, JESSA MAE G
1138 11 401988 TORIBIO, JOUSTIN ANTHONY V C
1139 11 403660 TORREFRANCA, KAREN JOY R
1140 11 405624 TORRES, ABIGAIL C
1141 11 401279 TORRES, JOHANNA MARIE B
1142 11 403358 TRADIO, ODESSA F
1143 11 409433 TUBAL, ROSA MEA M
1144 11 400953 TUBON, LLOYD KEVIN V
1145 11 401246 TUDTO, ARTCHELLE T
1146 11 405004 TUGAY, RONALDO JR E
1147 11 408579 TULANG, ALDRIN P
1148 11 409951 TULANG, IMIE P
1149 11 402076 TUPAS, HERMOSO JR J
1150 11 406064 UMALI, STACY B
1151 11 406725 UNOS, DIANNE GRACE L
1152 11 401162 UYANGUREN, EMMANUEL JOHN A
1153 11 410743 UYANGUREN, JULIA M
1154 11 410618 VALAD-ON, JANNEL EL D
1155 11 406033 VALDEHUEZA, JAMES CYRILE G
1156 11 410518 VALDEZ, ADONIS E
1157 11 404149 VALDEZ, CHRISTIAN C
1158 11 410330 VARQUEZ, FLORENCE FAYE E
1159 11 401815 VARQUEZ, REY ANGELO R
1160 11 400399 VASQUEZ, JUDY MONICA R
1161 11 408582 VEGA, MA. IRINE CASSANDRA R
1162 11 402040 VELASCO, CARLO B
1163 11 401548 VELASCO, KATRINA ELAINE M
1164 11 405366 VELASCO, LARRA MAE M
1165 11 402591 VELEZ, HANNAH MARIE S
1166 11 402356 VETE, KRYSTILLE JOY
1167 11 408038 VICENTE, EMILY JANE E
1168 11 406034 VICTOR, VICTORIA H
1169 11 400544 VIDAL, KORINA MAE E
1170 11 403059 VIDANES, GWEN M
1171 11 401760 VIERNES, MARK JAY E
1172 11 400286 VILLA ABRILLE, MONICA A
1173 11 407278 VILLA ABRILLE, VIRGILIO II T
1174 11 401406 VILLA, KATRINA P
1175 11 401215 VILLAFUERTE, DARA I
1176 11 402921 VILLAGONZA, MARICAR M
1177 11 401160 VILLALOBOS, CHARESA R
1178 11 404631 VILLAMOR, DAPHNE SHAIRA P
1179 11 400894 VILLAMOR, ROCHELLE MARIE A
1180 11 404493 VILLANO, ERIK B
1181 11 403876 VILLANO, JULIUS B
1182 11 402490 VILLANUEVA, BETHANY GRACE C
1183 11 401632 VILLANUEVA, DEIANNE KYLE G
1184 11 400889 VILLANUEVA, IAN LYLE D
1185 11 405748 VILLANUEVA, NERILE A
1186 11 400893 VILLANUEVA, RANDOLPH EDWARD D
1187 11 403249 VILLANUEVA, RAZENNE E
1188 11 406962 VILLAR, JANELLE JUNE S
1189 11 404507 VILLARIN, DEVIE B
1190 11 401087 VILLARTE, WENDY J
1191 11 400143 VILLAVER, MANUEL JR M
1192 11 401141 VILLOS, ROGELIO JR C
1193 11 407933 VILLOTA, ALDWIN A
1194 11 402784 VILLOTA, REA MAY V
1195 11 407082 VIOLA, NIÑA BUENA JOYCE S
1196 11 405003 VIVAS, CANDYD N
1197 11 409875 WAJE, KAREN MAY S
1198 11 409168 YAMBAO, DAWN MARIE R
1199 11 403616 YAMOMO, DENNIS JAY R
1200 11 408480 YBAÑEZ, ALMERA JOY B
1201 11 409551 YBAÑEZ, LYRA L
1202 11 407961 YNCIERTO, PHILIP
1203 11 410861 YROY, CHARLENE GLOJEL P
1204 11 405662 YU, JANLEVEN G
1205 11 400926 YU, MARIA JESSA S
1206 11 405232 YUHICO, ANNA MARIA CORAZON E
1207 11 407570 ZASPA, ANN TONETTE A
1208 11 409351 ZULUETA, MARYGOLD J
~~ NOTHING FOLLOWS ~~