Following the success of "Forevermore" Liza Soberano and Enrique Gil is now gearing up on their first movie team under Star Cinema entitled "Just The Way You Are".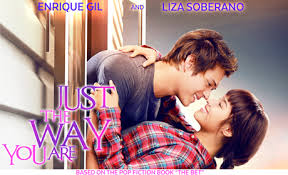 The said story is based on the best selling pop fiction book of Theodore Boborol's "The Bet" which focuses on the love story of Drake (Enrique Gil) a school icon and a heartthrob who is dared to make Sophia (Soberano) a nerdy transferee to fall in love with him in order to win the "Bet" will he reserve his title the most chick boy in the school or he will find karma in the character of Sophia.
The question is does Drake have the guts to make Sophia fall in love with him or what will happen is the reverse of what he is expecting.
The said movie is said to be a follow up project, proven by high ratings of "Forevermore" which becomes a trending topic worldwide with the hashtag "May Forever Ba O Wala".
Tonton Gutierrez and Sunshine Cruz is also present in the movie, this will be a great hit as this will capture the heart of the viewers showing this June 17.