Another Good Samaritan cops expresses his sincere help as he donated a rabies vaccine to a certain beggar at San Lazaro Hospital in Manila. The certain photo was posted on Facebook by Celine Anne Giguera Hugo and also shared on the official Facebook page of PNP "Philippine National Police".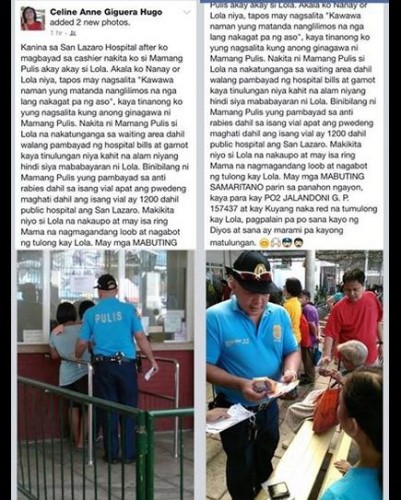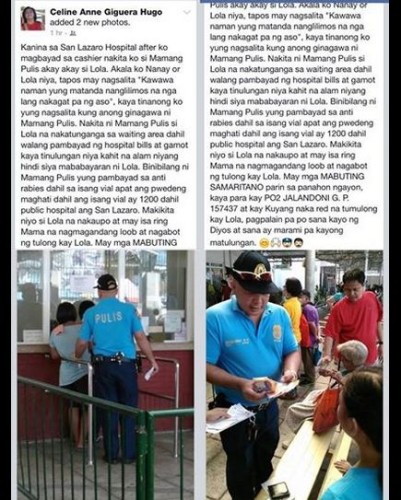 According to Hugo, she was exactly at San Lazaro when she saw a PO2 Jalandoni helping a old woman, at first thought she thinks the woman was the cops mother but an heartwarming truth comes to her that the old lady is a beggar and the police is helping her.
On an interview with PO2 Jalandoni he noted "Kawawa naman 'yung matanda, nanglilimos na nga lang nakagat pa ng aso". He added that he really took pity on the old woman knowing the fact that her ways of living is just asking alms to other people in order to eat.
"Isang PNP Good deed muna ngayong umaga! Narito ang istorya ni PO2 Jalandoni. #PNPGoodDeeds", This hashtag receives positive feedback from the netizens, wherein stating that not all police officers are corrupt, but still there are good people inside the PNP in the name of PO2 Jalandoni.
According to the bible on Matthew 6:2 "So when you give to the needy, do not announce it with trumpets, as the hypocrites do in the synagogues and on the streets, to be honored by others. Truly I tell you, they have received their reward in full.
Two thumbs up for you, Sir Jalandoni..