The Supreme Court (SC) announces the complete list of aspiring lawyers who successfully passed the October 2014 Philippine Bar Exam Results were in this March 2015. There are 6, 344 who took the test, held at the University of Santo Tomas (UST), October 5, 12, 19 and 26, 2014. The list of passers is available on this page when the Supreme Court releases online.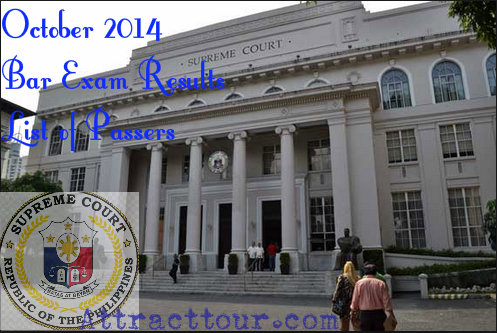 We provided the Alphabetical list of Passers; Surname I to M
539. IBARRA, Joahnes Crizelle T
540. IBARRA, Lucille Mae L
541. IBAÑEZ, Charmaine C
542. IGNACIO, Azyleah V
543. ILAGAN, Ma. Karla Josee C
544. ILORETA, Debbie Joy I
545. INFANTE, Seth M
546. INTAL, Pauline Grace R
547. INTIG, Estela Joy M
548. ISIDRO, Evangeline M
549. ISIDRO, III, Maximo S
550. ISLES, Maychelle A
551. IWAY, Lourdes Mary L
552. JAMILLA, Nicole Rose Margaret D
553. JATAYNA, Emmanuel A
554. JAVIER, Karen O
555. JAVIER, Paolo Miguel V
556. JAVILLONAR, J-ann Violeta J
557. JAVIÑA-RODRIGUEZ, Jean Violette A
558. JONGKO, Jan Michael R
559. JUANENGO, Ma. Katrina Nadine G
560. JUMAWAN, Ruel O
561. JUNI, Noel S
562. JUSI, Czarina Vijulet N
563. KADATAR-MALDIS, Feliza C
564. KALANG-AD, Manuel, Jr. C
565. KIAT-ONG, Aaron A
566. KO, Marianne Karyl C
567. KO, Richard V
568. KOGA, Ken B
569. KUA, Kesterson T
570. LABASTIDA, Mae N
571. LABAYO, Hale Oliver M
572. LABRADOR, Ernielineo B
573. LACAP, Danielle Angela R
574. LACO, Reginald L
575. LACSINA, Clarabel Anne R
576. LADLAD, Joseph C
577. LAGASCA, Kamille Deanne M
578. LAGUING, Robert Paul G
579. LAGURA, Valerius Rufino B
580. LAQUI, Dahlia D
581. LARES, Yaye D
582. LARINO, Emily Joy A
583. LASQUITE, Jesus Franco B
584. LAURITO, Karen F
585. LAURITO, Roderick C
586. LAWYER, Christian Apollo U
587. LAYLO, John Albert B
588. LAYOG, Francis Mark H
589. LAZARO, Phoebe Ann F
590. LEAÑO, Czarina Janis Rhaetia
591. LEAÑO, I, Conrad Ezra M
592. LEDDA, Joanna Katrina L
593. LEE, Marvin Andrew C
594. LEGARDE, Ludanielle N
595. LEGASPI, Jenelyn B
596. LEONARDO, Micaella N
597. LEONES, Christine S
598. LEYSON, Brian B
599. LIAO, Michelle D
600. LIBATIQUE, Jewel F
601. LIGGAYU, Ryan M
602. LIM, Christian Louie U
603. LIM, Cristine C
604. LIM, Gretchel N
605. LIM, Innah Samantha S
606. LIM, Ma. Margarita S
607. LIM, Ryan Jade D
608. LIM, Shery Paige A
609. LIMBO-CABUHAT, Verna S
610. LIMQUIACO, Jared G
611. LINGAO, Cherylette P
612. LIRIA, Carmel G
613. LIWAG, Vernice C
614. LLANERA, Mary Ann B
615. LLANILLO, Jasper June G
616. LLAVE, Miguel Leander L
617. LLESIS, Arbie S
618. LO, Rhodora P
619. LOBO, Jemuel Paolo M
620. LOMOTAN, Jonathan Joseph R
621. LOPEZ, Jayson Pangilinan
622. LOPEZ, Joseph S
623. LOPEZ, Marco Angelo Felix L
624. LORENZO, Ann Margaret K
625. LORENZO, Jan Michael D
626. LORESCA, Lovelyn C
627. LORETO, Emmallaine Leonille V
628. LOVERIA, Roman Carlo R
629. LUCIDO, Le Iris T
630. LUCMAN, Hijara-stephanie B
631. LUCMAYON, Juris Anne G
632. LUMAAD, Roseanne E
633. LUMANLAN, Ralfh Aldrin M
634. LUMANOG, Erlaine Vanessa D
635. LUMBRE, Charmaine Joy V
636. LUMINARIAS, Coleen Claudette R
637. LUNA, Alden Reuben B
638. MABA, Samaira C
639. MABULAC, II, Bienvenido L
640. MACALANDA, April Fleurenz Rose C
641. MACARAEG, Mc Guelvin S
642. MACARAMBON, Sa'aduddin L
643. MACASPAC, Teresa Micaela M
644. MADARANG, Patricia A
645. MADARIETA, Ma Cristina M
646. MADKI, Normalah S
647. MADLANGBAYAN, Mariel C
648. MADRIAGA, Marie Kris C
649. MADRID, Kristoffer Gabriel L
650. MADRID, Riceli G
651. MAGABO, Regine Joy L
652. MAGALANG, Sandra Mae T
653. MAGALLANES, Cliff-cyril A
654. MAGALLANES, Clyde L
655. MAGALLANES, Katrina Mae P
656. MAGAT, Kristianne S
657. MAGBANUA, Mary Angela R
658. MAGBANUA-ANJALIN, Mae Joyce S
659. MAGDAMIT, Moiselle G
660. MAGDAONG, JR., Jorge B
661. MAGHIRANG, Ariel P
662. MAGPANTAY, Regine Empress P
663. MAGPILI, Joe F
664. MAHINAY, Richelle Lou B
665. MAIGUE, Rameses M
666. MAIRINA, Renie R
667. MALALUAN, Krisandra Ann D
668. MALAMUG, Jena Lemienne Mae A
669. MALATE, August Lizer M
670. MALAYLAY, Levi Anthony B
671. MALICAD, Yentl D
672. MANALO, Kriselle Joy B
673. MANALO, Samantha Grace N
674. MANAYON, Diana P
675. MANCELITA, Marga May L
676. MANDIGMA-AGUILA, Jenny M
677. MANDOCDOC, Lisette A
678. MANGAWANG, Ma. Felora A
679. MANGELEN, Aljuhari U
680. MANGUBAT, Loida C
681. MANIEGO, Kristine Rossellini P
682. MANILA, Antonio Ceasar R
683. MANTOS, Beryl B
684. MANUEL, Karen Kaye C
685. MANZANA, Phillip Miguel C
686. MANZANERO, Doren May F
687. MANZANERO, Jeronimo U
688. MAPALO, Ma. Carla P
689. MAQUIRANG, Maria Cecilia S
690. MARCELLA, Ma. Rosann M
691. MARQUEZ, Maria Gwendolyn B
692. MARQUINA, Marlon R
693. MARTIN, Nico Robert R
694. MASACOTE, Ma. Angela D
695. MASANGKAY, Kristel Joy A
696. MATALANG, Mylalyn A
697. MATEO, Oliver P
698. MATIAS, Jamie Angeli T
699. MATIAS, Marvin A
700. MATIBAG, Marc Justin Basil D
701. MATILING, Lorraine Kier J
702. MATIONG, Hennessy Keshia T
703. MEDIJA, Joy Ann V
704. MEDINA, Eilyn E
705. MEJIA, Janine Angela T
706. MENDIOLA, Raiza Nicole G
707. MENDOZA, Jose Maria G
708. MENDOZA, Mark Evan V
709. MENDOZA, Mary Catherine L
710. MENDOZA, Niña Suzette M
711. MENDOZA, Othello, Ii M
712. MENDOZA, Roxanne Marie A
713. MERCADO, Edwina A
714. MERCADO, Kenneth N
715. MESINA, Mari Janine Evan D
716. MIGUEL, Ellis L
717. MILANES, Rainier Anthony M
718. MILLENA, Rebeca G
719. MINA, James Anthony R
720. MINDARO, Cesar Augustine N
721. MIRANDA, Gian Carlo E
722. MISCREOLA, Herbert B
723. MONSANTO-NEDAMO, Kristine Athena H
724. MORADA, Neil John M
725. MORAÑA, Aimee C
726. MORAÑA, Chleriza Vinky C
727. MORO, Karl Kristjan B
728. MOSCOSO, Chad Martin D
729. MUSNI, Czarina Golda S
730. MUTIANGPILI, Jhoana Marie P
Back to Main Page
According to the administering body, the Supreme Court of the Philippines, there are 6,344 total number of aspiring lawyers will take the "2014 Bar Examination" which was held at the University of Santo Tomas (UST).
Aspiring examinees answered the eight different subjects; Political and Public International Law, Labor and Social Legislation, Civil law, Taxation, Mercantile Law, Criminal Law, Remedial Law, and Legal and Judicial Ethics.
Latest updates, the expected date of releasing the results can be out early as March 17 or 19 or March 24 or 27, 2015.
For more Updates, Please follow us on Twitter and by linking us on Facebook.