The Supreme Court (SC) announces the complete list of aspiring lawyers who successfully passed the October 2014 Philippine Bar Exam Results were in this March 2015. There are 6, 344 who took the test, held at the University of Santo Tomas (UST), October 5, 12, 19 and 26, 2014. The list of passers is available on this page when the Supreme Court releases online.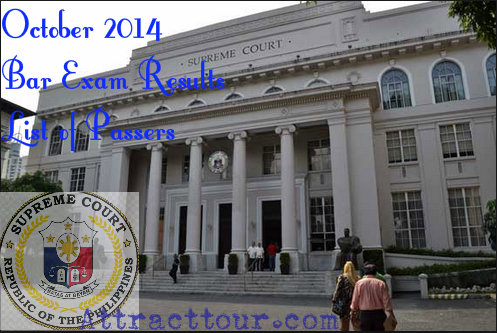 We provided the Alphabetical list of Passers; Surname E-H
400. EBDANE, Bayani S
401. ECALNIR, Erol Roudel C
402. ECHAVEZ, Ronna Lissa E
403. ECHIVERRI, Kingjohn Ericson M
404. ELMIDO, Jan Christopher P
405. ENDALUZ, Marie Jourgen B
406. ENRIQUEZ, Claire Joy G
407. ENRIQUEZ, Gabriel Alfonso C
408. ERANDIO, Athena Louise F
409. ESCALADA, Ryan Carlo P
410. ESCOLANO, Paul Medard L
411. ESCOSURA-BUSTAMANTE, Leslie C
412. ESCOTO, Jamie P
413. ESCOVILLA, Joseph Patrick O
414. ESGUERRA, Rafael Rodrigo S
415. ESPARAGUERA, Miguel A
416. ESPELETA, Camille Angela M
417. ESPERANZA, Annaliza G
418. ESPINA, Carlo Eduardo M
419. ESPINOSA, Carol-v S
420. ESPINOSA, Jose Joven Paulo M
421. ESPINOSA, Ma. Monica Leticia T
422. ESPIRITU, Aizelle Marie D
423. ESPIRITU, Elaine Rose Z
424. ESQUIVEL, Ron-erwin D
425. ESQUIVIAS, Ma. Carmela Florentyna A
426. ESTEBAN, Gelie Erika P
427. ESTELLA, Jessrey G
428. ESTOLAS, Benjamin Jose S
429. EVANGELISTA, Abigail F
430. EVANGELISTA, Carlo F
431. EXMUNDO, Reisa Marie J
432. FABICO, Krizia Yvette O
433. FABILE, Abigail M
434. FACUNLA, Jeffrey M
435. FALCIS, III, Jesus Nicardo M
436. FARCON, Jose Florinio Y
437. FELIX, Christine Angelica D
438. FELIX, Razel Ann P
439. FELIZMENIO, Marinella P
440. FERNAN, Harry Gwynn Omar M
441. FERNANDEZ, James Abalos
442. FERNANDEZ, Kae Dee C
443. FERNANDEZ, Meriam Consuelo B
444. FERNANDEZ, II, Antonio Timothy A
445. FERNIN, Michael Jayson S
446. FERRER, Jefferson Wilfredo P
447. FERRER, Julius Abraham C
448. FERRER-LEGASPI, Jan Adrienne B
449. FLORDELIZA, Henry C
450. FLORES, Danilo S
451. FORTALEZA, Karen F
452. FRAGANTE, Criela DF
453. FRANCISCO, Oliver G
454. FRIAS, Jerome Bart M
455. FUCOY, Alyssa Agustina A
456. FUECONCILLO-EVANGELISTA, Aleander P
457. FURUYAMA, Ken D
458. GA, Marianne Aiza T
459. GADOR, Ken R
460. GAHOL, Ralph Laurence M
461. GALAGAR, Philip S
462. GALAN, Cherie Amor C
463. GALANG, Roi Andrei S
464. GALAROSA, Michael Vincent C
465. GALENDEZ, Ellen P
466. GALIT, Emmanuel P
467. GALIT, Neil Brian P
468. GALLEGO, Erika Marie V
469. GALLITO, Patrick M
470. GALON, Harold A
471. GALOS, III, Reparado B
472. GALVEZ, Micaela Kristina V
473. GAMBOA, Josine Alexandra S
474. GAMILLA, Kristia Anne S
475. GANDIA, Tephanie M
476. GANZON, Pearl Margaret C
477. GARCIA, Cesar Domini C
478. GARCIA, Gil, Ii E
479. GARCIA, Lordie Grace D
480. GARCIA, Vianne Marie O
481. GARGAR, Ma. Edaliza J
482. GARINGAN, Francesse C
483. GARMA, Angelica C
484. GAUDIEL, Kristine T
485. GAUNA, Maria Rufa Theresa S
486. GAVIOLA, Gian Franco G
487. GAYOS, Edgardo Alexander O
488. GELVEZON-TABITA, Salvacion
489. GEVERO, Sergie V
490. GIBA, Analyn M
491. GIDUCOS, Mohammad Jamalul J
492. GIRONELLA, Genesis John R
493. GLEYO, Marco Ray S
494. GLIPONEO, Lizglen L
495. GO, Eden Jerby C
496. GO, Rom- Raison E
497. GODINEZ, John Henley C
498. GONZALES, Claudine Joy C
499. GONZALES, Edwin Prince I
500. GONZALES, Jeffrey Jay C
501. GONZALES, Sharwina W
502. GRAGEDA-FLORES, Joanna Mayelle T
503. GRAIDO, Helen Maureen V
504. GRANTOZA, Camille Jennifer L
505. GRATELA, Merl Margaret O
506. GREGORY, Ma. Nenita Yumi N
507. GREPO, Carla Regina P
508. GREPO, Jesse Raphael R
509. GRUBA, Katherine Therese
510. GRUESO, Niña A
511. GUBAT, Bennet A
512. GUCO, Jammelle Marie A
513. GUERRERO, Ellis Emmanuel M
514. GUIANG, Francis Gil D
515. GUIANG, Mary Algen E
516. GUINIGUNDO, Dan Abraham G
517. GURO, Mojahid S
518. GUTIERREZ, Ricardo Jesus E
519. GUTIERREZ, JR., Eduardo R
520. GUZMAN, Roger Joseph S
521. HAMDAG, Princess D
522. HAO, Louie Lynne T
523. HARDER, Irene Estela T
524. HATOL, Michelle Marie U
525. HAULO, Oilie S
526. HERNANDEZ, Ana Victoria S
527. HERNANDEZ, Charmaine M
528. HERNANDEZ, Jason A
529. HERNANDEZ, Michael Vincent T
530. HERRERA, Grethel L
531. HERRERA, Mara Kristina G
532. HERRERA, Michael Kris Ben T
533. HERRERO, Vanessa T
534. HIRANG-OLAVE, Katrina Isabel P
535. HIZON, Jaybee S
536. HIZON, Kenneth James Carlo C
537. HIZON, King James Carlo C
538. HUFANO, Jack Bryan D
Back to Main Page….
According to the administering body, the Supreme Court of the Philippines, there are 6,344 total number of aspiring lawyers will take the "2014 Bar Examination" which was held at the University of Santo Tomas (UST).
Chairman of this year's Bar Exam, Supreme Court Associate Justice Diosdado Peralta has given two types of examination which are composed of 80% essay questions and 20% multiple choice questions.
Aspiring examinees answered the eight different subjects; Political and Public International Law, Labor and Social Legislation, Civil law, Taxation, Mercantile Law, Criminal Law, Remedial Law, and Legal and Judicial Ethics.
Latest updates, the expected date of releasing the results can be out early as March 17 or 19 or March 24 or 27, 2015.
For more Updates, Please follow us on Twitter and by linking us on Facebook.