The Supreme Court (SC) announces the complete list of aspiring lawyers who successfully passed the October 2014 Philippine Bar Exam Results were in this March 2015. There are 6, 344 who took the test, held at the University of Santo Tomas (UST), October 5, 12, 19 and 26, 2014. The list of passers is available on this page when the Supreme Court releases online.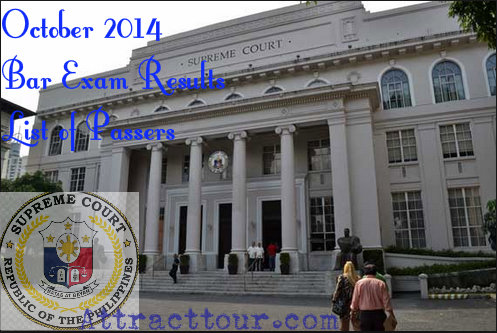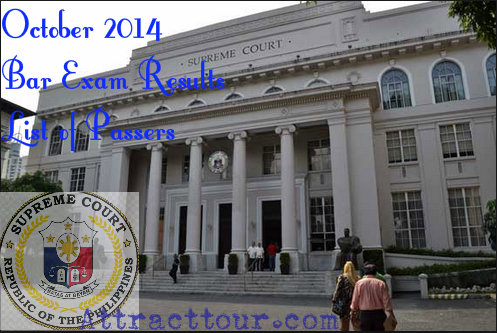 We provided the Alphabetical list of Passers; Surname N-Q
731. NADAL, Jordan V
732. NADONGA, Jeremae R
733. NAGPALA, Carlo Benedict L
734. NARAG, Christopher B
735. NARTATEZ, Carell Ryza E
736. NATIVIDAD, Angelique Margret T
737. NAVARRO, Danielle Mae D
738. NAVARRO, Elvira Denise DM
739. NAVARRO, Kristina R
740. NAVARRO, Peter John T
741. NAVIDA, Veromic E
742. NAYRE, Maria Liza L
743. NEPOMUCENO, Tarcila B
744. NG, Kenneth S
745. NGO, Angelo Bernard O
746. NIEVA, Aubin Arn R
747. NISPEROS, Benedict G
748. NIÑOLAS, Hazel B
749. NOBLE, Alexis Joseph R
750. NOCOM, Roger T
751. NOR, Mark Esmael R
752. NUEGA, Gregory A
753. NUESTRO, Noel G
754. OBEJAS, Kim David M
755. OCABA, Barbara Anne B
756. OCAMPO, Jo Marianni P
757. OCFEMIA, Rea Niña O
758. OCHOA, Ma. Claribel M
759. OCHOCO, Neil Eric E
760. OCLARIT, Janet K
761. OCTAVIANO, Clarence T
762. OCTAVIANO, Leslie Anne O
763. OCUPE, Raymund L
764. ODIVILAS, Thea Amor O
765. ODTOJAN, Leodeeanne Cl T
766. OJA, Redemtor A
767. OLBES, Maricel N
768. OMBAWA, Nassiym A
769. OMNES, Reynaldo R
770. ONG, Evangeline C
771. ONG, Kimverly A
772. ONG ABRANTES, Raymund Christian S
773. ONGSON, Cherry Amor V
774. ONOFRE, Charlon Jay M
775. ONTAL, Benedict D
776. OPORTO, Rule Amethyst L
777. ORCULLO, Hazel Beth D
778. ORIOSTE, JR., Alfonso L
779. ORTAL, Philip Marion A
780. ORTIZ, Jet Mark O
781. OSDON, Charity Anne
782. OSORIO, JR., Ramero S
783. OSOTEO, Maureen Kascha L
784. OZAKI, Kazuma B
785. PAA, Juman B
786. PABLITO, Joshua P
787. PABLO, Niña Gracia L
788. PACETE, May Flor E
789. PACHECO, Leslie Ann M
790. PADLAN, Glaiza May M
791. PAGANAJE, Gladys U
792. PAGDILAO, Kimberly Rose L
793. PAGUIO, Angela Michelle A
794. PAKIL, Ben Taib M
795. PALAD, Daneia Isabelle F
796. PALATTAO, Claudine M
797. PALLONES, Jhoy DR
798. PALMIERY, Fritzielyn Q
799. PALOLA-DE VERA, Elizabeth C
800. PAMATMAT, John Red C
801. PANCIPANCI, Maria Socorro T
802. PANELO, Daniel Von Evan O
803. PANGAN, Ma. Angela B
804. PANGILINAN, Edmund Christian S
805. PANGILINAN, Rafael D
806. PANOPIO, Ashleigh P
807. PAQUIT, Sherlyn P
808. PARADO, II, Medardo T
809. PARAGAS, Mary Niña S
810. PARINGIT, II, Eduardo G
811. PARO, Annie Rose D
812. PARONE, JR., Briccio G
813. PARREÑAS, Ma. Princess F
814. PASCUA, Faye Angela M
815. PASCUAL, Carlo John R
816. PASCUAL, Karen Kate C
817. PASICOLAN, Sheila P
818. PATAC, Valerie Gayle J
819. PATAG, Neil-san G
820. PATAY, Dixie Jane N
821. PATINDOL, Jan Danelle A
822. PATIÑO, Juril B
823. PAUIG, Ferdinand T
824. PAUIG, Jose Bernabe T
825. PAYAWAL-ANGELES, Marianne T
826. PAZ, Ivyrose B
827. PEDRAJAS, Christine T
828. PELAYO, Jasper C
829. PEN, Kenilma E
830. PENACHOS, Patrick I
831. PEORO, Rolly Francis C
832. PEREZ, Bernalyn A
833. PEREZ, Mikko Paolo A
834. PEREZ-ONESA, Sofronia
835. PEÑA, Gideon V
836. PEÑA, Irene V
837. PEÑA, Patricia Ruth E
838. PIERAZ, Iñigo Gabriel C
839. PIJO-SERATE, Annabelle S
840. PILAPIL, JR., Rene G
841. PILARES, Ma. Kristina E
842. PILLOS, Christian F
843. PIMENTEL, Charity E
844. PIMENTEL, Korina Mae V
845. PINEDA, Glaiza V
846. PINGOL, Evan Carlos D
847. PIZARRO, Raymund Erwin M
848. PLATON, III, Vicente Jan O
849. PLECERDA, Kurt Francis O
850. POBLADOR, Maria Celia H
851. POCOT, Laarnie B
852. POLOYAPOY, Randy T
853. PONCE, Kathrina May R
854. POSADAS, Allen Joel G
855. PRESBITERO, Julian Santos B
856. PRIMICIAS, James Joash B
857. PRINCESA, Belen Cristina R
858. PUA, Elisa N
859. PUECA, Jenette O
860. PULLANTE, Irish Rosanne M
861. PUNO, Railla Veronica D
862. PUNZALAN, Jan Dexter B
863. PURA, Sheryl N
864. QUERIDO, Leo Joseph G
865. QUILANETA, Mark Peter M
866. QUIMPO, George Philip W
867. QUINTANA, Aldrin Mark M
868. QUINTO, Ramiila L
869. QUITAIN, Xel Alessandra R
870. QUODALA-FORMOSO, Joanne Janice Q
Back to Main Page
Chairman of this year's Bar Exam, Supreme Court Associate Justice Diosdado Peralta has given two types of examination which are composed of 80% essay questions and 20% multiple choice questions.
Aspiring examinees answered the eight different subjects; Political and Public International Law, Labor and Social Legislation, Civil law, Taxation, Mercantile Law, Criminal Law, Remedial Law, and Legal and Judicial Ethics.
Latest updates, the expected date of releasing the results can be out early as March 17 or 19 or March 24 or 27, 2015.
For more Updates, Please follow us on Twitter and by linking us on Facebook.