The Binibining Pilipinas 2015 coronations night will be held tonight, Sunday, March 15, 2015 at the historic Smart Araneta Coliseum in Quezon City, Philippines. Thirty-four ladies compete for the chance to declare as "The Binibining Pilipinas 2015". Aspiring Candidates will take their places as Miss Universe Philippines, Binibining Pilipinas-International, Binibing Pilipinas-Tourism, Binibining Pilipinas-Supranational, and Binibining Pilipinas-Intercontinental.
Top 5 Finalist
Bb. Pilipinas Universe – Pia Wurtzbach
Bb. Pilipinas International – Janicel Lubina
Bb. Pilipinas Intercontinental – Christi Lynn McGary
Bb. Pilipinas Tourism – Ann Lorraine Colis
Bb. Pilipinas Supranational – Rogelie Catacutan
1st Runner-up Hannah Ruth Sison
2nd Runner-up Kimverlyn Suiza
Congratulations!
Video Here!
We will update the results and having a live coverage of the coronation night. We will also announce the Bb. Pilipinas 2015 Top 10 Finalists and all winners of the country's most prestigious beauty pageant "Bb. Pilipinas 2015".
In the 52nd edition of Bb. Pilipinas will show the appearance of the title holders Mary Jean Lastimosa, Mary Anne Bianca Guidotti, Kris Tiffany Janson, Yvette Marie Santiago and Parul Shah to pass their title for the successors at the end of the event.
Talent Competition
The Bb. Pilipinas 2015 coronation night will aired tonight by ABS-CBN Channel 2 starting from 9:30 PM tonight. According to OPMB worldwide predictions of Felix Manuel, out of 34 lovely candidates which was 16 of them were considered as probable winners.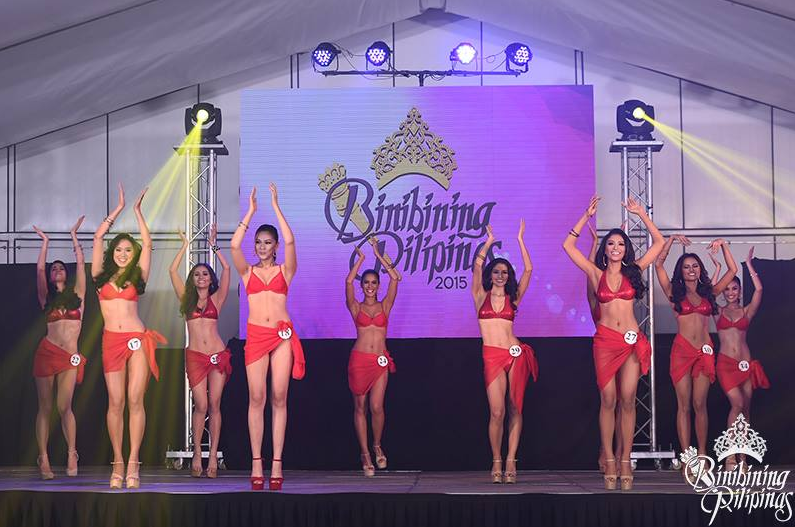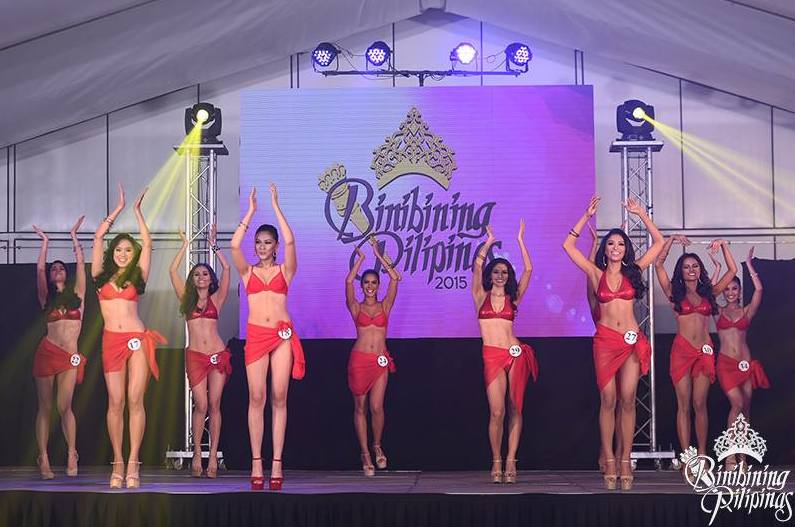 Here are the  Top 15 candidates finalists of Bb. Pilipinas 2015 "in no particular order";
Bb. No. 8- Kimverlyn Suiza (Marikina City)- 26, 5'6 1/4, 32 1/2-25-30 1/2
Bb. No. 14- Princess Joy Camu (Albay)- 20, 5'7 1/2, 32 1/2-25-32
Bb. No. 28- Hannah Ruth Sison (Oas, Albay)- 26, 5'6 , 32 1/2-24 1/2-32 ½
Bb. No. 17- Brenna Gamboa
Bb. No. 25- Rogelie Catacutan (Cebu City)- 23, 5'7 1/2, 32 1/2-25-33 ½
Bb. No. 10- Pia Alonzo Wurtzbach (Cagayan de Oro) – 25, 5' 6 1/2, 35-26-33 ½
Bb. No. 34- Teresita Ssen Marquez (Paranaque)- 22, 5'5, 33-24 1/2-31 ½
Bb. No. 9- Maolin Yalung
Bb. No. 24- Ann Lorraine Colis (Mexico, Pampanga)- 22, 5'7 1/2, 32-26-32 ½
Bb. No. 11- Janicel Lubina (Palawan) – 19, 5'7, 34-23-33 ½
Bb. No. 21- Alaiza Flor Malinao (Davao del Sur)- 21, 5'8 , 31 1/2-24 1/2-32 ½
Bb. No. 23- Justine Felizarta
Bb. No. 19- Christi Lynn Landrito McGarry (Nabua, Camarines Sur)- 25, 5'11, 34-24-34
Bb. No. 22- Anja Peter
Bb. No. 12- Kylie Verzosa (Baguio City)- 23, 5'7, 32 1/2-25 1/2-32 ½