Binibining Pilipinas candidate No. 10, Miss Pia Alonzo Wurtzbach was crown as the Bb. Pilipinas-Universe 2015 during the coronation night of the country's most prestigious beauty pageant held at the historic Smart Araneta Coliseum on Sunday night, March 15, 2015.  She will represent the Philippines in the world's most prestigious pageant the Miss Universe 2015.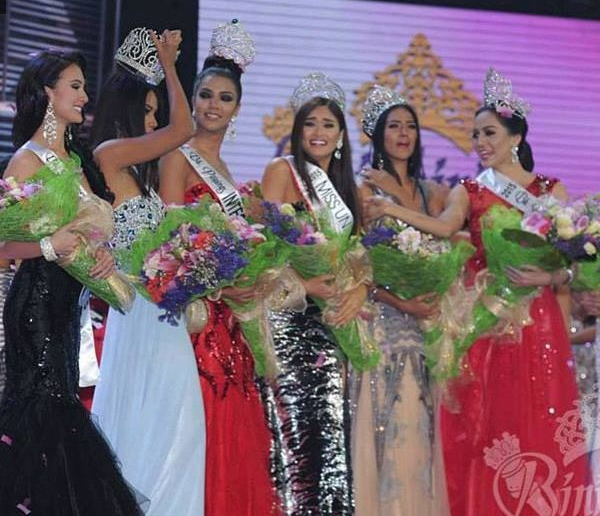 The highly anticipated beauty pageant "Bb. Pilipinas 2015" is hosted by Toni Gonzaga and Xian Lim.
Aside from Wurtzbach, Bb. Pilipinas International – Janicel Lubina, Bb. Pilipinas Intercontinental – Christi Lynn McGary, Bb. Pilipinas Tourism – Ann Lorraine Colis, Bb. Pilipinas Supranational – Rogelie Catacutan, 1st Runner-up Hannah Ruth Sison, 2nd Runner-up Kimverlyn Suiza.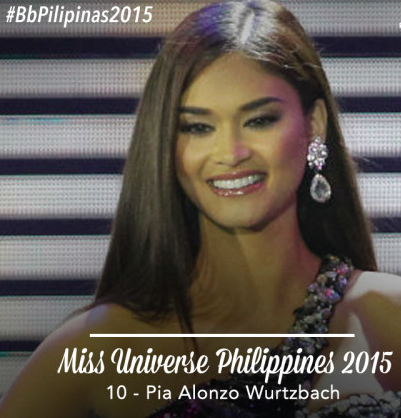 The Top 15 of the Bb. Pilipinas 2015 are the following
Bb. No. 8- Kimverlyn Suiza (Marikina City)- 26, 5'6 1/4, 32 1/2-25-30 1/2
Bb. No. 14- Princess Joy Camu (Albay)- 20, 5'7 1/2, 32 1/2-25-32
Bb. No. 28- Hannah Ruth Sison (Oas, Albay)- 26, 5'6 , 32 1/2-24 1/2-32 ½
Bb. No. 17- Brenna Gamboa
Bb. No. 25- Rogelie Catacutan (Cebu City)- 23, 5'7 1/2, 32 1/2-25-33 ½
Bb. No. 10- Pia Alonzo Wurtzbach (Cagayan de Oro) – 25, 5' 6 1/2, 35-26-33 ½
Bb. No. 34- Teresita Ssen Marquez (Paranaque)- 22, 5'5, 33-24 1/2-31 ½
Bb. No. 9- Maolin Yalung
Bb. No. 24- Ann Lorraine Colis (Mexico, Pampanga)- 22, 5'7 1/2, 32-26-32 ½
Bb. No. 11- Janicel Lubina (Palawan) – 19, 5'7, 34-23-33 ½
Bb. No. 21- Alaiza Flor Malinao (Davao del Sur)- 21, 5'8 , 31 1/2-24 1/2-32 ½
Bb. No. 23- Justine Felizarta
Bb. No. 19- Christi Lynn Landrito McGarry (Nabua, Camarines Sur)- 25, 5'11, 34-24-34
Bb. No. 22- Anja Peter
Bb. No. 12- Kylie Verzosa (Baguio City)- 23, 5'7, 32 1/2-25 1/2-32 ½