The National Police Commission (NAPOLCOM) announces the official results of November 2014 PNP Entrance and Promotional Exam in expected month of January 2015. Complete list of passers and Top 20 for PNP, Superintendent, Police Inspector, Senior Police Officer and Police Officer will be posted here once officially released online.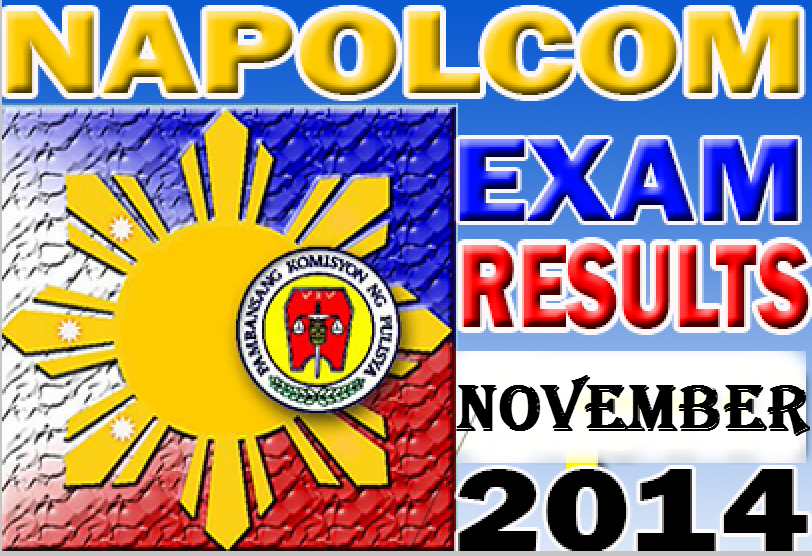 The Philippine National Police (PNP) entrance and promotional examinations, held last Sunday, November 9, 2014. The expected examinees who took the examination that more than 30,000 in respective testing centers nationwide: Makati, San Fernando (La Union), Tuguegarao, San Fernando (Pampanga), Cabanatuan, Calamba, Cavite, Calapan, Legazpi, Iloilo, Cebu, Tacloban, Pagadian, Cagayan de Oro, Davao, Koronadal, Cotabato, Butuan and Baguio, and in Odiongan, Romblon; Sablayan, Occidental Mindoro; Liloy, Zamboanga del Norte; and Bongao, Tawi-Tawi.
The November 9, 2014 NAPOLCOM examination covered the qualifying examinees for Police Officer I and the promotional examinations for Police Officers 2 and 3; Senior Police Officer (for SPO1 to SPO4); Police Inspector (for Inspector and Senior Inspector); and Police Superintendent (for Chief Inspector and Superintendent).
Aspiring examinees answered the following subjects for PNP consist of questions on general information; quantitative reasoning and logical reasoning, verbal reasoning, while the Promotional test include general information, police administration and operations, and police customs and tradion/values and ethical standards.
In last April 2014, NAPOLCOM releases the results in less 2 months since the last day of examination. NAPOLCOM Vice Chairman and Executive Officer Eduardo U. Escueta announce that 14, 256 took for PNP entrance examination while 21, 101 on Promotional examination categories.
Here are the list of passers below:
We will update this page once the official results were released online. For more updates, please follow us on Twitter and by linking us on Facebook.