Kris Aquino finally admitted on Monday, April 7, 2014 during the night episode of "Aquino and Abunda Tonight" that she is dating with Quezon City Mayor Herbert Bautista.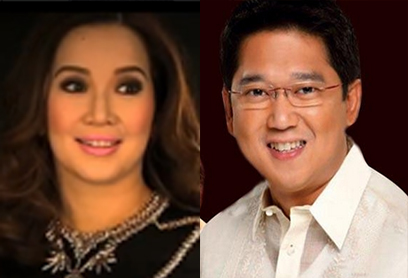 The Kapamilya actress and TV host revealed that her relationship with the politician Mayor Herbert Bautista is working in progress. After the shocking revelation of the 43-year-old Queen of All Media, Kris Aquino become the headlines in social media following the photo she has posted in her Instagram account with the caption reads: "Family Dinner" in which appeared the actor turned politician Herbert Bautista.
Instagram followers of the actress believed that Bautista is the reason for the actress to look very inspired and always happy.
It can be remembered that Kris Aquino admitted that she is currently in loved but she keep mum about the identity of the man and she was asking favor to keep in private about her love life.
Speculation surrounded between her and actor Derek Ramsay but both of them denied the rumors and confirmed they are "just friends." Aside from that, the actress was also linked to Bataan Governor Abet Garcia, likewise, both of the parties denied the rumors.
However, you can watch video here below and read the full transcript of Kris Aquino's official statement during the episode of Aquino and Abunda Tonight:
[youtube width="525″ height="444″]http://www.youtube.com/watch?v=VnFdyXt_Rqk[/youtube]
The Full Transcription:
"I wrote everything down, because it's not just coming from me, it's coming from both of us, so I hope you don't mind na babasahin ko."
"It was seven years ago when James and I publicly went through what ultimately led to the end of our marriage. It's been four years since we separated, and two years since we were granted our annulment."
"We've learned that Bimb deserves to have both his mom and dad involved in his life as co-parents, and that takes forgiveness and compromise. It needs acceptance that we've all moved forward, that James does have a long-term girlfriend, and it's much better for all of us to be cordial because we want what is best for our son."
"We have matured enough to know that though James and I failed at being husband and wife, we do have the rest of Bimb's life to succeed at being his parents."
"Wala po akong pinakilala sa mga anak ko at sa mga kapatid ko for four years, because there was nobody I was ready for, and more importantly, there was nobody they were ready to meet."
"My siblings impressed upon me that I needed to become whole on my own first so as not to commit another mistake. And thank God I listened to them."
"It was a journey that oftentimes was lonely and painful, yet one I needed to travel to become the person I am today."
"And now there is somebody in my life who is special. Weeks before any speculation about us came out, personal po siyang humingi ng permiso sa Kuya ko. Maraming iniisip si PNoy kaya ang intindi niya nung time na yun, may gagawin kami ni Mayor na project sa Quezon City."
"Until later that same day nung nagtext kaming magkapatid, natawa na lang si PNoy na 'permission to date his sister' pala ang hiningi. But that gesture gained the respect of my brother and sisters, because it showed all of them na malinis ang intension para sa bunso nila."
"Yes, my family welcomed him to join us during our get-together, because they want to know him better, and they want him to get to know our family. Just like other Filipino families, we are very close and we care deeply for each other."
"Sa edad, napagdaanan at estado naming dalawa, alam namin na seryoso ang pinapasok namin. We both chose public careers that have given us deep fulfillment, and we do have exceptional professional and personal responsibilities. And part of that, is being answerable to all of you."
"Ito po ang una at huling pagkakataon na pag-uusapan ko si Mayor Herbert Baustista sa puntong ito ng buhay namin, whether in my shows, interviews, personal social media posts. I promised him that our relationship won't be a distraction in his obligations to the three million residents he took an oath of office to serve."
"He has given more than 25 years of dedicated public service, and my respect for him and his office is such that I don't want to add stress but hopefully give him inspiration."
"In turn, Herbert has expressed his admiration and respect for the dedication and hard work I have put into my profession. And he values the love you, my audience, and I, have shared on a daily basis for almost 20 years."
"I am 43 and on May 12, he will be 46. I am sure all of you who are watching me right now will agree when I state that staying together, that choosing to love one another, requires much day-to-day effort. And if there is something that the past has taught me, it is that I can't do this on my own."
"Herbert and I are partners in either the failure or success of our being together, and we can strengthen what we have by allowing ourselves to have a chance at forever, by keeping private and quiet about what is here and now. We are a work in progress, and it is a joint project that both of us are happily undertaking with maturity, respect and commitment."