Vhong Navarro appeared on media for the first time after he was attacked and bruised in a condo unit in Fort Bonifacio, Taguig on Sunday, January 26, 2014.
In an interview with Boy Abunda on ABS-CBN talk show, Vhong Navarro revealed the true story with tears as he admitted that he was afraid for himself and for his family referring to the incident that broke up last Wednesday, January 22, 2014.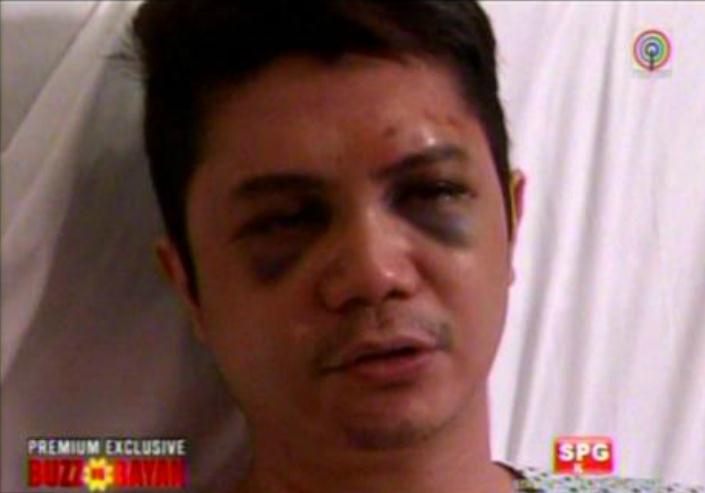 Along the way of the interview, Boy Abunda started describing different version of reports about the incident that one of the reports mentioned that he was alleged attempting to rape the female friend who is identified as "Denise Millet Cornejo" who have invited him to visit her condo unit.
The 37-year-old comedian/co-host that now recuperating in the hospital strongly denied the rape allegations instead he said that the group of men threatened to kill him and his children if he will deny the rape allegations charged against him.
He added that prior to the incident, they have met already with Denise in her condo unit and during his first visit they drank white wine and get intimate to one another but they did not engage sexually.
"Grabe. Binaboy nila ako. Tinakot nila ako, pinaratangan na papatayin yung mga anak ko, magulang ko," Navarro told Boy Abunda with tears.
According to Vhong Navarro, the men who are responsible of attacking him took a video and record while he was forced to say his name that he is "Vhong Navarro" in order to document against the rape allegations charged against him. They also took a video of him while he was forced to expose his private part which will be used to threatened him and ask him to give them money up to the amount of P1-million in exchange of the recorded video.
Vhong Navarro continued that he was brought to a police precinct by certain Cedric Lee and Mike to make a blotter report accusing Vhong Navarro of raping the 22-year-old Denise Millet Cornejo.
During the blotter report the comedian actor, co-host did not say anything because he was overwhelmed with fear for his life and his family being threatened for life. Navarro continued saying that the blotter was made for assurance to the group that he will pay them the demanded amount of P1-million. He also added that they returned back to him the cellphone but the certain Mike asked him the number so that they can continue communicates him for the amount of money demanded from him.
After the blotter Vhong Navarro asked police assistance to drive him back to the condominium where he left his car.
However, Vhong Navarro could not afford to remain silent but revealed the true story in an exclusive interview with Boy Abunda and he said that he want justice to this incidence.
Watch here below the exclusive interview of Vhong Navarro with Boy Abunda on "Buzz ng Bayan."
[youtube]http://www.youtube.com/watch?v=qHM40MbaHoA[/youtube]