Congratulations new attorneys of the Philippines. Our team at attracttour.com are so proud of you. At the very moment, at last, your hard work and perseverance will now be rewarded. As far as we know that passing the BAR exam is not easy. You have been through many struggles and hard work for that and many long prayers are made just to get there, and now you deserve to be congratulated and so, be happy and God bless your journey with your earned profession.
It's been a few months waiting since you took the BAR examination last year on November 2022, and now, this is the moment of truth. We know that your family and loved ones can wait to congratulate you and of course, celebration awaits there.
Just like you, we are also excited to indicate here the list of successful BAR passers during the November 2022 examination. Of course, the topnotchers will be highlighted here and posted in a separate page to give proper acknowledgment for the hard earned profession in the country.
As to remember, there were more than 9,000 examinees who took the BAR examination on November 2022 which was conducted in different local testing centers about fourteen (14) in the exact number within the Philippines including Luzon (De La Salle University of Manila – Taft, San Beda University, Manila Adventist College, University of the Philippines, Ateneo de Manila University, Saint Louis University Baguio City, University of Nueva Caceres, Naga City and De La Salle University Lipa), Visayas (University of San Carlos Cebu City, University of Cebu and Dr. V. Orestes Romualdez Education Foundation Tacloban City) and Mindanao (Ateneo de Zamboanga University, Xavier University and Ateneo de Davao University).
According to Associate Justice Alfredo Benjamin S. Caguioa the chairperson headed the simultaneous digital and regionalized the BAR examinations on November 9 (Wednesday), 13 (Sunday), 16 (Wednesday), and 20 (Sunday), there were about 9,207 aspiring lawyers present on the first day, but on the second day of examination there was a reduction of examinees that only 9,196 completed the tests for the second day session, and another reduction of examinees on the third day that 9,190 were able to finish the licensure examinations.
Here are the alphabetical lists of passers:
SUPREME COURT OF THE PHILIPPINES
LIST OF PASSERS: 2022 BAR EXAM RESULTS [I-Q]
Held on NOVEMBER 9, 13, 16 & 20, 2022
Release Date: April 14, 2023
SUMMARY OF RESULTS
However, you may glance the previous result 2020-2021.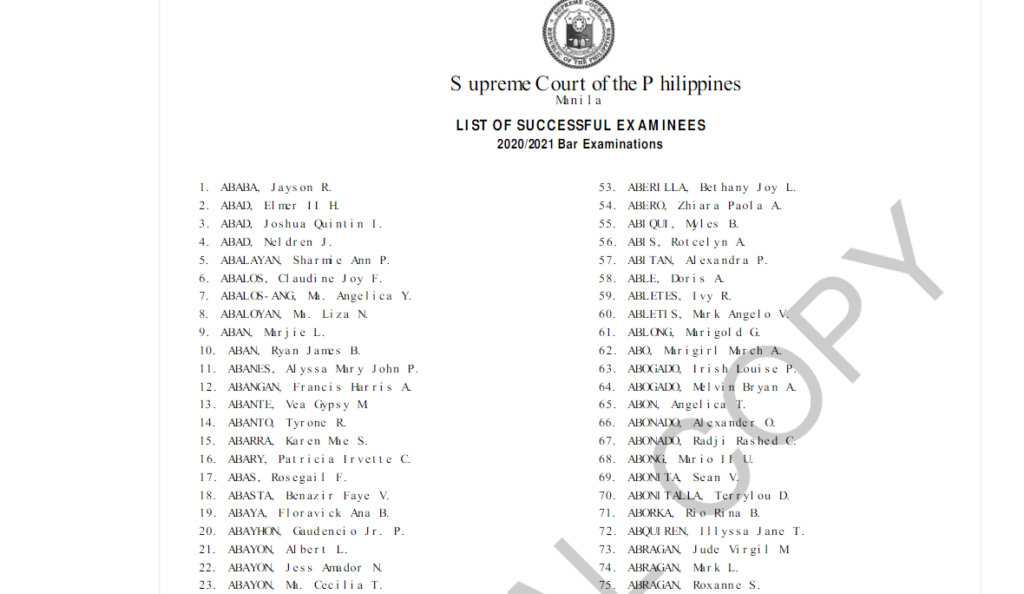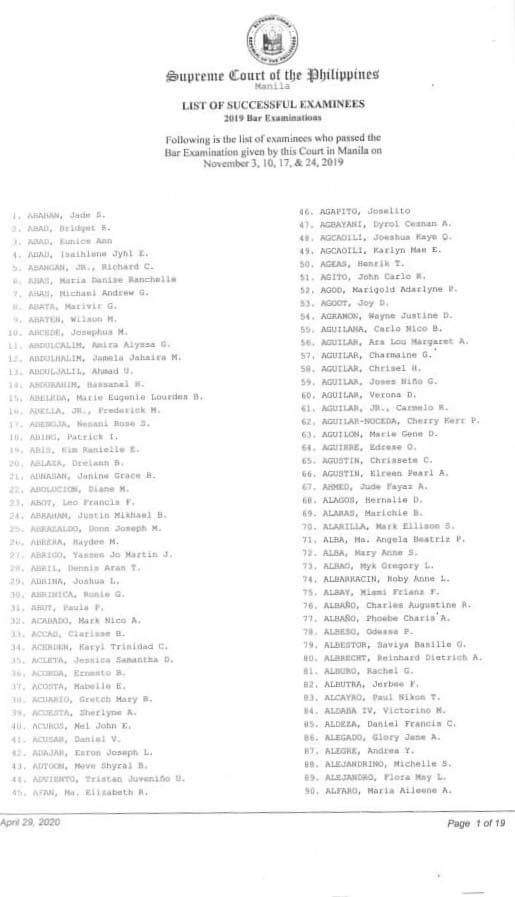 The most exciting moment or the moment of truth, the most awaited result will be released tomorrow April 14, 2023, Friday as announced by the office of Associate Justice Alfredo Benjamin S. Caguioa.
Exam Coverage:
Political Law – Preliminary provisions and basic concepts, legislative department, executive department, judicial department, constitutional commissions, bill of rights, citizenship, law on public officers, administrative law, election law, local governments, national economy and patrimony, social justice and human rights, education, science, technology, arts, culture and sports, the family, amendments or revisions of the constitution and public international law.
Labor Law – General provisions, pre-employment, labor standards, social welfare legislation, labor relations, post-employment, management prerogative and jurisdiction and reliefs.
Civil Law – General principles, person & family relations, property, succession, obligations and contracts, sales, lease, partnership, agency, credit transactions, land titles and deeds and torts and damages.
Taxation Law – General principles, national taxation, local taxation and judicial remedies.
Mercantile Law – Letters of credit and trust receipts, negotiable instruments law, insurance, transportation, corporation law, securities regulation code, banking, intellectual property code, anti-money laundering act, electronic commerce act, data privacy act and financial rehabilitation, insolvency, liquidation and suspension of payments.
Criminal Law – Revised penal code – book 1 and 2, special laws including anti-arson law, anti-fencing law, anti-graft and corrupt practices act, anti-hazing act of 2018, anti-hijacking law, anti-photo and video voyeurism act of 2009, anti-plunder act, bouncing checks law, cyber-crime prevention act of 2012, among others.
Remedial Law – General principles, jurisdiction, civil procedure, provisional remedies, special civil actions, special proceedings, criminal procedure, evidence, write of "AMPARO", writ of "HABEAS DATA", and rules of procedure on environmental cases.
Legal and Judicial Ethics and Practical Exercises
Requirements:
Notice of Admission
Duly accomplished Oath Form
2 pieces of passport-sized ID photos in white background and with complete name tag
2 sets of documentary stamp
1 piece short brown envelope