Alice Dixson will not back down, even if some condemn her actions as inappropriate for her age of 53. His "favorite bashers" advised him to "act your age" and that "you're too old for that."
Another point of contention for her appears to be that she colored her honey blonde hair. Some individuals, however, compliment her hair color decision.
Walking in Market2 when my suki said 'ang Ganda ng hair mo Alice, bagay sa yo'! Didnt realize how light & natural looking it has become," Alice said.
So here's Alice's resolution: "if I acted my age – I probably wouldn't look this young [tongue sticking out emoji]."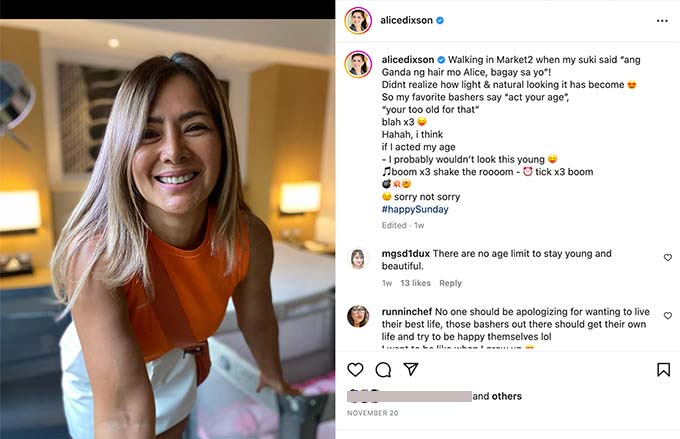 To his critics, he responded, "Sorry, not sorry."
"[music emoji]boom x3 shake the roooom – [clock emoji] tick x3 boom]," Alice said, adding that it appeared to be background music to her mindset.
"There are no age limit to stay young and beautiful," Alice's admirers agree.
It is believed that one should not be sorry for wanting to live the "best life."
And there's an old adage that says, "If there's anything you should stop wearing after age 40, it's the weight of other people's opinion."
Alice Dixson, also known as Alice Dixon, is a Filipino-American actress, commercial model, and former beauty pageant winner.