Here's the complete list of all the regular holidays and the special non-working days in the Philippines for the next calendar year.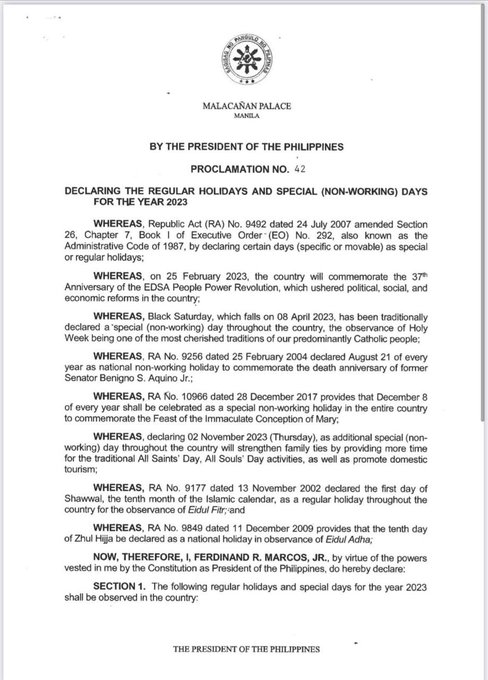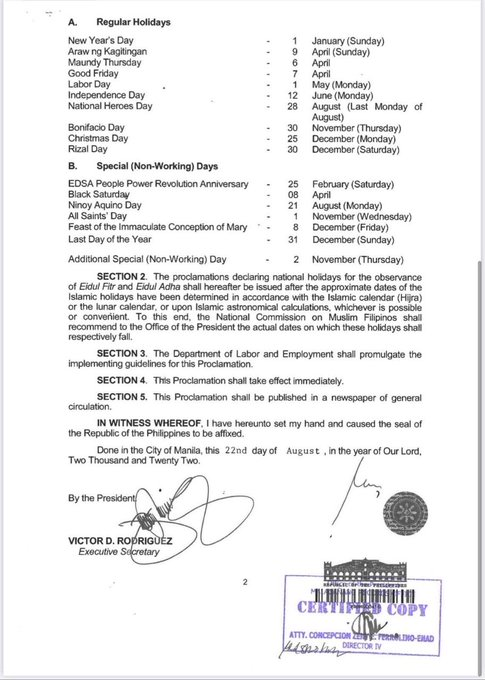 In the Philippines, there are a number of annual holidays, or days when work and school are formally suspended.
There are also designated holidays when certain businesses occasionally demand that their staff members report, but they are paid more. President Bongbong Marcos just announced the dates for the Philippine holidays in 2023.
Numerous regular holidays coincide on Mondays, which makes room for extended weekends. The 2023 Philippine National Holidays are listed below:
New Year's Day – January 1 (Saturday)
Araw ng Kagitingan – April 10 (Monday nearest April 9)
Maundy Thursday – April 6
Good Friday – April 7
Labor Day – May 1 (Monday)
Independence Day – June 12 (Monday)
National Heroes Day – August 28 (last Monday of August)
Bonifacio Day – November 27 (Monday nearest November 30)
Christmas Day – December 25 (Monday)
Rizal Day – December 30 (Saturday)
EDSA People Power Revolution Anniversary – February 25 (Saturday)
Black Saturday – April 8
Ninoy Aquino Day – August 21 (Monday)
All Saints' Day – November 1 (Wednesday)
Feast of the Immaculate Conception of Mary – December 8 (Friday)
Last Day of the Year – December 31 (Sunday)
Addition special non-working days:

January 2 (Monday)
November 2 (Thursday)