Toni Gonzaga is a Filipino singer, presenter, actor, producer, YouTuber, and businesswoman. She was born Celestine Cruz Gonzaga-Soriano. She was once the principal host of the long-running reality show Pinoy Big Brother. But she resigned after endorsing President Bong Bong Marcos in the last election.
Is Toni Gonzaga the new brand ambassador of Shoppe? Netizens were curious after Shoppe Philippines' Twitter account posted a teaser video of their new brand ambassador. Netizens had mixed feelings; some were pleased, while others were critical of the TV host. However, Shoppe has not yet revealed the brand ambassador, but it is obviously Toni Gonzaga, according to netizens.
According to Shoppe Philippines' Twitter:
"FINALLY, makikilala niyo na siya
Drop your guesses and CATCH HER tomorrow at 3PM for the big reveal! 
Netizens were outraged after the company sacked hundreds of employees only a week before hiring Toni Gonzaga.
SHOPEE FIRES HUNDRED OF EMPLOYEES
According to local media outlet Kumparan, ecommerce giant Shopee is laying off 180 people in Singapore, China, and Indonesia, accounting for 3% of the workforce.
According to The Business Times, Shopee employees in Singapore and China have also been told of the layoffs. The corporation, however, did not say how many employees were affected.
Shopee Indonesia ascribed the decision to efficiency concerns and adaptations to changes in company practices in a statement.
Netizen's reaction: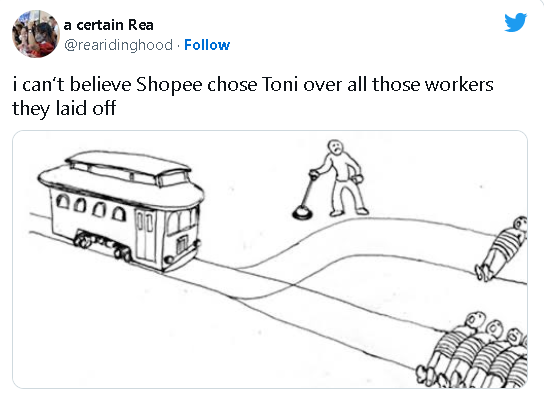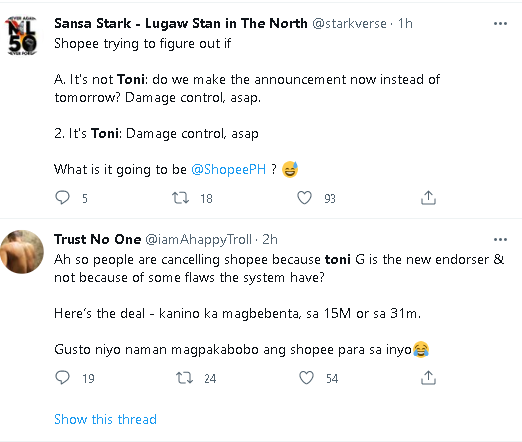 TONI WERE CANCELLED?
Toni's decision has aroused a number of issues, and she is fully aware that it will cost her something. But she put everything on the line to help Bongbong. She understands and has faith in Bongbong Marcos as the leader our nation requires.