Davao City Mayor Sebastian Duterte has come under fire from netizens after posting a message from a private person complaining about extensive water outages.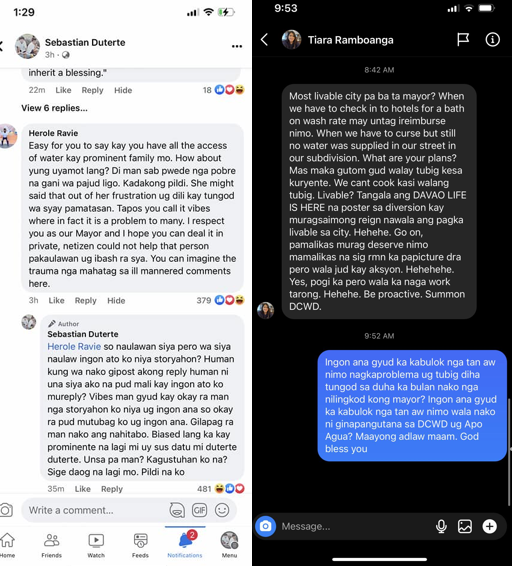 The chat, which depicts a Dabawenyo challenging the city's reaction to the water supply crisis, was shared by Duterte on Sunday, September 18 using his private Facebook account.
"Most livable city pa ba ta, mayor? When we have to check in to hotels for a bath on wash rate, may unta og i-reimburse nimo… What are your plans? Mas makagutom wala'y tubig kesa kuryente. We can't cook kasi walang tubig. Tanggala ang Davao Life is Here na poster kay murag saimong reign nawala ang pagka-livable sa city (Are we still the most livable city, mayor? When we have to check in hotels just for water, it's not like you will reimburse the cost. What are your plans? We can't cook because there is no water. Take down the Davao Life is Here poster because it's not applicable anymore since your term started)," The citizen said that the mayor should be proactive in this situation.
In response, Duterte stated, "Ingon ana gyod ka kabulok nga tanaw nimo nagkaproblema ug tubig diha tungod sa duha ka bulan nako nga nilingkod kong mayor? Ingon ana gyod ka kabulok nga tanaw nimo wala nako gipangutana sa Davao City Water District (DCWD) og Apo Agua? (Is that how stupid you are to think that the water problem is because of my two months as mayor? Do you think I did not reach out to DCWD?)"
DCWD spokesman Jovana Cresta Duhaylungsod stated on Monday, September 19 that the mayor promptly contacted their office about the water outage and apologized.
"The moment na nibuto ang kani na panghitabo (the interruption started), their office got in touch with us immediately and their emphasis on us is to make sure na kung dili makaya na mabalik dayon ang tubig (that if the supply cannot be resumed immediately), find ways to augment water supply and to minimize ang mga apektado na lugar (the affected areas)," she stated.
Many netizens, however, voiced worry over Duterte's decision to share the chat on social media since it sparked hatred toward the Davao resident who messaged him.
"How leaders respond to concerns and complaints reveal how quickly they turn to defense… What good does it do responding to them with foul language?" A netizen stated.
"Dili siguro niya deserve ang (She doesn't deserve the) humiliation now…We should understand where she's coming from and I don't think posting the conversation with her name is a better action after all the (hate) she got. Gamay na empathy lang ang kailangan sa mga tao (The people only need a little bit of empathy)," another one also commented.
Some also criticized other Dabawenyos for defending Duterte. "Dili ba (Is it not) valid to call out a government official about this problem?" one netizen said. Then, when a government official answers a real complaint in an unsavory manner, you back him up and congratulate him for his reply.
Since his first remark, Duterte has responded to the criticism in a series of tweets, implying that he is not withdrawing his comments.
In one response, Duterte stated that he intended to publish the dialogue so that it could not be used against him, "That is how I wanted to respond to what she said and posted it before she can post it herself. After all, this is social media. We can say and do what we want."
The mayor also stated in a subsequent post that he is not being defensive of himself, and that the message he got saddened him.
"Did the individual recognize or acknowledge that the person she messaged have emotions too? No. Stating that she 'merely wanting to voice out their struggle' is an understatement if you really consider the words she used in that message," Duterte stated.
As of this writing, the City Mayor's Office had not responded to SunStar Davao's request for an official statement or the following steps to de-escalate the issue.
The water outage in Dabawenyos began last week, on September 15, when the Dumoy Water Service System Line 2 sustained damage to its electrical wiring, rendering booster pumps inoperable.
The Talomo Sump 2, which connects to the Dumoy WSS Line 2, has resumed full operations, according to DCWD, but full recovery is still expected in 48 to 72 hours. ICM