The "Tawag ng Tanghalan" jury on "It's Showtime" Jed Madela was called "tanga" and "bobo" merely because he performed "You Raise Me Up."
This happened recently at President Rodrigo Duterte's thanksgiving celebration at the Quirino Grandstand in Manila.
On his official Facebook page, Jed wrote, "Someone called me [email protected]@ and B0B0 coz I sang You Raise Me Up." Pang patay daw… Saang part kaya dun ang pang patay?
"Tsk tsk tsk. I pity this person… Haaaaay… Halika. Explain ko ang lyrics sa yo."
Many people reacted to Jed's post. They are all inclined in favor of the singer.
"Awuw. Gusto ko siyang regaluhan ng isang sakong iodized salt. Hahaha. Baka naman tumaas pa ang IQ."
"Hahaha [email protected] yun ah .. pwedi nga yang pang graduation song eh."
"Sila ang [email protected]@ at b0b0."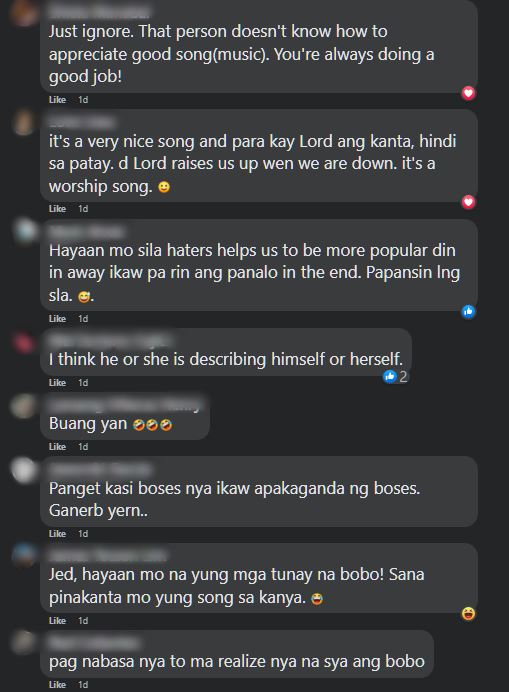 "Hahaha Kaya nya nasabi yan kc cguro palagi nya yan naririnig pag may nililibing, kadalsan kc yan ang pinapatugtog ng funeral car service pag may libingKaya nasabi nya na png patay."
"D nya seguro naintindihan ang lyrics ng kanta."
But this one, who came from Lea Salonga, hit it when she remarked, "There's no fixing stup!d. Don't even bother. "
When Jed sang "One Moment In Time," President Duterte gave him a standing ovation.
To express their thanks to President Duterte, Filipino musicians and fans staged the "Salamat, PRRD" Thanksgiving performance in Manila's Quirino Grandstand. The place was beautifully decorated and filled with great music. Despite the rain, thousands of President Duterte supporters marched. Aside from Jed Madela, notable performers like as Andrew E, Chad Borja, Dulce, Florante, Freddie Aguilar, Ice Seguerra, Isay Alvarez, Jimmy Bondoc, Martin Nievera, Moymoy Palaboy, Robert Sena, and the Philippine Philharmonic Orchestra performed at the mentioned performance.