Jillian, the youngest, is now an adult.
Jillian Robredo initially captured the hearts of Filipinos when she was 13 years old, when her father, then-Local Government Secretary Jesse Robredo, died in an aircraft crash.
Jillian, aged 22, received her Bachelor of Arts degree with a double major in Economics and Mathematics from New York University on Tuesday, May 16, 2022.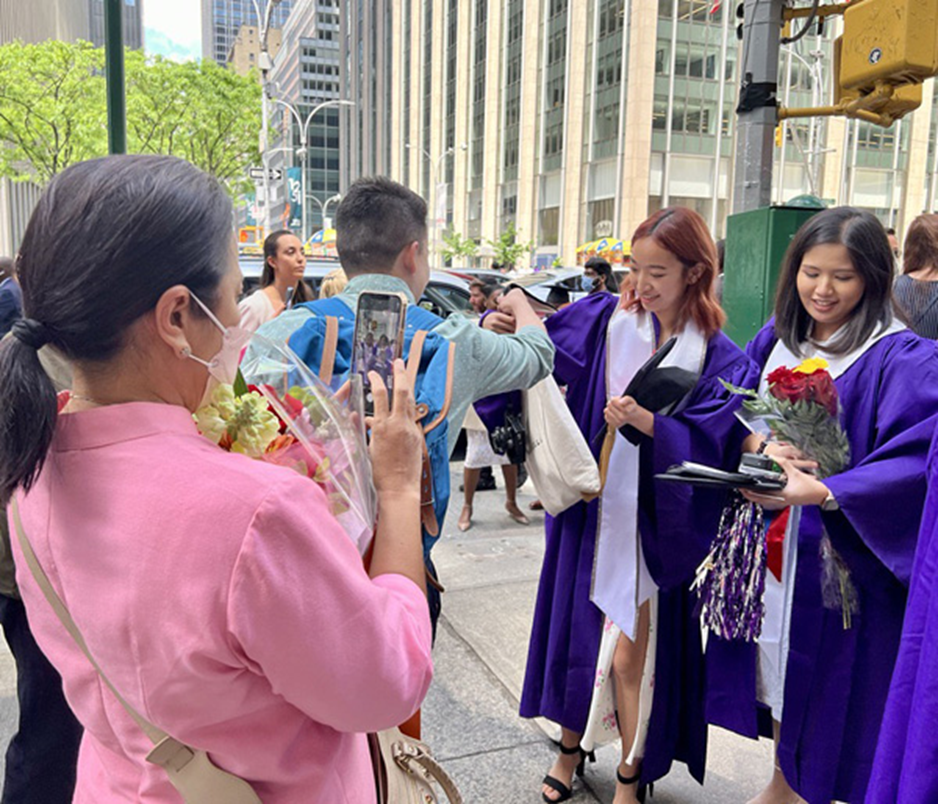 Vice President Leni Robredo, her mother, excitedly documented the special event on social media.
"Today is NY Baccalaureate. "Jillian is wearing what means most to her—a necklace with her Papa's ashes, her graduation stole in Philippine flat colors, and her rosas pin," Robredo posted on Facebook.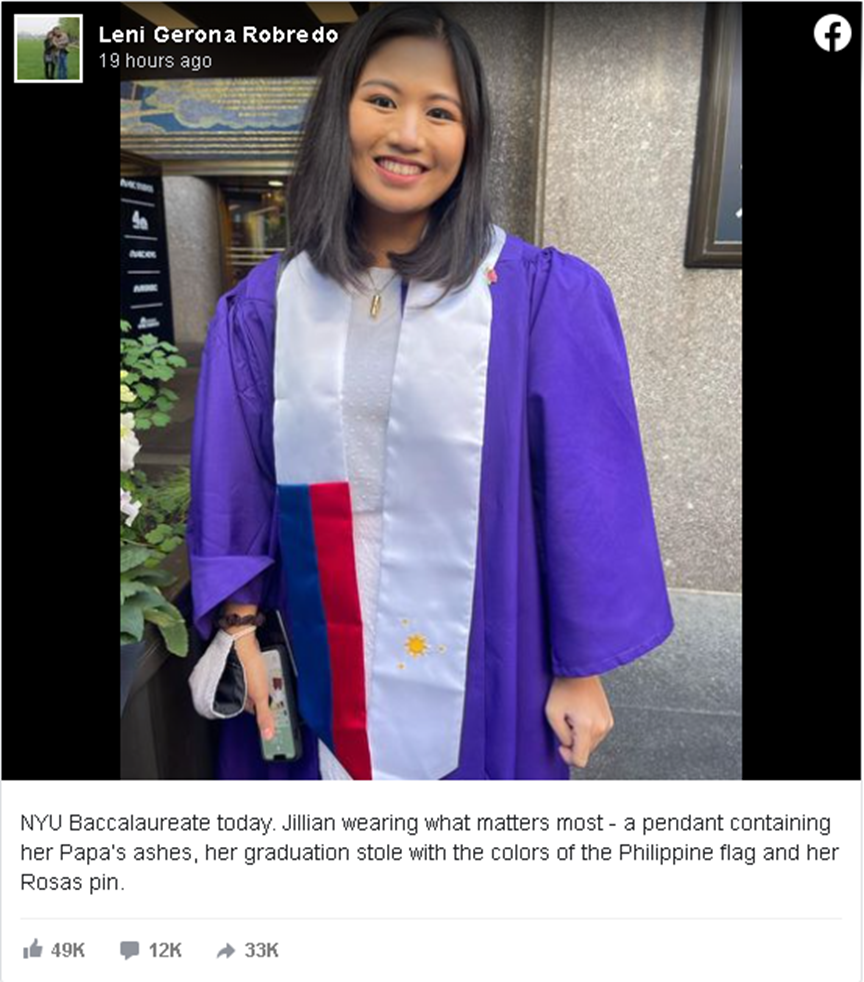 The Vice President and two older daughters, Aika and Tricia, travelled to New York for Jillian's graduation ceremonies, the first of which was held in the famous Radio City Music Hall for graduates of the College of Arts and Sciences, and the second at Yankee Stadium for university graduates.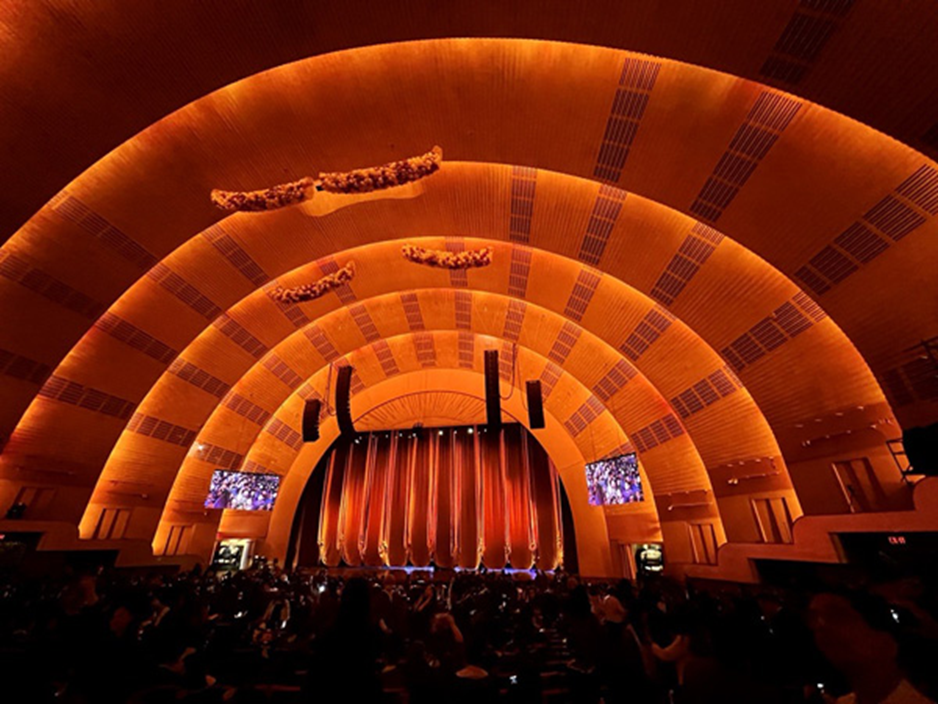 Even though the graduates weren't expected until an hour later, the Vice President and her daughters were up early and at the location by 7 a.m. As graduates swarmed about in purple togas, the mood was electric with anticipation.
"Jillian's graduation represents her triumph over a variety of challenges. In an exclusive interview with Summit Media, her mother remarked, "She hadn't planned on traveling to New York to study, but then she got into NYU."
"The first difficulty she had to hurdle was that we couldn't afford an NYU education. Jillian had to look for scholarships just so she could go."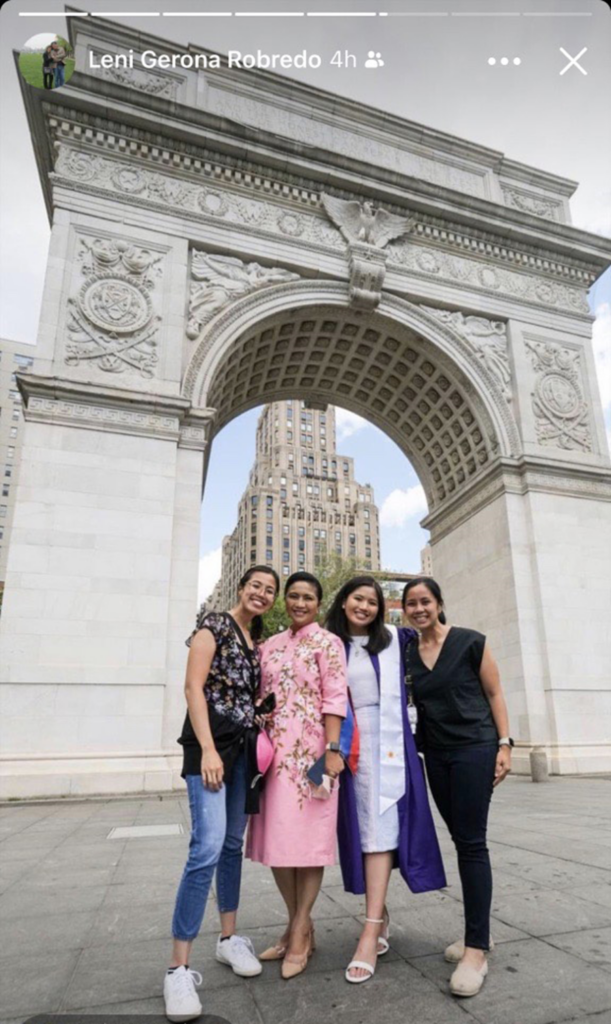 Jillian worked at least 20 hours a week during her freshman year to augment her scholarship income, and she had to juggle job and study.
Her mother stated, "I think the most difficult part was when I decided to run for president."
"She chose to join me in Manila in order to advocate for me." That meant campaigning throughout the day and going to school at night. She struggled, but she was clear about her values, and despite the election results, she believed she made the greatest option by returning home when it counted most. It wasn't only because I was a candidate; she was very concerned about the implications of the elections for the country."
The program began with remarks from university officials, followed by the presentation of student prizes, and finally, the reading of the graduates' names.
To the delight of the new graduates, hundreds of purple and white balloons were released from the ceiling while the NYU Alma Mater hymn was performed. "New York, New York," the city's hymn, was used to send them out into the world and into their new adult lives.