Senator Grace Poe received a token of gratitude from the Philippine Postal Corporation on Tuesday night in acknowledgment of her late mother, Susan Roces service 's to the country from movies and television.
The senator accepted the portrait of her late mother, Susan Roces, as a "Living Legend—Outstanding Filipino" from the Philippine Postal Corporation (PHLPost).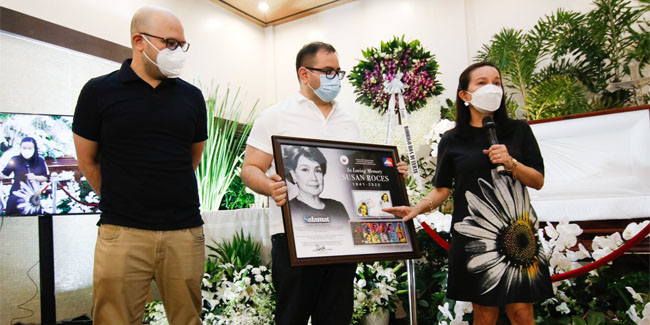 PHLPost released its "Living Legends: Outstanding Filipinos Series 1" stamps in February, the second of a three-group series recognizing the 75th anniversary of the country's initial stamp issuing.
Susan Roces was one of those picked for the new stamps because she has been an influence in her profession.
Susan Roces, originally named as  Jesusa Purificacion Levy Sonora-Poe, was a Filipino actress. She was the wife of Ronald Allan Kelley Poe popularly known as Fernando Poe Jr., . Roces was known as the "Queen of Philippine Movies" and appeared in over 130 films.
On Twitter, the senator posted pictures of herself getting a token of appreciation from PHLPost officials for her mother.
The senator praised PHLPost for honoring her mother as one of the "Living Legends—Outstanding Filipinos" in the caption, saying her mother was "truly proud and delighted" to receive the award.
"Maraming salamat sa PHLPost sa pagkilala kay Susan Roces bilang isa sa mga Living Legend Outstanding Filipino. Tunay na ipinagmalaki at ikinagalak niyang matanggap ang parangal na ito," the senator stated.
PHLPost captioned a Facebook photo shared by the Philippine Star that Susan was recognized as an Outstanding Filipino by the Post Office last February.
"Last February, the Post Office recognized Susan Roces, the Queen of Philippine Movies, as an Outstanding Filipino," according to PHLPost. "Her memory will live on, and people will remember her for giving joy and pride to the nation through film and television."
Nora Aunor, Vilma Santos, Gloria Romero, and Rosa Rosal are among those honored, as are scientists Dr. Baldomero Olivera and Dr. Ernesto O. Domingo, basketball star "El Presidente" Ramon Fernandez, and bowler Olivia "Bong" Coo.