In the latest issue between the comedian Super Tekla and Michelle Lhor Bana-ag, in the update of the story here comes a close friend of Tekla named Rowell Quizon which reveals the dark secrets and true nature of Michelle Bana-ag.
In an open letter posted by Quizon in his Facebook account he stated that Michelle is a shameless kind of person wherein there was a time that Michelle is engage in a relationship with another girl and has the guts to show the girl in front of the comedian. Instead of being angry the comedian let it pass and continue the show.
He added Tekla love Michelle so much saying after the show the comedian ask her what she wants to eat, in contrast to what Bana-ag says that Tekla is starving them.
Another dark revelations states that Michelle forced Tekla to buy illegal drugs and if the comedian refused she (Michelle) will get angry.
Quizon stressed "Hindi nagkulang si Tekla sa inyo, sadyang makapal lang ang mukha mo at masyado kayong abusado"
Meanwhile Rowell added that it is a wrong move to go to RTIA wherein you put your shame on the line. She thinks she won a jackpot by claiming financial aid from the program, absolutely not!
HERE IS THE FULL STATEMENT OF ROWELL QUIZON VIA FACEBOOK: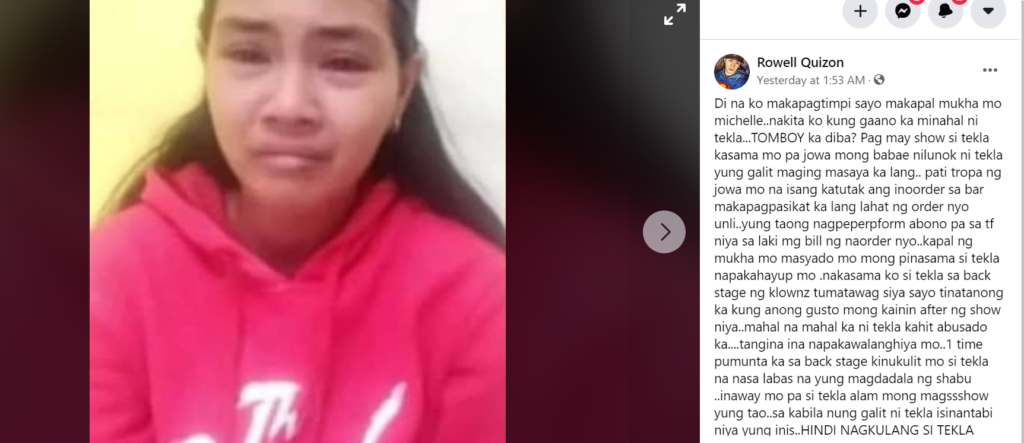 Di na ko makapagtimpi sayo makapal mukha mo michelle..nakita ko kung gaano ka minahal ni tekla…TOMBOY ka diba? Pag may show si tekla kasama mo pa jowa mong babae nilunok ni tekla yung galit maging masaya ka lang.. pati tropa ng jowa mo na isang katutak ang inoorder sa bar makapagpasikat ka lang lahat ng order nyo unli..yung taong nagpeperpform abono pa sa tf niya sa laki mg bill ng naorder nyo..kapal ng mukha mo masyado mo mong pinasama si tekla napakahayup mo .nakasama ko si tekla sa back stage ng klownz tumatawag siya sayo tinatanong ka kung anong gusto mong kainin after ng show niya..mahal na mahal ka ni tekla kahit abusado ka….tangina ina napakawalanghiya mo..1 time pumunta ka sa back stage kinukulit mo si tekla na nasa labas na yung magdadala ng shabu ..inaway mo pa si tekla alam mong magssshow yung tao..sa kabila nung galit ni tekla isinantabi niya yung inis..HINDI NAGKULANG SI TEKLA SAYO O SA INYO..SADAYANG ABUSADO KA LANG.. Hindi pa nagsisimula ang show ni tekla nagrereklamo ka na ubos na yung bucket na nilapag sa mesa nyo..ganun kakakpal ang mukha mo nagtrabaho yung tao para lang kasiyhan ng tropa mo at jowa mong babae..

Alam mo kung san ka parteng naging bobo michelle?

Nag reklamo ka Sa RTIA na ikaw mismo ang malaglaglag sa sarili mo..very wrong ka ..akala mo naka jackpot na kayo na binigyan kayo ng finacial ng ganun ganun lang…. Makapal mukha mo abusado ka michelle ..wala kang utang na loob.
Some speculates that Michelle did this to fool the show to scam RTIA. Even the video presented in the public service program is a mere planted to embarrass the comedian and she will gain sympathy from the public. Well played Michelle.
For more trending news around the globe please do not hesitate to visit our website like our page at Facebook and leave a comment down below.